SCOOP: Valiant Editor-in-Chief Warren Simons Resigns
Bleeding Cool has learned and confirmed from multiple sources that Valiant Entertainment's Editor-in-Chief Warren Simons has resigned from the comic book publisher.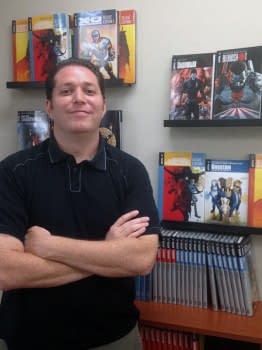 Bleeding Cool understands that Simons has made several recommendations concerning possible successors and that Valiant's new parent company, DMG – the Chinese entertainment firm that acquired full ownership of the comics publisher in late January – has recently been interviewing potential replacements at their Los Angeles headquarters.
Simons is the newest and most recent high-profile departure from Valiant following the DMG acquisition, coming shortly on the heels of former Chairman Peter Cuneo, CEO & CCO Dinesh Shamdasani, COO Gavin Cuneo, and Marketing VP Hunter Gorinson – all of whom have similarly resigned in recent weeks.
Simons began his editorial career at Marvel in the mid-2000s, working on the likes of Thor by J. Michael Straczynski and Olivier Coipel, Daredevil by Ed Brubaker and Michael Lark, and Immortal Iron Fist by Matt Fraction and David Aja — with seminal runs that were later stripmined for film and television by Marvel Studios and Netflix.
Shortly after joining Valiant in 2011, Simons became a principal architect of the resurrected publisher's successful relaunch and instituted a "moneyball"-style approach to recruiting creators who had been overlooked or undervalued elsewhere, subsequently turning them into major talents coveted across the industry. Creators brought into the Valiant fold during Simons's seven-year tenure include Robert Venditti, Matt Kindt, Jody Houser, Lewis LaRosa, Mico Suayan, Raul Allen, Cary Nord, Jeff Lemire, Doug Braithwaite, Paolo Rivera, and Marguerite Sauvage, among many others.
Given Simons's central role in Valiant's rise, there is no doubt that his shoes will be hard to fill. As the longest-running Editor-in-Chief in Valiant's history — following in the footsteps of Jim Shooter, Bob Layton, and Fabian Nicieza — Simons helped oversee the reinvention of the Valiant library for the modern day.
Most recently, in 2017, Simons oversaw the best-selling independent ongoing and limited series launches of the year with X-O Manowar by Kindt and newcomer Tomas Giorello and Secret Weapons by Academy Award-nominated screenwriter Eric Heisserer alongside artists Raul Allen and Patricia Martin.
It is rather likely that his departure has to do with the DMG takeover.
We have no word on where Simons might be headed next, but with recent high-level departures rocking the industry at Valiant, IDW, Marvel and elsewhere, he's likely to find many suitors waiting in the wings… and many rivals salivating at the opportunity to take over Valiant's top slot.