What Will Empyre: Avengers Aftermath Mean For Billy and Teddy?
As well as Immortal She-Hulk coming to comic book stores in the aftermath of Empyre, so Empyre is getting an Aftermath special for the Avengers in September by Al Ewing and Valerio Schiti. With a Jim Cheung cover covered with silhouettes as is Marvel's wont. And with Hulking, Teddy, caressing someone. What if it is no longer Billy?
Marvel does love a silhouette. And just as Empyre #0 had an Avengers and a Fantastic Four version, will Empyre: Aftermath Avengers #1 be accompanied by an Empyre: Aftermath Fantastic Four #1 cover also with silhouettes, revealed later today, written by Dan Slott? It's certainly possible.
Because this cover to the comic won't be revealed until whatever it is that happens in Empyre #4 in August, happens. The solicit for #4 reads;
EMPYRE #4 (OF 6)
MARVEL COMICS
APR200845
(W) Al Ewing, Dan Slott (A) Valerio Schiti (CA) Jim Cheung
THE GRASS IS ALWAYS GREENER…
• Tensions mount as the action heats up!
• As the attack on Wakanda intensifies, the heroes find themselves under attack from their enemies – and their allies!
• In a war where nobody can be fully trusted, betrayal cuts deep – as the alien invasion claims its first casualty!
• In this issue: The shock ending you never expected! You'll want to frame it for your wall, True Believer!

Rated T+In Shops: Aug 05, 2020 SRP: $4.99
Death? Of Billy? William Kaplan? Son of Scarlet Witch and the Vision, otherwise known as Wiccan, and Hulking's longtime partner? Or something entirely different? The Empyre silhouette speculation can start here, I guess.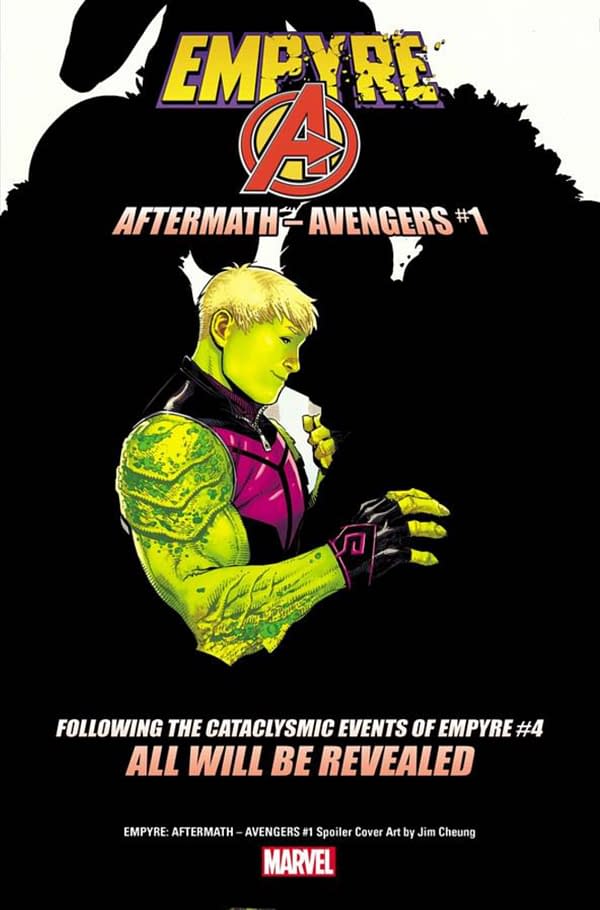 EMPYRE: AFTERMATH AVENGERS #1
Written by AL EWING
Art by VALERIO SCHITI
Spoiler Cover by JIM CHEUNG
On sale SEPTEMBER 2020
Empyre, written by Al Ewing and Dan Slott will see the Avengers and the Fantastic Four come together to deal with a Kree/Skrull empire combined invasion fleet heading to Earth – though the role in this of the Cotati living on the Moon may be very prominent indeed,