Exclusive First Look At Swords Of Sorrow Books Shipping July 2015
We have an exclusive first look at the covers and solicitations for Dynamite's Swords of Sorrow books shipping in July 2015. This will be the third month of the all-female written and lead event and includes the third issue of the main series by Gail Simone and Sergio Davila and the first issue of the three part Red Sonja / Jungle Girl series by Marguerite Bennett and Mirka Andolfo.
SWORDS OF SORROW #3 (OF 6)
Cover A Main: Tula Lotay
Cover B Variant: Emanuela Lupacchino
Writer: Gail Simone
Art: Sergio Davila
The genre-busting, time-hopping epic heroine crossover continues! In the midst of WWII, reluctant allies Miss Fury and the Black Sparrow are joined by an epic host of heroines from different worlds and eras to fight an invasion taking place right on Broadway! Featuring Eva (the daughter of Dracula), Lady Zorro, and more! Don't miss the funnest, bawdiest, sword-slingingest crossover event ever!
SWORDS OF SORROW: RED SONJA / JUNGLE GIRL #1 (OF 3)
Cover A: Jay Anacleto
Writer: Marguerite Bennett
Art: Mirka Andolfo
Red Sonja is plunged through the Rift to Jana the Jungle Girl's tropical island, just as paradise is besieged by a terrifying monster that rains down ice and snow with killing cold. Jana, terrified for her homeland, is determined to destroy the source of the magic and return balance to her world – even if that means combating the She-Devil herself! An official tie-in to the epic Swords of Sorrow crossover event, written by celebrated writer Marguerite Bennett (Batgirl, Earth 2).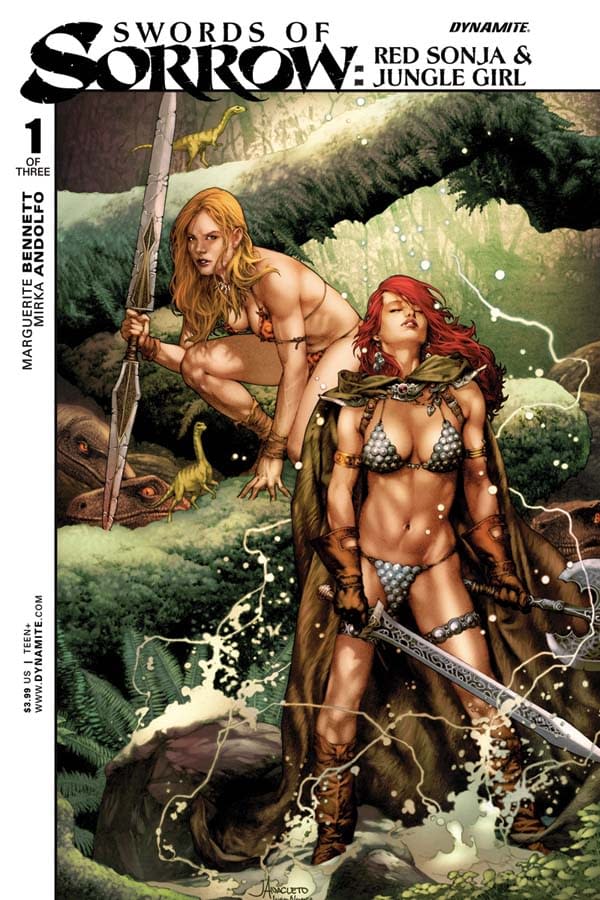 SWORDS OF SORROW: DEJAH THORIS & IRENE ADLER #2 (OF 3)
Cover: Jay Anacleto
Writer: Leah Moore
Art: Francesco Manna
On Barsoom, the Princess of Helium is missing, and Irene Adler is the number one suspect. As Adler struggles to maintain her liberty and capture her own quarry, there are now two Martians roaming the dark, puddled streets of London, and Princess Dejah Thoris is not dressed for the weather. An official tie-in to the epic Swords of Sorrow crossover event, written by acclaimed writer Leah Moore (Doctor Who, Sherlock Holmes). SWORDS OF SORROW: VAMPIRELLA / JENNIFER BLOOD #3 (OF 4)
Cover: Billy Tan (cover shown not final)
Writer: Nancy A. Collins
Art: Dave Acosta
Jennifer Blood is determined to avenge herself on the woman she believes is trying to frame her for murder – Vampirella! But the sudden arrival of Los Muertos leader Calavera and his heavily armed narcos force the vigilante and the vampire to team-up in a deadly "Cemetery Dance". An official tie-in to the epic Swords of Sorrow crossover event, written by renowned author Nancy A. Collins (Swamp Thing, Sunglasses After Dark, Vampirella).