Exclusive First Look At The Women Of Dynamite Books Shipping In June
Here we have an exclusive first look at the covers and solicitations for the Women of Dynamite books shipping in June of 2015. These include the final issues of Lady Rawhide / Lady Zorror and Blood Queen vs Dracula and a Vampirella statue based on the art of J. Scott Campbell.
LADY RAWHIDE / LADY ZORRO #4 (OF 4)
Cover: Joyce Chin Writer: Shannon Eric Denton Art: Rey Villegas
In the snowy mountains north of Los Angeles, Lady Rawhide and Lady Zorro reach the end of the trail. They've successfully tracked the slavers convoy but their success is short lived as they find themselves surrounded by the slavers and the brothel owner's gun-girls! Will this snowy mountain pass lead them all home or will it be their final resting place? The epic conclusion to this four part story of babes, blades, and blood!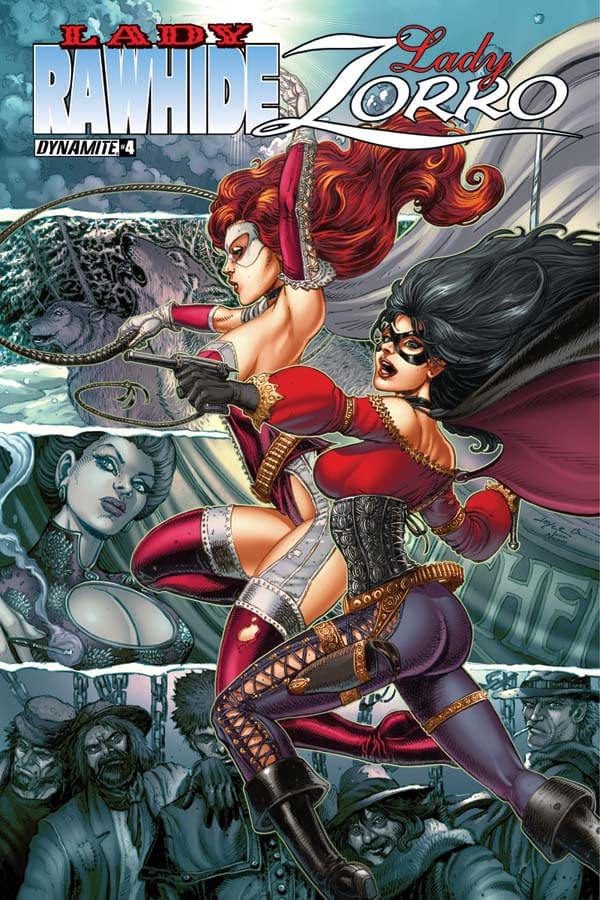 VAMPIRELLA #13
Covers: Mike Mayhew and Jenny Frison Writer: Nancy A. Collins Art: Patrick Berkenkotter
Vampirella must deal with a palace coup in the conclusion of the "God Save the Queen" story arc in this special Unlucky 13 issue. When her lover, Tristan, is kidnapped and tortured by her enemies, Vampirella must decide whether or not to abdicate the throne in favor of the evil Count Savanovic or fight to remain Queen of the Nosferatu with the aid of a former ally—one that also happens to be more than a little dead.
VAMPIRELLA ARCHIVES VOL. 12 Hardcover
Cover: Paul Gulacy Writer: Bill DuBay, Cary Bates, Bruce Jones, Chris Adames, Archie Goodwin, T. Casey Brennan, Roger McKenzie, Nicola Cuti, Jean Michel Martin, Pierce Askegren, Marc Laidlaw, Bob Toomey, Budd Lewis, Michael Fleisher, Laurie Sutton, Gerry Boudreau Art: Pablo Marcos, Leo Duranona, Jose Ortiz, Martin Salvador, Sanjulian, Esteban Maroto, Gonzalo Mayo, Jose Gonzalez, Brian Lewis, Val Mayerik, Buz Vaultz, Jeff Easley, Kim McQuaite, Steven Harris, Jimmy Janes, Rudy Nebres, Auraleon, Abel Laxamana, Garcia Pizarro, Paul Gulacy, Val Lakey, John Lakey, Noly Zamora, Alex Nino, Terrence Lindall, Jun Lofamia, Enrich
The terror continues in the fear-fraught twelfth volume of Vampirella Archives! This collection revisits some of the finest tales of horror hostess Vampirella ever seen in the Warren Publishing library, plus a delightfully devilish selection of the era's best horror and science fiction stories. With space pirates, mermaids, bloodsuckers, and renegade wizards running amok within these pages, fearless readers will thrill to the creative talents of such horror luminaries as Archie Goodwin, Bruce Jones, Jose Gonzalez, Bill DuBay, and many more. This edition of Vampirella Archives collects Vampirella Magazine #80-88, and features a wealth of bonus materials from a bygone era, including the "Feary Tales" feature on urban legends, the monthly "Scarlet Letters" column, "Vampi's Vault" of creator biographies and literary reviews, and intact vintage advertisements.
BLOOD QUEEN VS. DRACULA #4 (OF 4)
Cover: Jay Anacleto Writer: Troy Brownfield Art: Kewber Baal
The blood-soaked conclusion! You've seen the preliminaries, but now it's time for the main event! We've got Dracula versus Ottoman assassins, the Blood Queen versus a vengeful sorcerer, and lest we forget, Blood Queen versus Dracula! Surrounded by foes in her own castle, is there any way for Elizabeth to survive? Even if she defeats the enemies of her people, she could still wind up a servant of the Lord of Vampires! WOMEN OF DYNAMITE: VAMPIRELLA STATUE
Art: Jason Smith (sculptor), J. Scott Campbell (artist)
Based on the work of comics sensation J. Scott Campbell and sculpted by the ever-talented Jason Smith, the debut statue in the brand-new "Women of Dynamite" line brings Vampirella, the iconic horror hostess and heroine, to life in all her glory! Hand-painted on cold-cast porcelain, the Vampirella statue stands approximately 12" in height with a 6" base, with each individually numbered as part of a Limited Edition run of 1969 statues (celebrating the year that Vampirella first appeared). The Women of Dynamite: Vampirella statue comes packaged in a four-color box with a hand-numbered Certificate of Authenticity. The ravishing, raven-tressed vampire has never been so beautifully represented in three dimensions, the perfect addition to every hardcore fan's collection!