Fantastic Four #5 Prepares For The Big Fight In 2019…
If they're not bringing Aunt Petunia back from the dead or rewriting Stan and Jack's original, Dan Slott, Aaron Kuder, Michael Allred, Adam Hughes and friends have been setting up the next big setup for the Fantastic Four – and Doctor Doom.
Classically the Fantastic Four's greatest foe, after the events of Secret Wars, Brian Bendis gave Doom a redemptive arc, becoming the Infamous Iron Man and keeping his altruistic nature – to a degree. Dan Slott's Fantastic Four has seen Doom hailed as a revolutionary hero in Latveria and it looks like with issue 6 of the Fantastic Four, he's going to save the world. As long as Latveria is in that world… and after all, he does have a kid on the way.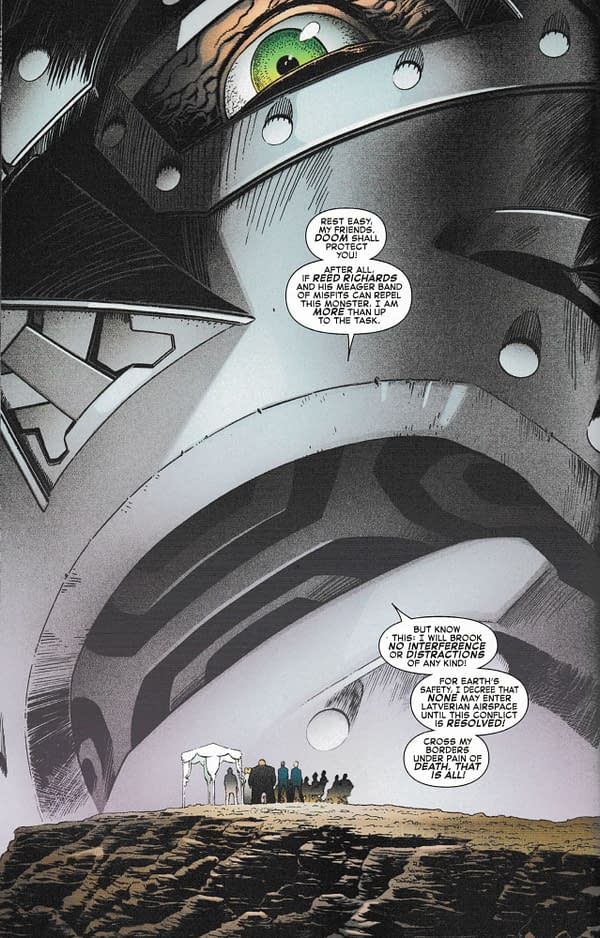 And some bragging to do as well in the process…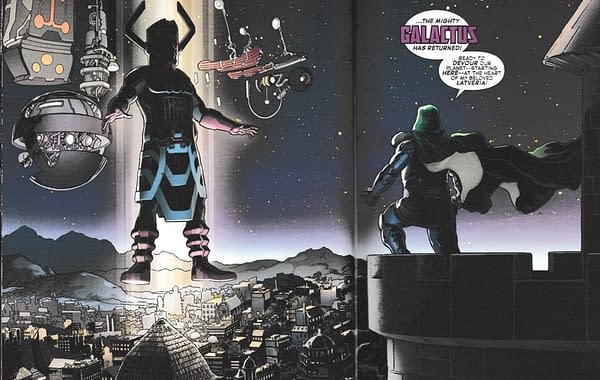 Galactus is back. The original Galactus. Remember, Fantastic Four #6 has the first of the polybagged mystery covers, and the first one retailers are getting for free... so there is something worth hiding.
So… does it feel really really natural in the near future for Doctor Doom and The Superior Spider-Man to team up as a superhero duo? And for Slott to feature them both in FF now?
FANTASTIC FOUR #5
(W) Dan Slott (A) Aaron Kuder, Adam Hughes, Michael Allred (CA) Esad Ribic
SPECIAL 650th ISSUE SPECTACULAR!
The wedding that's been years in the making…Ben and Alicia say "I do!"
No bait. No switch. Not a dream. Not a hoax. And we swear, not a single Skrull around. This is really happening! From the book that brought you the first, best and longest running super hero marriage in comics, we give you…the wedding of Ben Grimm and Alicia Masters! Featuring an untold tale of the courtship of Ben and Alicia. A bachelor party that only Johnny Storm could throw. And a very special ceremony brought to you in the Mighty Marvel Manner.
Rated T In Shops: Dec 26, 2018
SRP: $7.99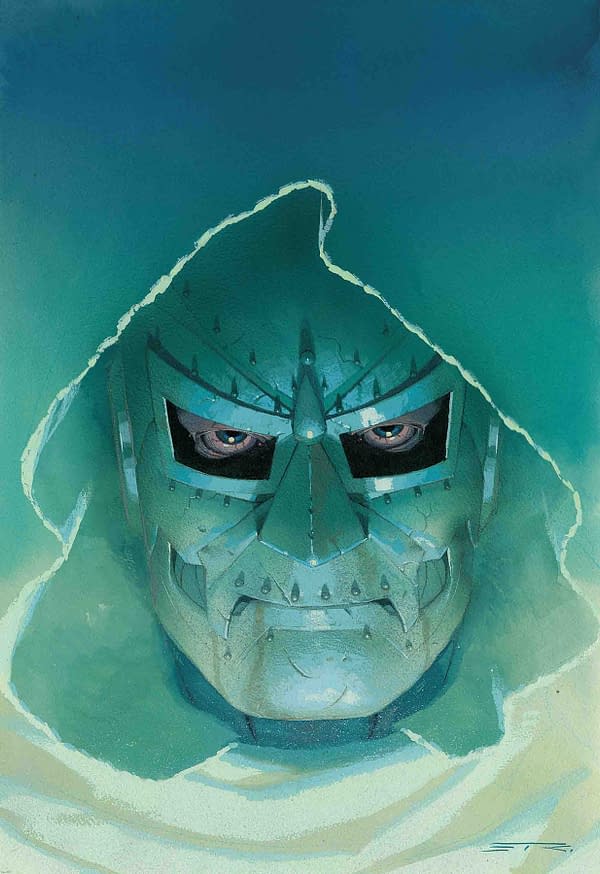 FANTASTIC FOUR #6
(W) Dan Slott (A) Aaron Kuder (CA) Esad Ribic
HERALD OF DOOM!
• GALACTUS HAS RETURNED TO DEVOUR THE EARTH……and only one man can save us: DOCTOR DOOM!
• And where is that agitator, Reed Richards and his meddlesome family? What are they doing?
• They're locked in battle against the brave new hero of the Latverian people, VICTORIOUS!
Rated T In Shops: Jan 16, 2019
SRP: $3.99