Earlier this week, Bleeding Cool posted a piece that suggested that the pulping of Superman #14 and Supergirl #33 may have been down to a differing ethnic portrayal of Lightning Lad than intended. It was speculation based on an initial tip, and then seeing some of the pages from the published comic books before they were destroyed. And an utter disbelief in DC Comics' official explanation that it was down to Year Of The Villain covers to comics that no longer tied into that event. Partially because Catwoman #14 also published this week suffered from the same malady but was not similarly recalled.
Also it is notable that a Legion Of Super-Heroes promotional insert was meant to be included with all this week's DC Comics, but was not. That DC Comics marketing employee Albert Ching posted those pages, saying that's what they were, only for him to subsequently delete that tweet. The pages weren't in the print version and were removed from the digital versions.
Something was clearly up.
And, with Supergirl #33 selling repeated copies for up to $50 and Superman #14 up to $36, those promotional pages have been pored over. And one big change is notable.
This is the (still) solicited cover for Legion Of Super-Heroes: Millenium #2 by Ryan Sook.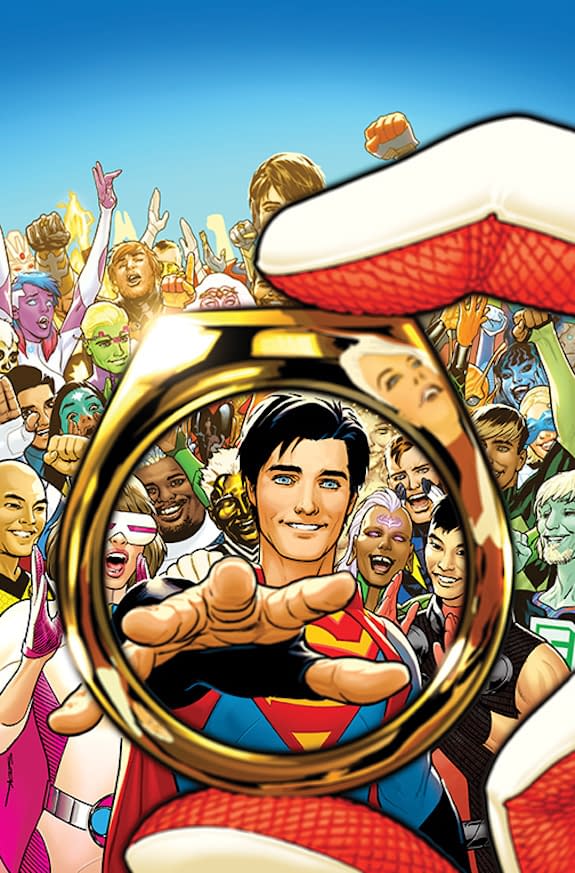 This is how that image appeared in the DC Legion Of Super-Heroes puff piece that has been mysteriously sent to the cornfield.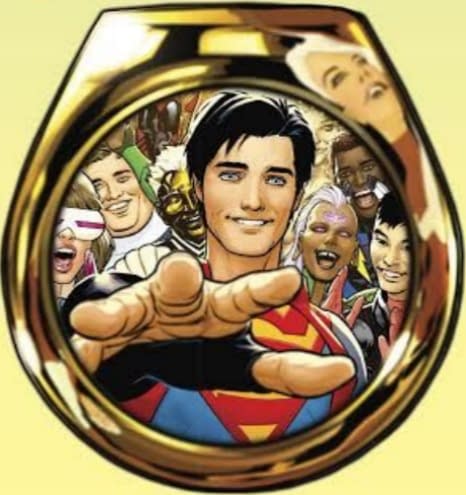 And if you animate them back and forth, the difference is clear…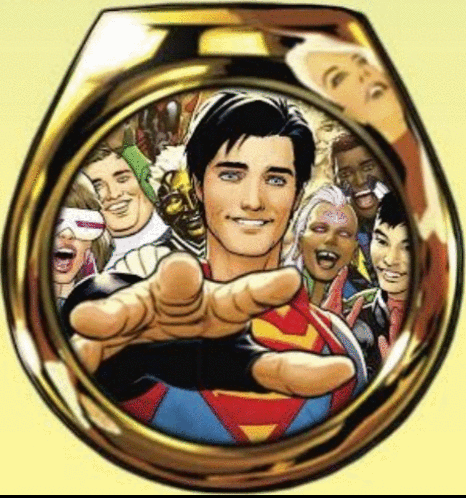 It's not just Lightning Lad but… Bouncing Boy as well?
It looks, and this is only what it looks like, that a decision was initially made regarding the ethnicity of certain characters being introduced in the Legion Of Super-Heroes. You know, set a thousand years hence when hopefully we'll be beyond this sort of stuff.
Then that decision was changed, but previous versions were still being used in previews. But then that change was changed back again – but only after certain comics, promotional pieces and appearances on Seth Meyers had happened. But it would be the printed pages that would cause the most problems. The promotional piece and pages were pulled from the printed comics for this week. but someone forgot to pull them from the ComiXology issues and to tell everyone in Marketing what had happened. Or to tell the Superbooks editorial folk to make changed. or only realised too late that changes could no longer be made and the comics in question had left the printers, leading to the recall and destroy notice.
Either way, this is currently playing out like an episode of The Thick Of It, and everything is going very Streisand effect, To the extent that there is some push back to reverse everything again, and go with what was printed. Which would mean the books are being recalled reprinted for a reason that no longer exists.
We'll see what happens, I guess… if anyone actually knows what's going on, and can tell me how close I got with this mindless speculation, I'd love to know too.
SUPERGIRL #33 YOTV DARK GIFTS
(W) Marc Andreyko (A) Julio Ferreira (A/CA) Eduardo Pansica
After a year in space solving the mystery of Krypton's demise, Supergirl returns to Earth to discover that everything she knew as Kara Danvers is gone! Plus, the usurper Brainiac-1 has set his sights on the unsuspecting Girl of Steel-and his plans are far from benevolent! SRP: $3.99

SUPERMAN #14 YOTV DARK GIFTS
(W) Brian Michael Bendis (A/CA) Joe Prado, Ivan Reis
Lex Luthor is back in Metropolis–and he's ready to wreak havoc! First stop, the most dangerous woman in the DC Universe: Lois Lane! Alone, her family a galaxy away, will Lois be tempted by Apex Lex's offer? What does Lex have that this reporter can't turn away from? Don't miss this shocking new twist in the Superman mythos! SRP: $3.99

LEGION OF SUPER HEROES MILLENNIUM #2 (OF 2)
(W) Brian Michael Bendis (A) Nicola Scott, Jim Cheung, Jeff Dekal (A/CA) Ryan Sook
Get on board for a journey through the future like no other! A gallery of all-star artists join our mysterious guide as they continue their 1,000-year journey toward the 31st century, inspiring Booster Gold to time-travel, debating fighting tactics with O.M.A.C. and making their way to the front door of the Legion of Super-Heroes. The DC event of the future is here now! In Shops: Oct 02, 2019 SRP: $4.99
Enjoyed this article? Share it!