Foolish Forge Thinks Prison is for Rehabilitation in Next Week's Age of X-Man: Prisoner X #2
In the Age of X-Man, sex and love are against the law. It's one of the foundational principles of the supposed "utopia" created by the titular X-Man, in which everyone is a mutant, and no one is allowed to form bonds. In Age of X-Man: Prisoner X #2, Bishop, a former member of the X-Men charged with protecting the rules of the Age of X-Man, finds himself imprisoned in the Danger Room complex for making the beast with two backs with Jean Grey (Grey, who had not offended as many times as Bishop, was simply mindwiped).
In this preview of next week's issue, we see Forge, who is the warden of the prison, receive a visit from Psylocke of Department X, the secret police arm of the X-Men which is tasked with tracking down offenders. Forge seems to view his job as one of rehabilitation and thinks that Bishop could be a model prisoner.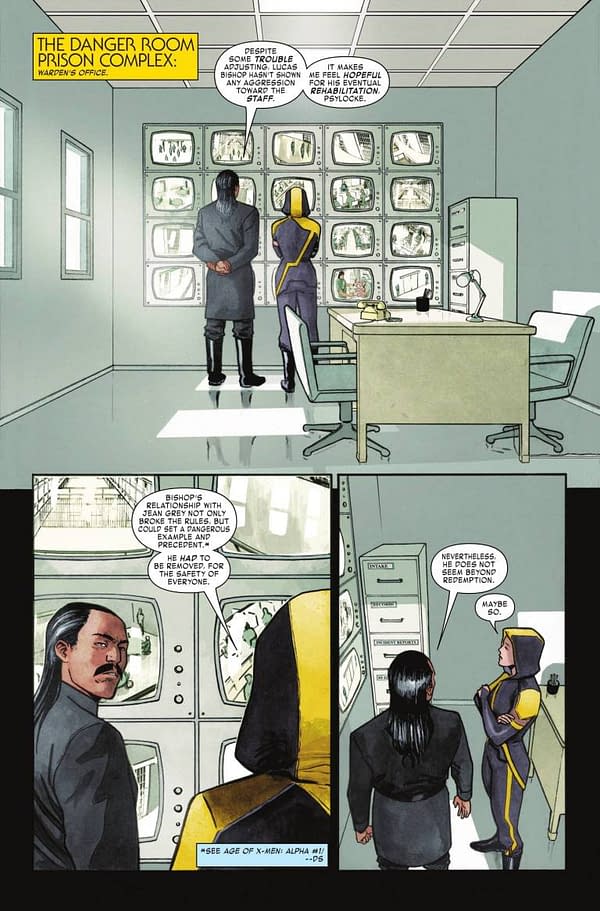 But Forge is forgetting his place. The purpose of the prison isn't to rehabilitate its inmates but to oppress them. And maybe to make money, like prisons in real life? Psylocke sets him straight.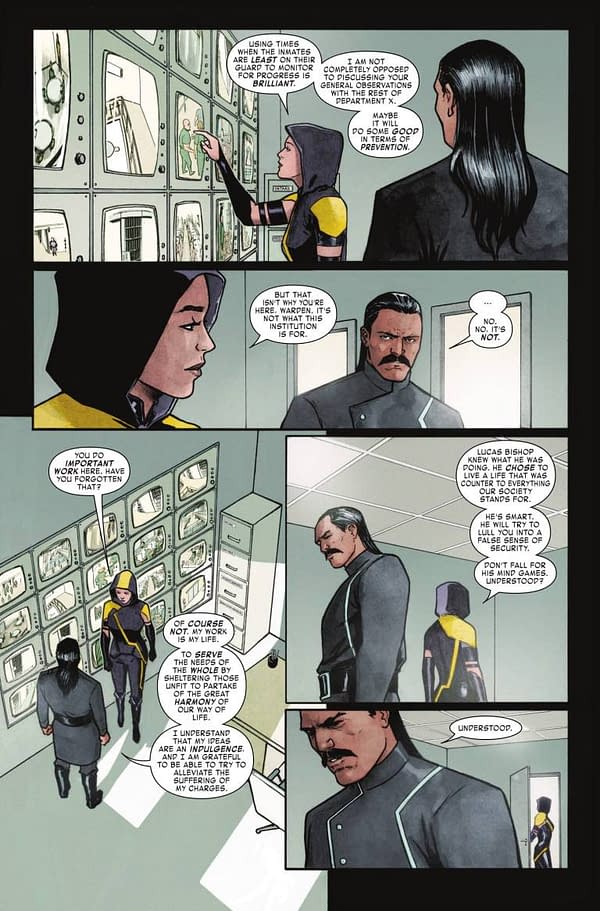 But will Forge listen to her, is the question. It seems that, like many of the X-Men forced to live under this new reality, Forge may be having second thoughts.
This preview began life as an EX-X-XCLUSIVE at The Beat before we stole it. Age of X-Man: Prisoner X #2 hits stores next Wednesday.
Age of X-Man: Prisoner X #2 (of 5)
(W) Vita Ayala (A) German Peralta (CA) Patrick Zircher
THE AGE OF X-MAN CONTINUES!
• Bishop must navigate between the various mutant gangs to find the truth beyond the walls of the prison.
• Can Bishop trust the other inmates, like Polaris?
• Or will he have to break out solo?
Rated T+
In Shops: Apr 03, 2019
SRP: $3.99