DC will be announcing their November 2018 solicitations shortly. But they have put a few out there already… let's stick them together and see what kind of Frankenstein's Monster they create.
THE BATMAN WHO LAUGHS #1 (of 6)
written by SCOTT SNYDER
art and cover by JOCK
This six-issue miniseries pits Batman against the culmination of all his fears from the Dark Multiverse, an evil amalgamation of himself and his greatest nemesis, The Joker.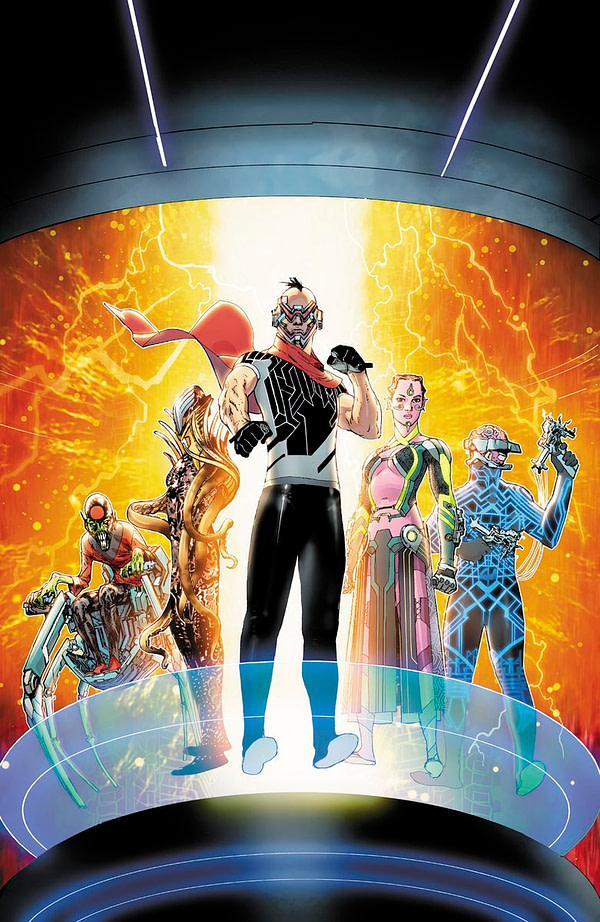 ELECTRIC WARRIORS #1 (of 6)
Written by Steve Orlando
Art by Travel Foreman
In 2735, the Earth emerges from the Great Disaster to rejoin the galaxy, finding a universe teetering on the brink of galactic war. To forestall Armageddon, interplanetary conflicts are settled through Trial by Combat, with diplomatic gladiators known as Electric Warriors. Against the bloody battlefield of the dead Sector 666, these lone warriors sacrifice their lives to ensure that their worlds may live in an always-fragile peace.
Diplomacy, especially the violent diplomacy that is the province of the Electric Warriors is a dangerous enough game, but what happens when the players find out that the game has been rigged, and rigged by those that they've chosen to serve?
SHAZAM #1
Written by Geoff Johns
Art by Dale Eaglesham.
Billy Batson and his surrogate family; Mary Bromfield, Freddy Freeman, Darla Dudley, Eugen Choi and Pedro Pena unlock the mysteries of the Rock of Eternity and delve into the secret worlds of magic to discover their ultimate destiny!
WONDER WOMAN issue #58
Written by G Willow Wilson
Art by Cary Nord
When Steve Trevor's unit goes missing in an Eastern European country torn by revolution, Wonder Woman immediately flies across the globe to help him—only to slam into the brick wall that is Ares, the God of War, who's taken a strange interest in this conflict. But why is Ares acting so strange? Has he turned over a new leaf? Does Wonder Woman have a chance to redeem him? And just as important…if Ares has returned to Earth, then what happened to the supposedly unbreachable prison built to contain him—Wonder Woman's homeland, Themyscira?
DC Nuclear Winter Special #1
Written by PAUL DINI, STEVE ORLANDO, PHIL HESTER, MARK RUSSELL, MAIRGHREAD SCOTT and others Cover by YANICK PAQUETTE
The holidays are tough enough as it is, but when you're living in a post-apocalyptic wasteland (or, you know, 2018), the world can seem bleaker than ever.  So do yourself a favor this holiday season, break out your best eggnog and enjoy ten all-new stories featuring the World's Greatest Heroes, including looks at the futures of Batman, Superman and the Flash, as well as many more denizens of the DC Universe.
PRESTIGE FORMAT. ON SALE 11.28.18 9.99 80 PAGES FC/RATED T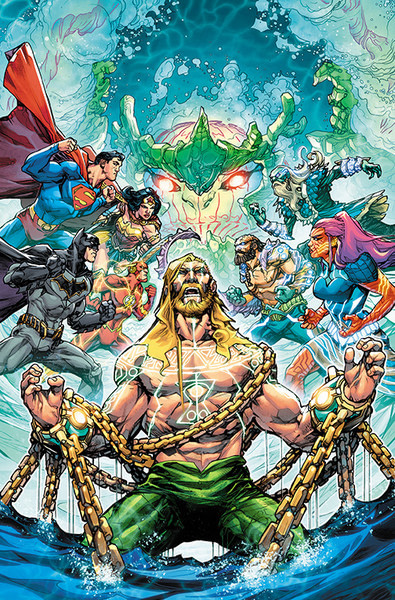 JUSTICE LEAGUE/AQUAMAN: DROWNED EARTH #1
written by JAMES TYNION IV
art and cover by HOWARD PORTER
"Drowned Earth" part one! The Ocean Lords—ancient sea gods with a grudge against Aquaman and Wonder Woman—invade the Earth with an alien army and flood the globe. As Batman, Superman and the Flash race to stop the waters from rising and turning everyone into aquatic monsters, Mera seeks the advice of an old enemy, and Arthur must face down Black Manta…or lose his connection to the ocean forever!
ON SALE 10.31.18
$4.99 US | 48 PAGES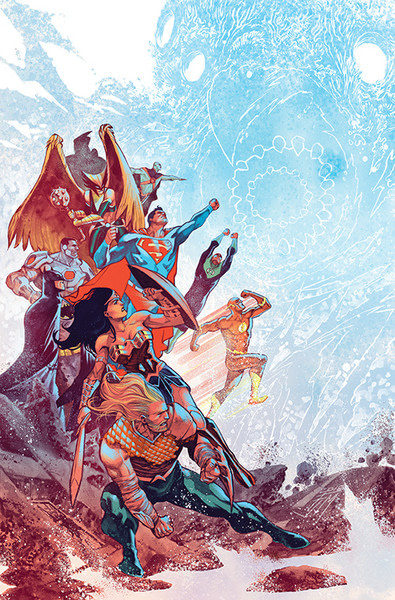 JUSTICE LEAGUE #11
written by SCOTT SNYDER
art and cover by FRANCIS MANAPUL
"DROWNED EARTH" part two! The Justice League is scattered across the Seven Seas, pursued by the Ocean Lords and their army of alien mercenaries and constantly at risk of turning into fish monsters. You know, just a day at the beach. Their only hope lies in the crippled Aquaman, who believes the road to victory lies in unleashing equally vengeful gods on Earth's oceans. Meanwhile, Batman guards the Totality in the sunken Hall of Justice, where no one can attack him…or can they?
ON SALE 11.07.18
$3.99 US | 32 PAGES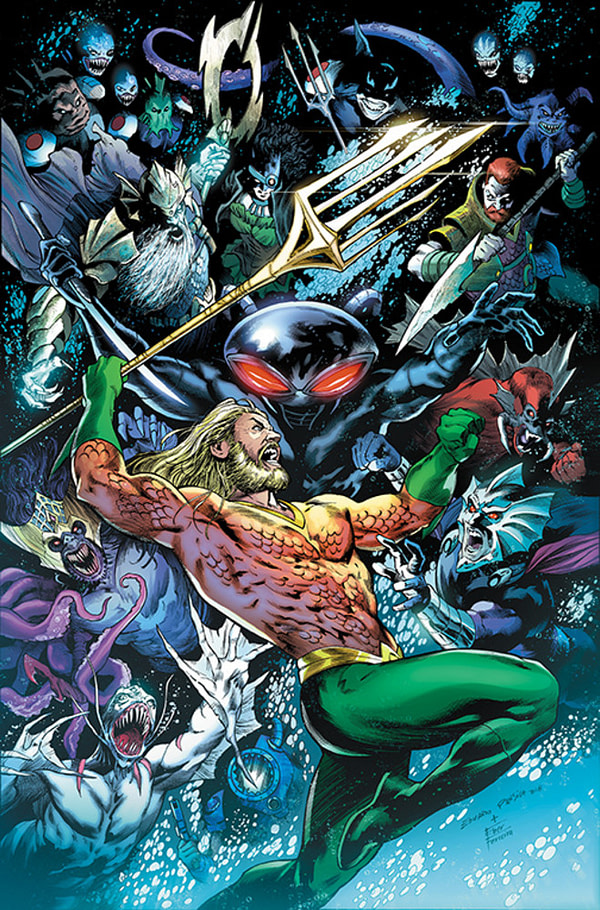 AQUAMAN #42
written by DAN ABNETT
art by LAN MEDINA
cover by EDUARDO PANSICA
A "DROWNED EARTH" tie-in story! As Aquaman and Wonder Woman race home from the
Graveyard of Gods to turn the tide against the Ocean Lords, Arthur learns a stunning secret about his past! Armed with the knowledge that the Justice League may be fighting the wrong enemy, Aquaman must confront the ocean lords and learn the truth before the cosmic flood resets all life on Earth!
ON SALE 11.21.18
$3.99 US | 32 PAGES
JUSTICE LEAGUE #12
written by JAMES TYNION IV
art by FRAZER IRVING
cover by JORGE JIMENEZ
"DROWNED EARTH" part three! It's Batman, in a full-body cast, versus the Legion of Doom! Get a ringside seat for the craziest fight in comics as a bedridden Batman battles The Joker, Lex Luthor, Gorilla Grodd and Sinestro! Meanwhile, Aquaman locks tridents with Poseidon and Mera discovers an ancient secret that could change the fate of Atlantis—and the entire Earth—forever!
ON SALE 11.21.18
$3.99 US | 32 PAGES
AQUAMAN/JUSTICE LEAGUE: DROWNED EARTH #1
written by SCOTT SNYDER
art by FRANCIS MANAPUL and
HOWARD PORTER
cover by FRANCIS MANAPUL
"DROWNED EARTH" finale! Aquaman faces the truth behind Atlantis' past and must find a way to reclaim the power of his birthright or watch the floodwaters drown everything he has ever loved! With the world at stake and the Justice League on their last sea legs in their battle against the Ocean Lords, Arthur makes the ultimate sacrifice to return balance to land and sea!
ONE-SHOT
ON SALE 11.28.18
$4.99 US | 48 PAGES