Free Copies of John Carpenter Presents: Storm Kids to Comic Shops
Storm King is giving away free issues of the book John Carpenter Presents Storm Kids: The Grimms Town Terror Tales to American retailers. It's the first issue of series that was to have been published this year but will now be published next. Storm King will also be paying for the shipping.
The first issue of Storm Kids: The Grimms Town Terror Tales follows the adventures of brother and sister duo Hansel & Gretel as they face off against a nefarious witch that commands a legion of ghouls, ghosts, and goblins. Along the way, the kids must unravel a series of mysteries in hopes of tracking down their parents, who have mysteriously vanished. Armed with an awesome array of techno-magical weapons designed for paranormal butt-kicking (technological devices fueled by magical energy), this dynamic duo must pick up where their parents left off, protecting Grimms Town from all the dreadful things that go bump in the night.
The series has been created by John Carpenter and Sandy King, written by Neo Edmund, with art by Renae De Liz, and lettered by Janice Chiang. Retailers interested are encouraged to send an email to Sean at info@stormkingproductions.com with your store name, address and phone number. While readers can get a free digital copy by filling in this form.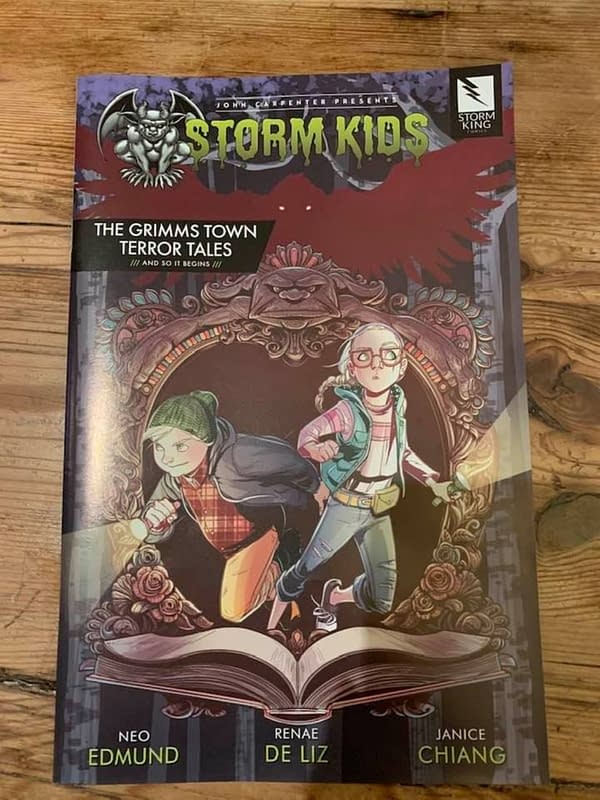 There is also a one-shot for Storm Kids coming out in October from Jeff Balke Studios, John Carpenter Presents Storm Kids: Stanley's Ghost written by Jeff Balke and Paul Storrie, drawn by Dave Alvarez, coloured by Jeff Balke and lettered by Janice Chiang. Balke writes "I'm REALLY excited about my little guys (Stanley, Natasha, Baby Fang, Chester, Bandit and Billy) in their first one-shot comic book" and you can hear more at this interview. Here's the cover to that one.
Storm King Comics, formed in 2012 as a division of Storm King Productions, is headed by writer/producer and editor Sandy King along with her husband, director John Carpenter. Their flagship comic book title John Carpenter's Asylum was followed by their annual anthology, John Carpenter's Tales for a HalloweeNight, and most recently the monthly anthology series, John Carpenter's Tales of Science Fiction.