Gen 13 #1 by Jim Lee & J Scott Campbell CGC 9.8 at Auction
Gen¹³ is a superhero team and comic book series originally created by Jim Lee, Brandon Choi and J. Scott Campbell from Aegis Entertainment/WildStorm Productions, published by Image Comics. It was bought by DC Comics along with the rest of Jim Lee's WildStorm line. Each member of the original team, Caitlin Fairchild, Roxy Spaulding, Grunge, Burnout, and Threshold, later joined by Sarah Rainmaker, was a child of a member of other WildStorm characters, Team 7. Imprisoned as part of a government experimental project, the teenagers had to escape, and continue fighting for their freedom.
Kevin Altieri directed a Gen¹³ cartoon movie for Disney's Buena Vista Pictures, but it was binned after Wildstorm was bought by Warner Bros' DC Comics; however, there was a limited video release in Europe and Australia in 2000 with Threshold voiced by Mark Hamill and Lynch voiced by John de Lancie.
The series ran for years with different creative teams before being relaunched and rebooted a couple of times and saw two spin-off books, DV8 and Gen¹³ Bootleg, as well crossovers with Superman, Spider-Man, the Maxx, Monkeyman and O'Brien, Generation X, and the Fantastic Four. When DC Comics launched the New 52 in 2011, all WildStorm series and characters were folded into the DC Universe. While DC didn't have a Gen¹³ title, Caitlin Fairchild appeared in Superboy and spin-off title The Ravagers.
However, there is always the promise and possibility of a return of the Gen¹³ series – one would have probably happened as part of 5G – but its time will naturally come again. And if Warners is looking for a cool superhero teenager team to add to the ranks, Gen¹³ has to be a major option if they can sort out the Disney issue.
The first issue of the ongoing series, Gen-13 #1 from 1995, that came after the original mini-series and their first appearance in Deathmate Black, is being auctioned today by Heritage Auctions in a CGC slabbed 9.8 grade. It has yet to receive a bid but the live auction will begin in three hours. Might someone pick up a bargain?
Gen¹³ #1 Variant Cover A (Image, 1995) CGC NM/MT 9.8 White pages. "Charge" variant cover by J. Scott Campbell. Overstreet 2021 NM- 9.2 value = $8. CGC census 6/22: 68 in 9.8, 1 higher.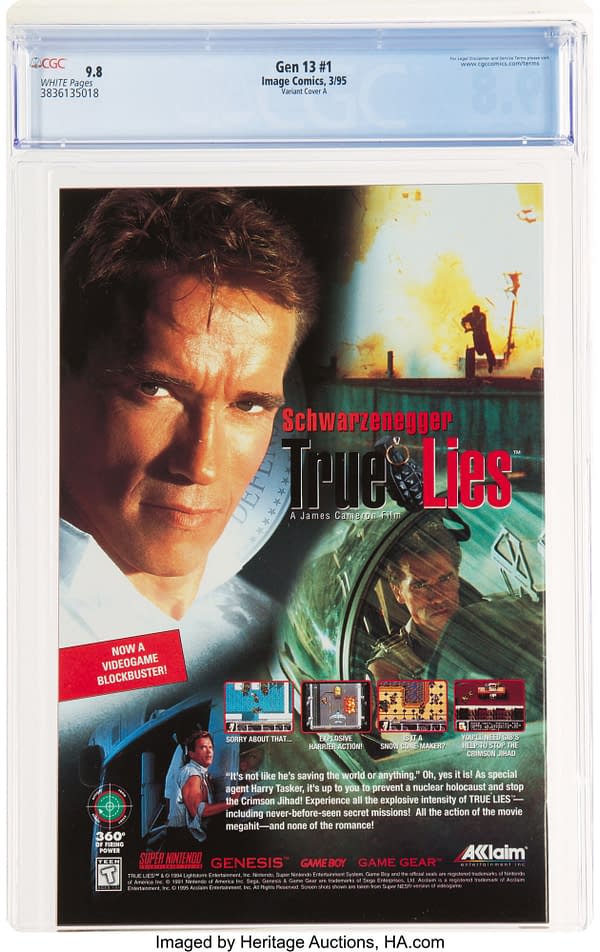 Affiliates of Bleeding Cool buy from and/or consign to Heritage Auctions.