Today it was announced that Geoff Johns was stepping down from his executive positions at DC Comics to launch a new writer/production company Mad Ghost Productions.
We'll totally be unpacking that later, as pretty much every senior figure in the industry had their take on the situation.
But first… we have found Geoff Johns's new website, featuring his comics, TV, and film projects — and the new logo for his Killing Zone imprint.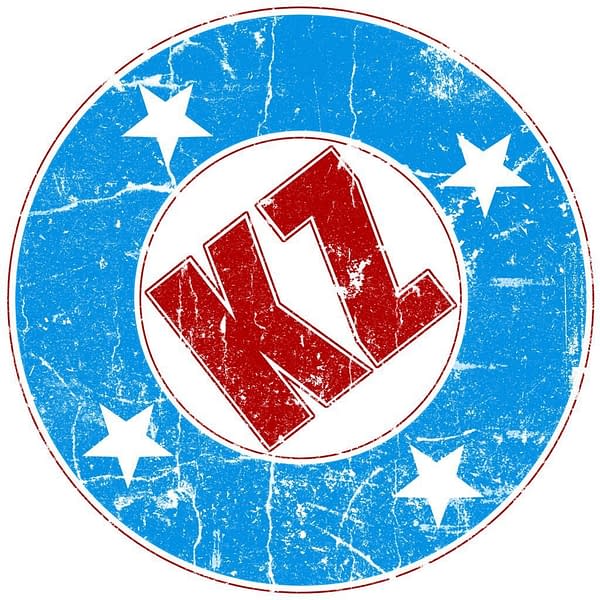 And what he's working on…
COMICS:
DOOMSDAY CLOCK
The critically-acclaimed top-selling DC Comics series illustrated by Gary Frank and colored by Brad Anderson continues as the Watchmen universe collides with the DC Universe. While the events of The Supermen Theory have sent the world spiraling into a dangerous metahuman
arms race; Ozymandias, Rorschach, Marionette and Mime have been split apart on their search for Dr. Manhattan and their quest to save their own world. But nothing is ever what it seems when it comes to Watchmen…
SHAZAM!
A new series coming in fall 2018! Billy Batson and his surrogate family; Mary Bromfield, Freddy Freeman, Darla Dudley, Eugen Choi and Pedro Pena unlock the mysteries of the Rock of Eternity and delve into the secret worlds of magic to discover their ultimate destiny!
THREE JOKERS
Illustrated by the brilliant Jason Fabok, "Three Jokers" is a mystery unlike anything the Dark Knight has faced. One that will shed a new light on The Batman and those closest to him as everything he's ever believed about The Joker comes into question.
THE KILLING ZONE
A mysterious new pop-up imprint coming to DC Comics…

BATMAN: EARTH ONE VOLUME 3
Continuing the acclaimed series that re-invents the world of Batman, illustrated by Gary Frank and Jon Sibal and colored by Brad Anderson.
FILM:
GREEN LANTERN CORPS
Once of DC Comics' greatest Super Hero universes, the film will feature Hal Jordan and John Stewart…
IN DEVELOPMENT
WONDER WOMAN 2
The anticipated sequel to Patty Jenkins' iconic "Wonder Woman" again stars Gal Gadot as Wonder Woman and Kristen Wiig as The Cheetah! Wonder Woman was created by William Moulton Marston.
RELEASE DATE: NOVEMBER 1, 2019
SHAZAM!
Directed by David F. Sandberg, "Shazam!" stars Zachary Levi as the boy-turned-superhero and Mark Strong as the villainous Doctor Sivana. The original Captain Marvel was created by legendary artist C.C. Beck and writer Bill Parker.
THE FILM IS SCHEDULED TO BE RELEASED BY NEW LINE CINEMA AND WARNER BROS. PICTURES APRIL 5, 2019
AQUAMAN
Directed by master-storyteller James Wan, "Aquaman" stars Jason Momoa as Arthur Curry, Amber Heard as Mera, Patrick Wilson as King Orm and Yahya Abdul-Mateen II as Black Manta. Aquaman was created by Paul Norris.
THE FILM WILL BE RELEASED BY WARNER BROS. PICTURES ON DECEMBER 21, 2018
TV:
DOOM PATROL
DOOM PATROL is a re-imagining of one of DC's most beloved group of outcast Super Heroes: Robotman, Negative Man, Elasti-Girl and Crazy Jane, led by modern-day mad scientist Dr. Niles Caulder (The Chief). The Doom Patrol's members each suffered horrible accidents that gave them superhuman abilities—but also left them scarred and disfigured. Traumatized and downtrodden, the team found purpose through The Chief, who brought them together to investigate the weirdest phenomena in existence—and to protect Earth from what they find. Part support group, part Super Hero team, the Doom Patrol is a band of super-powered freaks who fight for a world that wants nothing to do with them. Picking up after the events of TITANS, DOOM PATROL will find these reluctant heroes in a place they never expected to be, called to action by none other than Cyborg, who comes to them with a mission hard to refuse, but with a warning that is hard to ignore: their lives will never, ever be the same.
Premiering in 2019 on the new streaming service DC Universe, produced by Warner Bros. Television and Berlanti Productions.
TITANS
Titans follows a group of young soon-to-be Super Heroes recruited from every corner of the DC Universe. In this action-packed series, Dick Grayson emerges from the shadows to become the leader of a fearless band of new heroes, including Starfire, Raven, and many others. Titans is a dramatic, live-action adventure series that will explore and celebrate one of the most popular comic book teams ever.
Premiering in 2018 on the new streaming service DC Universe, produced by Warner Bros. Television and Berlanti Productions.
THE FLASH
The CW's The Flash follows criminal scientist Barry Allen after he's struck by a bolt of lightning and transformed into The Fastest Man Alive! Working with his friends and family, The Flash protects all of time and the multiverse from those that threaten it.
Enjoyed this article? Share it!