Ghostbusters Return to Year One in IDW's Full January Solicitations
In IDW's full January solicitations, the Ghostbusters are heading back to Year One in a new four-issue mini-series by Erik Burnham and Dan Schoening. The series coincides with the upcoming release of the new Ghostbusters 2020 film, and is framed within the story of a publisher working on a Ghostbusters biography and a writer interviewing the Ghostbusters for the project. It looks like the first issue will feature an interview with Winston and the story of his "very first bust."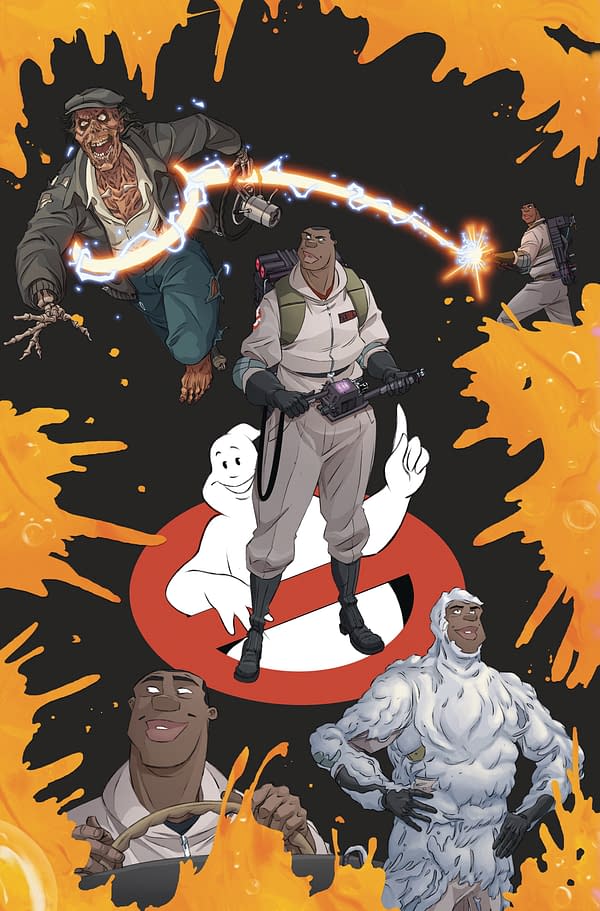 Check out the full IDW and Top Shelf solicitations below.
---
SONIC THE HEDGEHOG #25 CVR A HESSE
NOV190580
(W) Ian Flynn (A) Adam Bryce Thomas (CA) Tyson Hesse
"A Sudden Shift." The world has fallen to the Metal Virus. Heroes, villains, and civilians have become Zombots. There's only one place left to hide and the few survivors-good and bad alike-find themselves up against a new threat commanding the Zombot hordes. Who will Sonic turn to for help in his most desperate hour? Find out in this extra-length issue!
In Shops: Jan 22, 2020
SRP: $4.99
TOM CLANCY GHOST RECON BLIND PROPHET #1 (OF 5) 10 COPY INCV
NOV190590
(W) Philip Kennedy Johnson (A) Paco Diaz (CA) Andrea Mutti
A never-before-seen chapter of the Ghost Recon game series! Before the events of Ghost Recon: Breakpoint, Nomad and Walker are teammates in Afghanistan. When a mysterious Sudanese warlord with a deadly history with the Ghosts reemerges, Nomad and Walker are sent in to take him down… but when they learn the warlord's identity, it throws into doubt everything they think they know about the Ghosts themselves. Don't miss the epic story that leads to Ghost Recon: Breakpoint!
In Shops: Jan 22, 2020
Final Orders Due: Dec 30, 2019
SRP: PI
GHOSTBUSTERS YEAR ONE #1 (OF 4) CVR A SHOENING
NOV190591
(W) Erik Burnham (A/CA) Dan Schoening
In anticipation of the new Ghostbusters feature film coming to theaters Summer 2020, we look back at the Boys in Grey's first year on the job, showcasing never before seen adventures! After defeating Gozer and becoming heroes in the city, county, and state of New York, a publisher has decided to cash in with a biography of the Boys in Grey and sends a writer to interview them all for background. He starts with WINSTON ZEDDEMORE, the first 'buster hired into the supernatural start-up. Winston relates the story of his very first bust, so we can finally know what kind of… ahem, stuff he's seen that'll will turn you white!
In Shops: Jan 15, 2020
SRP: $3.99
TRANSFORMERS #17 CVR B CAHILL
NOV190599
(W) Brian Ruckley (A) Anna Malkova, Bethany McGuire-Smith (CA) Brendan Cahill
Megatron is faced with the ultimate decision. He can forge ahead on the path he's started down, or he can take the last chance at doing things by the book. Either way, Cybertron is on the verge of change, and after this, nothing will ever be the same.
In Shops: Jan 22, 2020
SRP: $3.99
TRANSFORMERS 100 PAGE GIANT POWER PREDACONS
NOV190605
(W) John Paul Bove, Simon Furman, Josh Van Reyk, Shawn Knowler (A) Corin Howell, E. J. Su, Various (A/CA) Don Figueroa
Prepare to be terrorized by this collection of the Predacons' finest moments! Collecting stories from Transformers UK #135-136, Transformers UK Annual 1987, Beast Wars: The Gathering #1, Transformers Spotlight Jazz, and the never before republished Transformers: Dawn of the Predacus 2016 BotCon exclusive comic!
In Shops: Jan 15, 2020
SRP: $5.99
TRANSFORMERS GALAXIES #5 10 COPY INCV MALKOVA
NOV190608
(W) Tyler Bleszinski (A) Livio Ramondelli (CA) Anna Malkova
"Wannabee," Part One! Years ago, a Probat scientist visiting Cybertron had his life saved by the one and only Bumblebee! Now the Probats are huge fans, and when Deathsaurus goes to negotiate a new energy deal, he wants their number one bot on his side. Unfortunately, Bee's a little busy, so Deathsaurus turns to the next best option-the guy who looks like red Bumblebee, Cliffjumper!
In Shops: Jan 29, 2020
Final Orders Due: Jan 06, 2020
SRP: PI
GI JOE #5 CVR A EVENHUIS
NOV190610
(W) Paul Allor (A) Niko Walter (CA) Chris Evenhuis
The Joes return to Indianapolis, site of one of Cobra's greatest atrocities. Little do they expect to find the city controlled by the brutal Dreadnoks! As Cobra draws closer, the Joes will have to make difficult choices in an impossible situation!
In Shops: Jan 08, 2020
SRP: $3.99
GI JOE A REAL AMERICAN HERO #272 10 COPY INCV ROYLE (C
NOV190614
(W) Larry Hama (A) Robert Atkins (CA) John Royle
"SNAKE HUNT" Part 7! Cobra Commander wants a Snake Eyes of his own. The Joes have other ideas. It'll take two armies to settle this dispute! It's all hands on deck for both G.I. JOE and Cobra as living legend Larry Hama and fan-favorite artist Netho Diaz continue this massive 10-issue event… featuring EVERY SINGLE MEMBER OF G.I. JOE! There's no halftime break in this contest, folks! All action, all the time!
In Shops: Jan 29, 2020
Final Orders Due: Jan 06, 2020
SRP: PI
GI JOE PORTFOLIO (O/A)
NOV190619
(A) Various
The legendary packaging artwork from G.I. Joe! Each print has been scanned from the original packaging artwork held within the Hasbro vault. Contents include ten 11" x 17" prints featuring classic packaging art from the original G.I. Joe toyline! Contents include 10 prints.
In Shops: Dec 25, 2019
SRP: $39.99
TMNT ONGOING #100 DLX HC
NOV190620
(W) Tom Waltz, Kevin Eastman (A/CA) Dave Wachter
Revisit one of the biggest books of 2019 with this oversized deluxe hardcover version of TMNT #100! Featuring behindthe-scenes artwork, commentary, and rare cover artwork. This is the perfect item for mega-fans of TMNT!
In Shops: Jan 08, 2020
SRP: $19.99
TMNT ONGOING TP VOL 23 CITY AT WAR PT 2
NOV190621
(W) Kevin Eastman, Tom Waltz (A) Michael Dialynas (A/CA) Dave Watcher
It's all-out war on the streets of NYC! The road to 100 ends here! It's the shocking culmination of nearly a decade of storytelling as the Teenage Mutant Ninja Turtles and Splinter face their darkest hour against a multitude of enemies bent on their total destruction. Karai, Agent Bishop, Old Hob and the Mutanimals, Metalhead, Leatherhead, the Pantheon, Hun-they're all here, as well as twists, turns, tragedy, and heart-stopping surprises at every turn. Find out how a City at War will change the world forever!
In Shops: Mar 18, 2020
SRP: $19.99
TMNT URBAN LEGENDS #21 CVR A FOSCO
NOV190627
(W) Gary Carlson (A/CA) Frank Fosco
The battle between Michelangelo, Leonard, Casey, and the Triceratons comes to a head! Good thing Raphel is there with his Foot Clan to help turn the tide-though it might not be his Foot Clan much longer if Pimiko, Shredder's daughter, has anything to say about it…
In Shops: Jan 15, 2020
SRP: $3.99
TMNT ONGOING #102 CVR A CAMPBELL
NOV190631
(W) Tom Waltz, Kevin Eastman, Sophie Campbell (A/CA) Sophie Campbell
The Turtles are separated, each trying to find their own way forward. With their absence, Old Hob fills the power vacuum with the help of some very unusual new mutants!
In Shops: Jan 15, 2020
SRP: $3.99
USAGI YOJIMBO COLOR CLASSICS #1
NOV190634
(W) Stan Sakai (A/CA) Stan Sakai
This series collects the original early issues of the acclaimed long-running series, NOW IN FULL COLOR! Every issue will also feature new behind-the-scenes material and art. Whether you're a long-term Usagi fan or brand new to the adventures of the ronin rabbit, this series will be the perfect addition to your comic library!
In Shops: Jan 22, 2020
SRP: $3.99
NAPOLEON DYNAMITE DIRECTORS CUT
NOV190636
(W) Alejandro Verdugo (A) Jorge Monlongo (CA) Sara Richard
Go behind the scenes with the creators and witness the amazing power it took to conjure up the smash-hit premeire issue of Napoleon Dynamite "Impeach Pedro," featuring annotations from the scribes and never-before-seen comic conceptual artwork and sketches. NAPOLEON DYNAMITE is back and senior year is gonna be flippin' sweet! He's dating Deb, training at a new dojo, and his best friend, Pedro, is student body President. But the good times might not last when a fellow student accuses Pedro of cheating in the election. Can Napoleon and Deb use their special skills to clear their friend before the principal can IMPEACH PEDRO? Maybe, gosh, get off his back!
In Shops: Jan 08, 2020
SRP: $4.99
STAR TREK PICARD #3 (OF 3) CVR A PITRE-DUROCHER
NOV190637
(W) Mike Johnson, Kirsten Beyer (A) Angel Hernandez (CA) Sara Pitre-Durocher
Jean-Luc Picard has traveled to the furthest reaches of the galaxy, defeated impossible foes, and survived in the face of unthinkable odds, but it's the end of this one mission that will change his life forever. The official countdown to CBS All Access's Star Trek: Picard ends here, and things will never be the same…
In Shops: Jan 29, 2020
SRP: $4.99
STAR TREK YEAR FIVE #10 CVR A THOMPSON
NOV190642
(W) Jim McCann (A) Angel Hernandez (CA) Stephen Thompson
With Captain Kirk still incapactiated, Spock finds himself trapped between a planet quickly spinning into chaos and a crew at each other's throats.
In Shops: Jan 22, 2020
SRP: $3.99
STAR TREK YEAR FIVE #1 HILDEBRANDT (O/A)
NOV190644
(W) Jackson Lanzing, Collin Kelly (A) Stephen Thompson (CA) Greg Hildebrandt
The crew of the U.S.S. Enterprise left Earth four years ago. They've traveled to strange new worlds, defeated impossible foes, and made universe-changing decisions. But now, with the end in sight, they'll have to face their biggest challenge yet. Step aboard the Enterprise with Kirk, Spock, Bones, Uhura, Sulu, Scotty, and Chekov as they begin the end of their original Five Year Mission and boldly go into an uncertain future in this new continuing Star Trek series! A new continuing series about the end of the Five-Year Mission! The classic crew is back in all -new stories featuring your favorite characters from the Original Series! Featuring a new cover by legendary artist Greg Hildebrandt! Ask your retailer about the Greg Hildebrandt retailer incentive sketch cover!
In Shops: Dec 18, 2019
SRP: $3.99
STAR TREK YEAR FIVE #2 CVR A THOMPSON (O/A)
NOV190645
(W) Jackson Lanzing, Collin Kelly (A/CA) Stephen Thompson
As the last year of their original mission begins, the crew of the U.S.S. Enterprise will have to use all of the skills they've acquired along the way as they prepare to face the biggest challenge of their lives-a dark threat that doesn't just threaten their existence, but the existence of the entire Federation as well…
In Shops: Dec 25, 2019
SRP: $3.99
STAR TREK YEAR FIVE #3 CVR A THOMPSON (O/A)
NOV190646
(W) Brandon M. Easton (A) Martin Coccolo (CA) Stephen Thompson
With their clash with the Tholian Assembly still fresh in their minds, the crew of the Enterprise, along with their new Tholian passenger, encounter a strange new threat on a very familiar world. The final adventures of the five-year mission continue! A new continuing series about the end of the Five-Year Mission! The classic crew is back in all-new stories featuring your favorite characters from the Original Series! Don't miss the retailer incentive covers from artist J.J. Lendl!
In Shops: Dec 18, 2019
SRP: $3.99
STAR TREK YEAR FIVE #4 CVR A THOMPSON (O/A)
NOV190647
(W) Brandon Easton (A) Martin Coccolo (CA) Stephen Thompson
With the situation on Sigma Iotia II quickly unraveling, it's up to Kirk and Bones to stop a dangerous group of radicals from unleashing a space/time fissure that could destroy the planet. Meanwhile, back on the Enterprise, Scotty uncovers a secret that risks the safety of the Tholian passenger. The final year of the original mission continues here! A new continuing series about the end of the Five-Year Mission! The classic crew is back in all-new stories featuring your favorite characters from the Original Series! Don't miss the travel poster variant from artist J.J. Lendl!
In Shops: Dec 25, 2019
SRP: $3.99
STAR TREK YEAR FIVE #5 CVR A THOMPSON (O/A)
NOV190648
(W) Jody Houser (A) Silvia Califano (CA) Stephen Thompson
During an investigation of a long-dead world, the crew of the Enterprise uncovers a mysterious device that at first appears to be a universal translator. But as Uhura investigates this strange new device, she'll quickly discover there's more than meets the eye about the Truth Artifact! Written by Jody Houser (Faith, Mother Panic, Stranger Things)! A continuing series about the end of the Five-Year Mission! The classic crew is back in all-new stories featuring your favorite characters from the Original Series!
In Shops: Dec 18, 2019
SRP: $3.99
COBRA KAI KARATE KID SAGA CONTINUES #4 (OF 4) CVR A MCLEOD
NOV190649
(W) Denton J. Tipton (A/CA) Kagan McLeod
It's the final showdown! The tournament has arrived, and Johnny aims to defend his honor against the upstart from Jersey as victory and love hang in the balance!
In Shops: Jan 29, 2020
SRP: $3.99
DUNGEONS & DRAGONS INFERNAL TIDES #3 (OF 5) CVR A DUNBAR
NOV190652
(W) Jim Zub (A/CA) Max Dunbar
An entire city sent sliding into Hell, and the Baldur's Gate heroes are trapped along for the ride! With infernal devils attacking from every side and no way home, how will our heroes survive? Infernal Tides continues the D&D comic odyssey written by Jim Zub (D&D: Legends of Baldur's Gate, D&D: Shadow of the Vampire, Avengers) with artwork by Max Dunbar (Avengers, D&D: Legends of Baldur's Gate)!
In Shops: Jan 22, 2020
SRP: $3.99
DUNGEONS & DRAGONS FR CLASSICS OMNIBUS TP VOL 01 (O/A)
NOV190656
(W) Jeff Grubb, Barbara Kesel, Jim Lowder, Kate Novak-Grubb, Dan Mishkin (A) Mike Collins, Dave Hoover, Dan Reed, Dave Simons, Randy Elliott, Paul Abrams, Alan Kupperberg (A/CA) Rags Morales
Collecting the comics from the most popular fantasy campaign setting in history, this omnibus contains the first 14 issues of Forgotten Realms and the TSR Worlds Annual #1 originally published by DC Comics.
In Shops: Dec 18, 2019
SRP: $29.99
GEARS OF WAR HIVEBUSTERS TP
NOV190660
(A) Wagner Reis, Martin Coccolo, Agustin Padilla (CA) Alan Quah
From Gears 5's brand new Escape mode, follow a whole new squad of soldiers with nothing to lose on a pulse-pounding mission, and dive deep into their story for the first time ever. After successfully busting a Swarm hive on the remote island of Pahanu, Mac, Lahni, and Keegan will face their most dangerous task yet – and Mac will have to confront his past head-on. The only way they'll survive this suicide mission is through sheer grit and a perfect balance of teamwork. Set on the fictional plant of Sera, the Gears of War series charts the story of humanity's struggle against an army of monstrous, fearsome, and brutal adversaries through a captivating tale of hope, comradery, and survival.
In Shops: Mar 25, 2020
SRP: $17.99
READ ONLY MEMORIES #2 (OF 4) CVR A SIMEONE
NOV190661
(W) Sina Grace (A/CA) Stefano Simeone
Lexi Rivers thought she left the big-time crime behind in Neo-San Francisco, but investigating a missing persons case has led her to the doorstep of a new mystery-one called the Harvest. And following their trail leads her back to the place-and the people-she left behind…
In Shops: Jan 22, 2020
SRP: $4.99
DYING IS EASY #2 (OF 5) CVR A SIMMONDS
NOV190664
(W) Joe Hill (A/CA) Martin Simmonds
From the powerhouse team of Joe Hill (Locke & Key) and Martin Simmonds (Punks Not Dead) comes the second chapter in the inaugural Syd "Sh*t-Talk" Homes mystery! Comedy may be hard and dying may be easy, but getting yourself off the hook for murder? For Syd Homes, that's looking damn near impossible. The prime suspect in the death of joke stealer and general thief Carl Dixon, Syd's on the run, and it's going to take all of his investigative chops to suss out the real killer before he gets caught. And thrown in jail. With all the guys he locked up. Luckily, he's already got a couple of suspects in mind…
In Shops: Jan 15, 2020
SRP: $3.99
WELLINGTON #2 (OF 5) 10 COPY INCV HACK
NOV190669
(W) Aaron Mahnke, Delilah Dawson (A) Piotr Kowalski (CA) Robert Hack
As if a supernatural murder mystery wasn't enough trouble, Arthur Wellesley must also deal with a talking crow, a magical crone, and an otherworldly monster roaming the countryside. All in a day's work for the Duke of Wellington. The supernatural thriller from Aaron Mahnke, creator of Lore, the hit podcast, continues here!
In Shops: Jan 15, 2020
Final Orders Due: Dec 23, 2019
SRP: PI
GLOW VS THE BABYFACE #3 (OF 4) CVR A FISH
NOV190670
(W) Aimee Garcia, AJ Mendez (A) Hannah Templer (CA) Veronica Fish
The women of GLOW are preparing for an all-new sort of foe… a news anchor! As they learn the art of the promo to convince the media that GLOW isn't a bad influence on children they discover a much bigger problem-a runaway who's been living under the ring!
In Shops: Jan 15, 2020
SRP: $3.99
GLOW VS THE BABYFACE #3 (OF 4) 10 COPY INCV NODET
NOV190672
(W) Aimee Garcia, AJ Mendez (A) Hannah Templer (CA) Christine Nodet
The women of GLOW are preparing for an all-new sort of foe… a news anchor! As they learn the art of the promo to convince the media that GLOW isn't a bad influence on children they discover a much bigger problem-a runaway who's been living under the ring!
In Shops: Jan 15, 2020
Final Orders Due: Dec 23, 2019
SRP: PI
GLOW #1 CVR A TEMPLER (O/A)
NOV190673
(W) Tini Howard (A/CA) Hannah Templer
The Gorgeous Ladies of Wrestling are ready to take on the world-or at least LA-in this comic based on the hit Netflix series! When the unthinkable happens and the women of GLOW find themselves ahead of schedule, Sam ruins the promise of a wrestling-free weekend with… more wrestling! Robbed of blissful relaxation and forced to raise money to fund their way to the event, the GLOW team is less-than-prepared for their opponents: real gorgeous lady wrestlers. What could possibly go wrong?!
In Shops: Dec 25, 2019
SRP: $3.99
GLOW #2 CVR A TEMPLER (O/A)
NOV190674
(W) Tini Howard (A/CA) Hannah Templer
Faced with foes in the forms of the Star Primas-who have real muscles and matching windbreakers-the Gorgeous Ladies of Wrestling are ready to prove they aren't unskilled losers. They're paid television actors! And it's time to show those Star Primas that paid television actors mean business… Based on the hit Netflix series!
In Shops: Dec 18, 2019
SRP: $3.99
GLOW #3 CVR A TEMPLER (O/A)
NOV190675
(W) Tini Howard (A/CA) Hannah Templer
Based on the hit Netflix show! The Gorgeous Ladies of Wrestling quickly realize that there's no way they're going to be able to beat these real, muscle-y professional wrestlers! With morale low, Ruth has to come up with a new plan, and she's going to make sure they win-even if they have to lose!In Shops: Dec 25, 2019
SRP: $3.99
GLOW #4 CVR A TEMPLER (O/A)
NOV190676
(W) Tini Howard (A/CA) Hannah Templer
It's time for the main event! The Gorgeous Ladies of Wrestling are turning heel for one night only-but just like any good wrestling match, nothing is quite as it seems! Will the Star Primas come out on top? Or will GLOW come out swinging with a surprise upset?!
In Shops: Dec 18, 2019
SRP: $3.99
GLOW SUMMER SPECIAL ONE-SHOT #1 CVR A STERLE (O/A)
NOV190677
(W) Devin Grayson (A/CA) Lisa Sterle
It's the Gorgeous Ladies of Wrestling versus… nuclear war?! Real-life tensions simmering between Russia and America explode into the ring in this spectacular summer issue! Zoya, Liberty Belle, Nuke, Ozone, a cage match, existential dread, and glitter, so much glitter-looks like this Cold War's about to heat up! Devin Grayson (Nightwing) and Lisa Sterle (Submerged) enter the ring in their GLOW debut!
In Shops: Dec 25, 2019
SRP: $3.99
NARCOS #2 (OF 4) CVR A MALHOTRA (RES)
NOV190678
(W) Ryan Ferrier (A/CA) Vic Mahotra
Murphy and Peña clash with their new partner's irregular methods, while a new drug kingpin makes a play for control of Medell n's drug network! Meanwhile, an attempt on Don Pablo's life makes him rethink who he can trust.
In Shops: Jan 22, 2020
SRP: $3.99
PANDEMICA #5 (OF 5) CVR A SANCHEZ
NOV190680
(W) Jonathan Maberry (A/CA) Alex Sanchez
"Touch Me I'm Sick." A wave of wild mutations threatens to wipe out everyone in North America, maybe the world, as De'Neesa and an infected mystery child, Mya, fight to survive. Will De'Neesa reach the Lighthouse in time to help the rogue scientists find a cure? It's the end of the world as we know it… and no one feels fine.
In Shops: Jan 29, 2020
SRP: $3.99
RAGNAROK BREAKING OF HELHEIM #4 (OF 6) CVR A SIMONSON
NOV190682
(W) Walter Simonson (A/CA) Walter Simonson
As Thor travels deeper into the monstrous canyons of Helheim, he encounters a wild pack of ferocious wolves, larger than any he has seen before. They bear him a terrible grudge and reveal a hitherto unknown secret of the final battle between the gods and their enemies, a secret that has stretched across the centuries since the fall of the gods. And it could spell death-the real death-for Thor.
In Shops: Jan 22, 2020
SRP: $4.99
STAR WARS ADVENTURES #30 CVR A FLOREAN
NOV190685
(W) John Barber, Michael Moreci (A) Derek Charm, Tony Fleecs (CA) Arianna Florean
Learn more about the heroes and villains of The Rise of Skywalker! In this issue, the spotlight falls on Supreme Leader Kylo Ren and his unstoppable First Order army!
In Shops: Jan 15, 2020
SRP: $3.99
MARVEL ACTION SPIDER-MAN (2020) #1 CVR A OSSIO
NOV190692
(W) Brandon Easton (A/CA) Fico Ossio
Readers ages 8-12 can get tangled up in these all-new adventures of Spider-Man and his amazing friends! Peter, Miles, and Gwen have completed their internships at the Daily Bugle-now they're all shook up over their latest foe! A Marvelous new era continues!
In Shops: Jan 22, 2020
SRP: $3.99
MARVEL ACTION CAPTAIN MARVEL #4 CVR A BOO
NOV190695
(W) Sam Maggs (A/CA) Sweeney Boo
Go higher, further, and faster with Captain Marvel in a brand-new, all-ages adventure! Carol Danvers has been a fighter pilot, an Avenger, and a friend of flerkens, but now she's facing her most difficult job yet… driving instructor! And teaching Nadia Van Dyne-a.k.a. the Unstoppable Wasp!-how to drive gets a whole lot harder when A.I.M. gets ahold of some Pym Particles. Suddenly tiny, can Carol and Nadia figure out A.I.M.'s plot before it's too late?! Honey, we've shrunk Captain Marvel-it's a new pint-sized Marvel Action adventure!
In Shops: Jan 22, 2020
SRP: $3.99
MARVEL ACTION CAPTAIN MARVEL TP VOL 01 CAT-TASTROPHE
NOV190697
(W) Sam Maggs (A/CA) Sweeney Boo
Carol Danvers' quiet night with BFF Jessica Drew (a.k.a. Spider-Woman) takes a cat-astrophic turn when Manhattan's bodegas are suddenly overrun by a host of angry felines! And not just any felines-Flerkens, the most terrifying, pocket-dimension-holding, tentacle-devouring kitty-look-alikes in the entire universe! It's a Flerken invasion in the latest addition to the Marvel Action banner!
In Shops: Mar 25, 2020
SRP: $9.99
MARVEL VAULT OF HEROES THOR VOL 01
NOV190698
(A) Wesley Craig, Jon Buran, Ronan Cliquet, CAFU, Terry Pallot, S. L. Gallant, Kevin Sharpe, David Nakayama
THE MIGHTY THOR's story begins here! See how the God of Thunder came to our world, and what awesome adversities shaped him into a champion of man in this collection of young-reader comic book stories.
In Shops: Mar 11, 2020
SRP: $19.99
MARVEL ACTION CLASSICS AVENGERS DR STRANGE #1
NOV190699
(W) Paul Tobin (A) Jacopo Camagni (CA) Roger Cruz
Two titanic tales of Earth's Sorcerer Supreme, pulled from Marvel's Vault of Heroes! First-when a mysterious menace is eating holes in reality, Stephen Strange turns to Spider-Man for his unique style of help! Then-a trip to the art museum pits Wong and Strange against… a fire breathing squirrel?! There's more to this ancient evil than meets the eye!
In Shops: Jan 15, 2020
SRP: $4.99
DISNEY COMICS AND STORIES #9 CVR A MAZZARELLO
NOV190700
(W) Enrico Faccini, Alessio Coppola, Alessandro Mainardi (A) Enrico Faccini, Alessio Coppola, Nicola Tosolini (CA) Marco Mazzarello
Fethry Duck takes center stage this issue in four stories new to the U.S.! In "The Golden Domino," Fethry plans to enter a competition in Duckburg, but when Uncle Scrooge demands Donald Duck help, things quickly go awry. In "The Uncertain Service," Fethry's time at the tennis court is anything but an ideal workout; then, Fethry's London vacation leads to some… unique photos in "Holiday Snapshots." Lastly, Fethry enlists Donald's help with a very mysterious package for Ludwig Von Drake, but can the latter make it through the experience?!
In Shops: Jan 15, 2020
SRP: $5.99
DUCKTALES FAIRES & SCARES #2 (OF 3) CVR A VARIOUS
NOV190701
(W) Steve Behling (A/CA) Various
Zounds! What disaster doth await when the Beagle Boys hatcheth yet another plan to soweth chaos and discord in Uncle Scrooge's world? When a Renaissance Faire comes to Duckburg, things get positively… well, medieval for Scrooge and his nephews. But is there a knight in shining armor waiting in the wings to save the day? Probably not, but it will be an event to remembereth in "The Renaissance Faire…Affair!"
In Shops: Jan 08, 2020
SRP: $3.99
UNCLE SCROOGE #53 CVR A MAZZARELLO
NOV190704
(W) Fausto Vitaliano, Roberto Moscato (A) Paolo Capinoti (A/CA) Marco Mazzarello
An unexpected legal case involving ship cruises leads to Scrooge earning his seventh million in a story titled (very conveniently) "My Seventh Million." Then, in "The Only Thing I Fear," Scrooge comes face-to-face with (you guessed it!) his greatest fear! Lastly, in "Generosity," Scrooge shows the Beagle Boys a token of his (dis)affection.
In Shops: Jan 22, 2020
SRP: $4.99
UNCLE SCROOGE TP VOL 12 CURSED CELL PHONE
NOV190706
(W) Alberto Savini, Jan Gilbert, Francesco Artibani, Carlo Gentina (A) Nicola Tosolini, Andrea Ferraris, Alessandro Perina, Stefano Intini (CA) Marco Gervasio
Uncle Scrooge has never been one to shy away from new ventures and opportunities to make (or more importantly, SAVE) money, and this collection highlights some of Scrooge's most unique and wacky experiences to date! Collects issues #44-46 of the ongoing series.
In Shops: Mar 11, 2020
SRP: $12.99
MY LITTLE PONY LEGENDS OF MAGIC OMNIBUS TP VOL 01
NOV190707
(W) Jeremy Whitley (A) Tony Fleecs (A/CA) Brenda Hickey
Explore the secret history of Equestria in these tales delving into the unique places, characters, and stories of the Ponies' world! It's all here: the origins of friendships, magic, and the legendary ponies who inspired the Elements of Harmony. Find out how Equestria's most renowned pony heroes came together to face the greatest evil any of them had ever encountered! Featuring Star Swirl the Bearded, Rockhoof, Mistmane, Flash Magnus, Somnambula, and Mage Meadowbrook. Collects the complete 12-issue series and the never-before-collected Annual.
In Shops: Mar 25, 2020
SRP: $24.99
MY LITTLE PONY FRIENDSHIP IS MAGIC #86 CVR B RICHARD
NOV190709
(W) Mary Kenney (A) Casey Coller (CA) Sara Richard
When painfully shy Marble Pie tries to make friends at school, she ends up panicking and agreeing to throw a party instead! Good thing she's got a sister who's known for throwing just about the most amazing parties in all of Equestria-wait, it's not supposed to be Maud!
In Shops: Jan 22, 2020
SRP: $3.99
CANTO TP VOL 01 IF I ONLY HAD A HEART
NOV190711
(W) David M. Booher (A/CA) Drew Zucker
Enslaved for generations, Canto's people once had hearts. Now they have clocks. They are forbidden to love, yet Canto loves a little tin girl. When slavers damage her clock beyond repair, Canto embarks on an incredible journey through his strange and fantastic world to bring back her heart. Hailed as a "truly entertaining and striking modern fairy tale" (Newsarama) and a "beautiful and heartfelt story about love and heroism" (The Brazen Bull), Canto is an all-ages adventure for past and present generations alike.
In Shops: Mar 25, 2020
SRP: $19.99
BOOGEYMAN TP VOL 01
NOV190712
(W) Diet (A) Eric Dieter (CA) Diet
Tales of monsters have been told forever to scare children into behaving, but what if they were real? Avid reader Elliott is about to find out in this original graphic novel. Using the well-known mythology of classic bedtime stories, Mathieu Salvia and Djet detail how one boy navigates the horror of tragedy, his journey through mourning, and the acceptance of fear in this touching and fantastic adventure.
In Shops: Mar 25, 2020
SRP: $24.99
AFRAID OF EVERYTHING HC GN
NOV190713
(W) Adam Tierney (A/CA) Matthieu Cousin
What kind of scared are you? Find out in these fun horror stories for young readers based on a range of phobias from Arachnophobia to Zoophobia! These tales of fear, dread, risk, and doom contain all the classic elements of horror that young fans crave, without the gore. Features 26 terrifying short stories, each based on a different A-to-Z phobia and accompanied by a unique illustration. Also includes 11 bonus stories featuring art by Temmie Chang, Mariel Cartwright, and Ko Takeuchi, plus a section detailing the origins and developments of the stories and art.
In Shops: Apr 22, 2020
SRP: $19.99
I CAN SELL YOU A BODY #2 (OF 4)
NOV190714
(W) Ryan Ferrier (A/CA) George Kambadais
Desperate Denny definitely doubles down on doing demonic deeds to distract the dastardly deviants demanding his death. During this, detectives dare to dive deep into Denny's divine delinquencies. Oh, Denny.
In Shops: Jan 08, 2020
SRP: $3.99
KILL LOCK #2 (OF 6)
NOV190715
(W) Livio Ramondelli (A/CA) Livio Ramondelli
Bonded by their Kill Lock, four robots search for a cure-a way to live, and die, independently. Their only clue is a bot known as The Axial, supposed to be a creator of the Lock and keeper of its secrets. Of course, the first thing they have to do is find her… without getting themselves killed!
In Shops: Jan 01, 2020
SRP: $3.99
RISING SUN #3 (OF 3) CVR A COCCOLO
NOV190716
(W) Ron Marz, David Rodriguez (A/CA) Martin Coccolo
Chiyoko has been betrayed by a fellow warrior, and her usurper now leads the group into the lair of their enemy. Will any heroes be tempted to the side of evil, or will there be a bloodbath led by the usurper? And can anyone stop the villain's plans before it's too late?
In Shops: Jan 22, 2020
SRP: $4.99
HG WELLS THE ISLAND OF DR MOREAU HC
NOV190718
(W) Ted Adams, Gabriel Rodriguez (A/CA) Gabriel Rodriguez
Ted Adams (Diablo House) and Gabriel Rodriguez (Locke & Key) collaborate on a chilling tale of a man's tremendous intellect coupled with great hubris-with catastrophic results! The first half of this collection features the complete story. In the second half of the book, we reproduce all of Gabe's stunningly beautiful blue-pencil renderings, Artist's Edition style-a true joy to behold!
In Shops: Mar 04, 2020
SRP: $24.99
PARKER MARTINI ED HC SLIPCASE VOL 01
NOV190719
(W) Darwyn Cooke (A/CA) Darwyn Cooke
The great Darwyn Cooke adapted four of Richard Stark's (AKA Donald Westlake) Parker stories as graphic novels, as well as two others in shorter form. This oversized (9 x 13 inches) volume contains the first two, "The Hunter" and "The Outfit," as well as shorter works of "The Man with the Getaway Face" and "The Seventh." Besides the four stories, this volume contains copious amounts of illustrations by Darwyn, and a long form discussion on Parker and Donald Westlake, featuring Darwyn, Ed Brubaker (acclaimed writer of Criminal) and noted comics journalist and historian Tom Spurgeon. Tragically, Darwyn died several years ago, but he leaves behind a truly outstanding legacy of great stories and covers, of which Parker is perhaps at the pinnacle and will live on through this edition and others. This book comes in a gorgeous slipcase.
In Shops: Apr 29, 2020
SRP: $99.99
JACK KIRBY FANTASTIC FOUR ARTISAN ED HC
NOV190727
(W) Stan Lee (A/CA) Jack Kirby
Jack Kirby's Fantastic Four. World-shattering events, cosmic calamities, and Kirby Krackle-does it get any better? Jack Kirby is one of the most important creators in the history of comics, and the Fantastic Four is one of his greatest achievements. First published in 1961, the adventures of Mister Fantastic, the Human Torch, the Invisible Girl, and the ever-lovin' Thing introduced a bold new era in comics. Kirby's dynamic storytelling, coupled with Stan Lee's poignant writing style, were unlike anything comic book readers had seen before-it literally ushered in THE MARVEL AGE OF COMICS! Including Fantastic Four Annual #6, the 48-page groundbreaking story that featured the birth of Franklin Richards! Also presenting issues #71, #82, #83, and #84, featuring the Inhumans, Doctor Doom, and others-plus a beautiful gallery section of some of Kirby's most incredible pages, all scanned from the original art! Like all of IDW's award-winning Artist Edition style books, each page has been painstakingly scanned from the original art to ensure the finest possible reproduction, mimicking the experience of seeing Kirby's hand-drawn pages-it's the next best thing owning the art!
In Shops: Apr 29, 2020
SRP: $39.99
TOWERS OF ARKHANOS (O/A)
NOV190732
(W) Daniel Alves, Eurico Cunha (A/CA) Marcelo Bastos, Rodrigo Ramos
Tap into the power of Arkhanos in order to build the tallest tower. In Towers of Arkhanos, 2-4 players will become wizards and help build the mystical Towers of Arkhanos! Roll and draft dice that become part of the towers themselves, learn and cast powerful spells to alter the dice, and rise above the competition with strategic moves in this family game of 3D tower building! 2-4 players o Playable from ages 12+ o 30-45 minutes Draft dice and place them carefully to build up the Towers of Arkhanos, and increase your score. Learn and use powerful magic spells that allow you to manipulate the dice. An easy to learn and quick to play game where your choices are limited but their repercussions are meaningful.
In Shops: Dec 18, 2019
SRP: $39.99
TONARI GAME (O/A)
NOV190733
(W) Alex Randolph, Bruno Faidutti (A/CA) Kwanchai Moriya
The small island of Kuchinoshima has been hit by a terrible storm, leaving the village with only a single fishing boat. Each hoping to prove themselves the village's best fisherman, 2-4 players take turns moving the boat marker around the island, collecting any fish tiles they land upon. At the end of the day, the player with the best haul wins, but there's a twist – each player's score is added to their left neighbor's score before determining the winner! August release. * 2-4 players * Playable from ages 10+ * 30 minutes * 42 gorgeous full color acrylic tiles and game board by Kwanchai Moriya. * Game design from Alex Randolph and Bruno Faidutti.
In Shops: Dec 18, 2019
SRP: $29.99
FROM HELL MASTER EDITION #9 (OF 10) (MR)
NOV190724
(W) Alan Moore (A/CA) Eddie Campbell
The award-winning bestseller FROM HELL , often ranked among the greatest graphic novels of all time, takes on haunting new dimensions in FROM HELL: The Master Edition , enhanced with impressionistic hues by Eddie Campbell himself. This volume contains Chapters 12 and 13, as well as all the original annotations.
In Shops: Jan 15, 2020
SRP: $7.99
HOME TIME HC VOL 02 BEYOND THE WEAVING
NOV190725
(W) Campbell Whyte (A/CA) Campbell Whyte
Home Time: Under the River ended with a disastrous tea ceremony which left six kids lost, scared, confused, and even burnt. Now, the second half of the Home Time saga picks up from that nerve-wracking cliffhanger, as the children leave the relative safety of Peach Village in search of medicine, answers, and, hopefully, a way home. Equipped with a living map, a flask of hallucinogenic tea, and a plan so stupid it just might work, Lily, Amanda, Ben, and Nathan will have to pull together at the very time they've drifted the furthest apart. Award-winning graphic novelist Campbell Whyte is back, with his signature kaleidoscope of art styles, to cast a new spell wrapping up the most whimsically fantastical journey in ages.
In Shops: Apr 15, 2020
SRP: $29.99