In 1982, Marvel published X-Men: God Loves, Man Kills, the fifth in their Marvel Graphic Novels series that began with The Death of Captain Marvel. By Chris Claremont and Brent Anderson, the story was at first considered out of continuity, though that later changed. It remains one of the most well-known X-Men stories. They even based the second X-Men movie, X2: Electric Bugaloo, on it.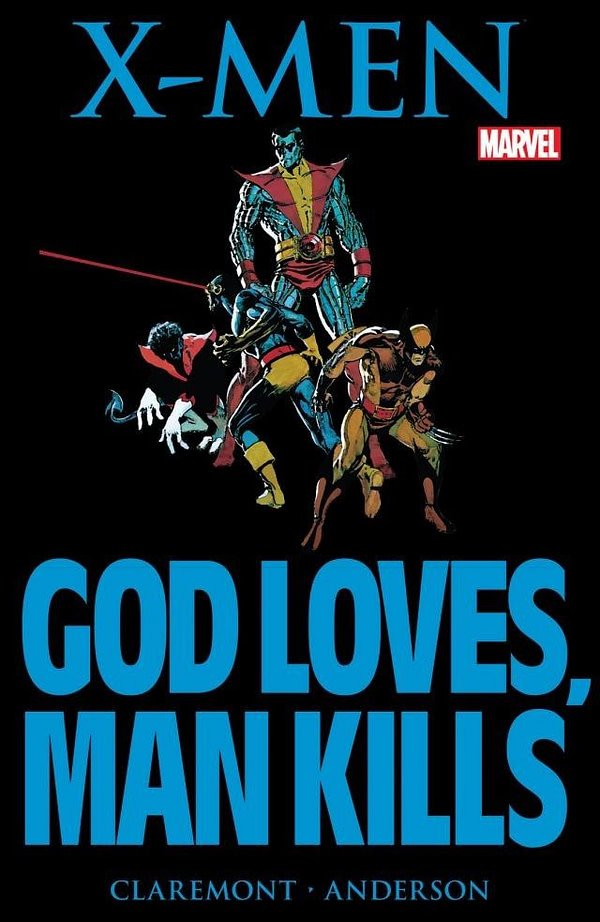 Traditionally, the twenty-fifth anniversary is the silver anniversary. The fiftieth is the gold. The eighteenth? That's the variant cover anniversary. And respectful of tradition as they are known to be, Marvel will celebrate the variant anniversary with God Loves, Man Kills variant covers by Marcos Martin running across all of the ongoing X-Men books shipping in March except the ones which are launching that month.
That's what we learned from the Marvel March solicitations, though we were not treated to any images of the covers. Check out the solicits for the books getting God Loves, Man Kills variants in March.
WOLVERINE #2
BENJAMIN PERCY (W) • ADAM KUBERT (A/C)
Variant cover by DAVID FINCH
SPIDER-WOMAN VARIANT COVER BY Gerald Parel
GOD LOVES MAN KILLS VARIANT COVER BY MARCOS MARTIN
THE WORST IS BACK!
Wolverine has never been one to back down from a fight — not even a combined assault from Lady Deathstrike, Sabretooth and Doctor Cornelius — but the Flower Cartel might have enlisted his worst and greatest foe: Logan himself.
32 PGS./Parental Advisory …$3.99

X-MEN #8 & #9
JONATHAN HICKMAN (W) • ISSUE #8 – RB SILVA (A)
ISSUE #9 – LEINIL FRANCIS YU (A) • CoverS by LEINIL FRANCIS YU
ISSUE #8 – GOD LOVES MAN KILLS VARIANT COVER BY MARCOS MARTIN
GET READY TO RUN!
The New Mutants are back from space, and they've brought intergalactic trouble with them! The Brood! The Shi'ar! The Starjammers! The Imperial Guard!
32 PGS. (EACH)/Rated T+ …$3.99 (EACH)

EXCALIBUR #8 & #9
TINI HOWARD (W) • ISSUE #8 – WILTON SANTOS (A)
ISSUE #9 – MARCUS TO (A)
CoverS by MAHMUD ASRAR
ISSUE #9 – GOD LOVES MAN KILLS VARIANT COVER BY MARCOS MARTIN
HARK! THE HUNT FOR TRUTH
Excalibur emerges from the woods with a journey before them. Their destination: Starlight Citadel.
32 PGS. (EACH)/Rated T+ …$3.99 (EACH)

NEW MUTANTS #9
JONATHAN HICKMAN (W) • FLAVIANO (A)
Cover by MIKE DEL MUNDO
GOD LOVES MAN KILLS VARIANT COVER BY MARCOS MARTIN
A NIGHTMARE BECOMES REAL!
With Krakoan confidence, the youth of mutantkind are ready to take on any challenge the world has to throw at them – but when reality itself betrays them, what hope is there for the NEW MUTANTS?
32 PGS./Rated T+ …$3.99

X-FORCE #9
BENJAMIN PERCY (W) • JOSHUA CASSARA (A)
Cover by DUSTIN WEAVER
GOD LOVES MAN KILLS VARIANT COVER BY MARCOS MARTIN
REAP WHAT YOU SOW!
In the heart of South America, X-Force finds a problem growing that threatens to destroy everything they've built… and one of their own might be responsible.
32 PGS./Parental Advisory …$3.99

MARAUDERS #9
GERRY DUGGAN (W) • STEFANO CASELLI (A)
Cover by RUSSELL DAUTERMAN
GOD LOVES MAN KILLS VARIANT COVER BY MARCOS MARTIN
PEST CONTROL!
A very small attack on Krakoa grows into something much bigger, thanks to Yellowjacket! Can Captain Kate's crew swat him before his sting pays off?
32 PGS./Rated T+ …$3.99