Hamish Steele's Deadendia Comic Jumps to Netflix
Hamish Steele is a regular banker of the Brtish indie comics scene and Thought Bubble just wouldn't be the same without him. Well, it looks as if it may be about to become an awful lot more popular. His hit series (relatively) Deadendia has just been picked up from Netflix.
Bleeding Cool readers may have known about Deadendia for some time – indeed there's a BC quote from Joe Glass prominently on their website. A story about group of employees of a haunted house, which may or may not also serve as a portal to hell, with emphasis on representation, it was originally a webcomic, then published as a small-press title and picked up by Nobrow as a series of graphic novels.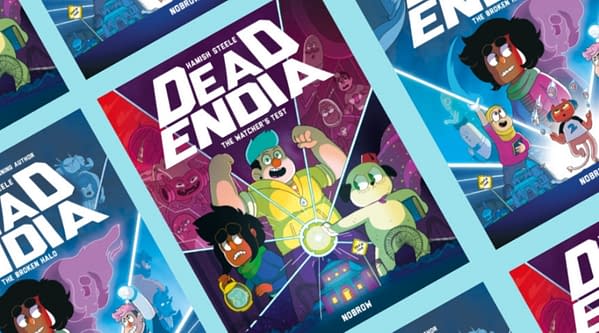 Hamish Steele is also a director with Blink Industries, who has already developed animated shows with Netflix, the BBC, Nickelodeon and Cartoon Hangover. Now he gets to do the same, also with Blink, with one of his fondest creations. Blink Industries studio in London will produce the series, for streaming 2021.
Zach Barack will voice Barney, with Kody Kavitha as Norma, Emily Osment as Courtney, Alex Brightman as Pugsley, Clinton Leupp a.k.a. Miss Coco Peru as Pauline Phoenix, Kenny Tran as Logs and Kathreen Khavari as Badyah. The show is described as "the adventures of Barney, Norma and magical-talking-dog Pugsley, as they balance their summer jobs at the local theme park haunted house while battling the totally real supernatural forces that dwell within it. Together with their guide to the underworld multiplane, a sardonic thousand-year-old demon named Courtney, they'll face zombie mascots, demonic game show hosts, sleep-sucking witches and the scariest thing of all: their first crushes!"
The Wrap quotes Hamish as saying "DeadEndia is about terrifying demons, vengeful ghosts and mysterious magic. It is also about coming of age in a world that wasn't made for you. It's a drama about found family, identity and making mistakes. And of course it's a laugh out loud comedy! I've always dreamed of making the show I needed as a lonely, horror-obsessed closeted gay kid and thanks to Netflix and our ridiculously talented, diverse and representative writers room and crew, we have shot way past my dreams and into wildest fantasy territory!" Hamish has also been tweeting out the response of the crew to the announcement.
Miss Coco Peru Thrilled to be a part of this new @netflix series!
Melissa Malone: I've been working on this amazing project for the past 4 months!
Krystal G Woop woop this is what I'm boarding on at the mo
Althea Aseoche YEAHH! Announcement! So excited to be a part of this super talented crew and storyboarding on this awesome project. :D
BERNIE MACHADO: The show ive been working on, coming to you REAL soon. Very proud of this one!
Romain Salvini: Thrilled to announce that I'm working on this spooky project with an amazing team!
Ash: Can't express how much it means to me to be a story revisionist on DEADENDIA – a Netflix show with a trans main character!!!!! the crew is doing an amazing job and i cam't wait until everyone can watch this truly special series
Furquan Akhtar I am so proud to be a part of the writing team for this show and so excited to finally be able to talk about it!! Thanks for having me @hamishsteele . One of the best experiences ever with @nicolempaglia, @BrydieLK, @ElijahWHarris, @jenbardekoff and @MiaResella
Dashiell M. Silva I'm so immensely proud to be working on this!
Max Loubaresse Super proud to be doing Storyboards for this :
Elijah W Harris Soooo excited to finally say that I'm well lucky to be writing on this wonderful show!
Jen Bardekoff Wow I've been dying to talk about writing on Deadendia ever since I joined the team. I'm so proud to be a part of it! This one is gonna be big for LGBTQ representation
Alex Brightman Immensely excited and proud to be representing pups everywhere in @netflix
's newest animated series, "Deadendia." The cast is fantastic. The show is absurd and wonderful. Looking forward to being in all of your living rooms soon! Last tweet about this for now. First table read today. Very pumped to meet the new friends.
Hamish Steele: I am sorry for flooding the timeline my hands are literally shaking… this has been a secret for so so long… I have a lot to say… I'll make a post tonight but I'm like… holding back tears. We did it kids! btw showrunning your first tv series during lockdown is quite hard lmao ANYWAY i gotta get back to work and you all know what that is now! But I'll talk later. Thank you so much for being excited – I've been trying to retweet all the crew so please congratulate and support them too!