Declaration of interest – I have a strip in the upcoming Soft Wood comedy anthology magazine from Heavy Metal Magazine. It should be out any day now. You can read one preview here and another preview here. They are reprinting my Watchmen parody Watchmensch from a few years ago, now coloured by Watchmen colourist John Higgins, which is the kind of meta-level my brain finds hard to comprehend.
But I understand that this is not some one-shot but an ongoing anthology series of comedy stylings from Heavy Metal. I got the chance to read Tony Lee and Dan Boultwood's Doctor Who parody in the pub the other night and it's extraordinary.
Is there a possibility that a brand like Heavy Metal which has newsstand presence in the USA might be able to succeed where DC Comics has failed? I hear there are some pretty big names lining up for the magazine – including some familiar to MAD Magazine readers.
With a few people looking to line-up at possible successors to MAD Magazine, from Marvel's Crazy to Eric Powell's plans, Heavy Metal may be first to the gate with Soft Wood…
It should be out this week. Maybe keep an eye out?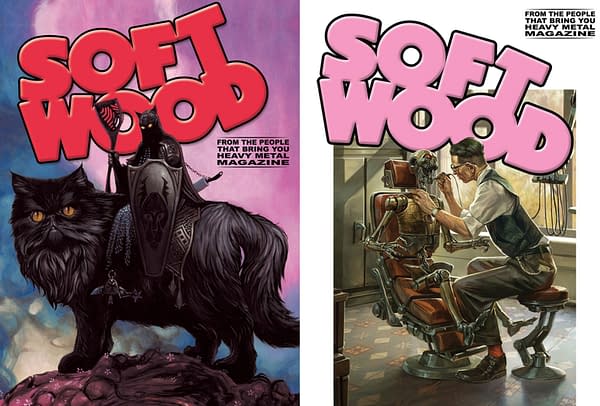 Enjoyed this article? Share it!