We talked about bumping into Jean-Marc Lofficier at Portsmouth Comic Con, with a table full of graphic novels in English that I hadn't seen before, including work by Marv Wolfman, David LaFuente and Roy Thomas, all coming from Hexagon Comics. And now we have a little more on what has been going on with Lofficier and the publisher. Hexagon Comics is the current successor to French comics publisher Editions Lug, established in 1950, that went bankrupt in 2004. In addition to publishing French editions of a number of Marvel titles (Fantastic Four, Spider-Man, X-Men, etc.) starting in 1969, Lug also published a great number of its own original series.
Writer Jean-Marc Lofficier (Dr. Strange, What If, Moebius) took over the editorship of a resurrected Lug rechristened Hexagon Comics in 2010 and has since been masterminding a program of reprints of the classic materials in 500-page TPBs (100 volumes released to date), as well as publishing new stories using and revamping the original characters.
Starting late last year, Lofficier created a new English-language website, that also sells English translations of a number of selected stories — 24 books to date, with more scheduled to appear on a monthly schedule.
Lofficier uses digital printing technology from Lightning Source to create the books on a print-on-demand basis.
"Living in the South of France, I can't very well manage a regular printer, inventory and a Diamond account," explained Lofficier, "but through Lightning Source, all the Hexagon books are available retail on Amazon and other online booksellers, and wholesale at 40% off from Ingram, but non-returnable."
Their best-selling item has been Hexagon Comics: The First 70 Years! The Illustrated History Of France's Oldest Comic-Book Publisher, a profusely illustrated 300-page b&w tpb that includes interviews, biographies, characters' profiles, articles by Stan Lee, Will Eisner, Joe Kubert, Roy Thomas and Mike Baron, ten sampler stories, four text stories, and illustrations by Paul Pope, Stan Sakai, Steve Rude, Steve Bissette, Jean-Claude Forest, and dozens of the world's best comic artists.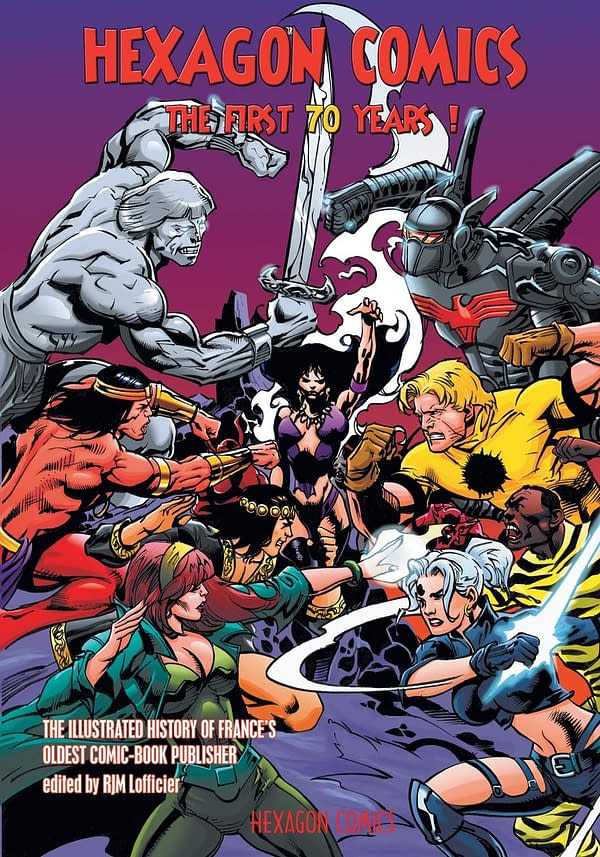 Enjoyed this article? Share it!