How Far Would You Go To Keep Your Family Safe?
Justin Zimmerman writes for Bleeding Cool:
How far would you go to keep your family SAFE? A bold new comic take on the zombie genre in breathtaking color form. Subversive and socially-oriented, you'll never see it coming…until it's too late!
https://www.kickstarter.com/projects/justinzimmerman/safe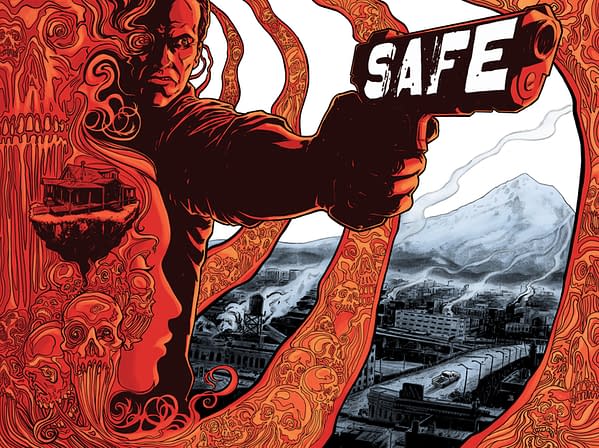 Hey folks. My name is Justin Zimmerman, and I wrote and created the world that is SAFE, currently on Kickstarter. Only, that's not quite true. I am legion.
I'm a filmmaker by trade, and I received my MFA at Ohio University. We worked with a lot of the Pittsburgh crew, and so it was my good fortune to meet Savini, Butler, Buba, Gornick and, for a brief moment, that guy with the big black glasses. Yeah, you know who I'm talking about.
I grew up with their work and meeting them in person was a special thrill. Working with some of 'em? Unbelievable.
What I loved about the Romero zombie experience was that the zombies meant something. They were a social force. And the stories weren't soap operas. They didn't drag on and on. One and done. Beginning, middle and end. Profound, entertaining, badass and cool.
So, when my pal David Brandon and I sat down to write the story that would become SAFE, we looked backward. And then we created something new.
SAFE was brought to life by Russ Brown. Russ and I have been making independent comics for years. First, we worked on the 240-page juggernaut that is The Killing Jar. Then, Russ drew several short stories in my anthology Other Worlds. (Both successfully funded and delivered early through Kickstarter campaigns, I might add.) All in all, Russ and I have been working together for six years. And, for the first time, we brought a colorist along for the ride. That's Matt Grigsby. And with cover artist Tadd Galusha and additional art by Ben Perkins, SAFE is the best comic I've ever produced. But I didn't stop there. With some of my incredibly talented film pals, I created a trailer that hopefully throws you into the world of the story with no warning and no filter. That's due to the incredibly talented VFX work of Zack Linkow, the music genius of Jarrod Whittington and the blistering performance from the legendary Steven Ogg. I can't wait to work with Steven again, but he's not done with SAFE yet…he wrote the intro for the book as well!
The trailer now lives on the internet. And the interior art of SAFE is two weeks from being wrapped. The artists have been paid for independently. It's down to getting the book printed perfectly, professionally, as sustainably as possible and locally. Right down the street from me, in fact. SAFE will be the best book you've ever seen printed, period.
If we get there.
To that end, and to celebrate week 1 of my Kickstarter, if we hit 150 backers AT any level by Tuesday at noon, every physical backer will get an exclusive Bleeding Cool lobby card with a new SAFE poster design…if and when we reach our final goal, of course.
Thanks for reading, and I'll see you out there.
jcz