Clay Adams writes for Bleeding Cool,
When you name your comic PREGNANT BITCHES OF WAR, you tend to raise some eyebrows. The first thing anybody wants to know is if we're anti-woman, to which I emphatically answer, "Bitch, please."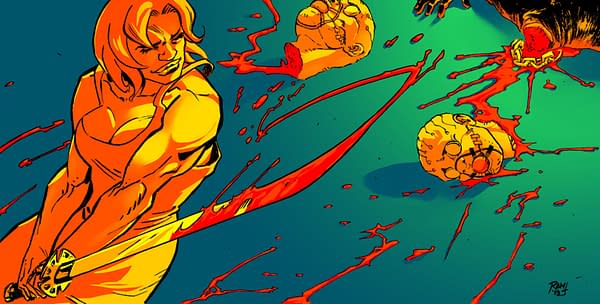 My wife has never been more badass than when she delivered our two kids, so the idea of pregnant action heroes didn't seem like all that much of a stretch (uh, no pun intended.)
The second thing people want to know is: is this some kind of fetish porn? (Yes, we've been asked this. Multiple times.)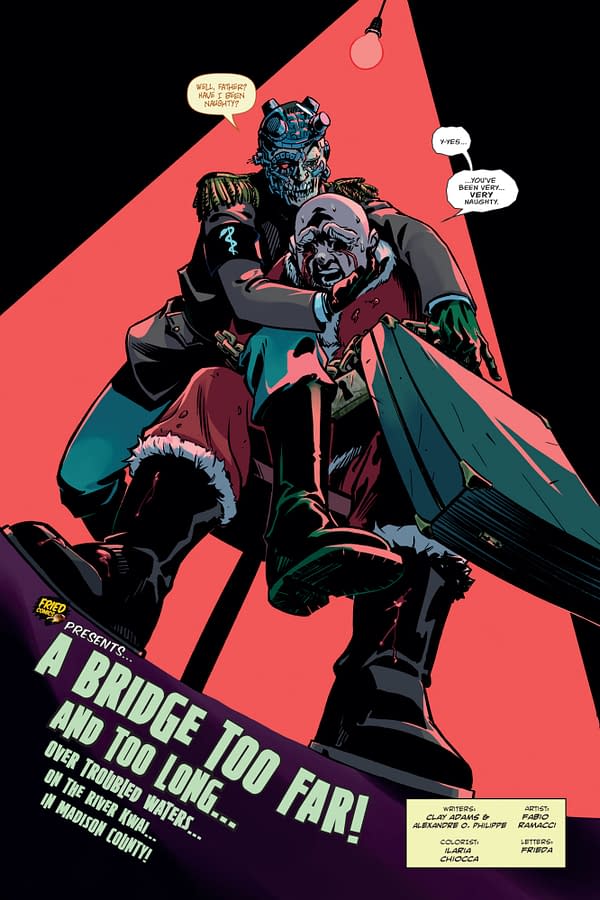 But here's the story: As a young father, I was struggling with the idea of raising children in a world that can often be violent and cruel. But I was even more terrified to think that despite all the horrors lurking outside our front door, the thing that would mess up my kids the most would be me.
That's when Alexandre O. Philippe and I came up with the concept of six pregnant women fighting for survival against a villain who's… well, Dad.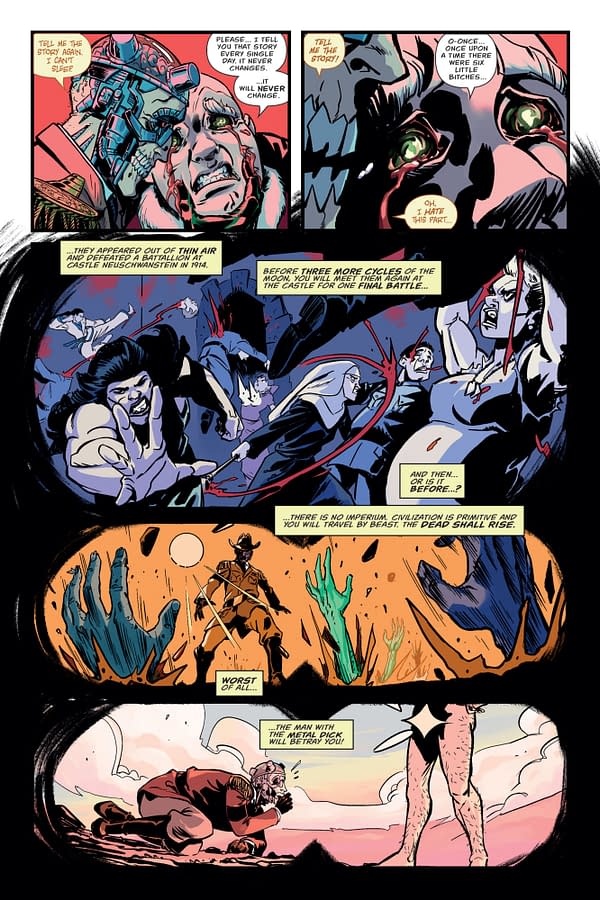 Now, Alex and I originally bonded over a love of Preacher comics and a late-night viewing of Bride of Chucky. So, tonally, we knew exactly what our series would be.
We just needed a title that was suitably bombastic. One that grabbed your attention, and told you exactly what this crazy ride would be.
So… PREGNANT BITCHES OF WAR was born.
But can I tell you a secret?
We had no idea what a crazy ride producing the series would be.
Anyone who's made indie comics knows it's not for the faint of heart. And those first five issues were a roller coaster.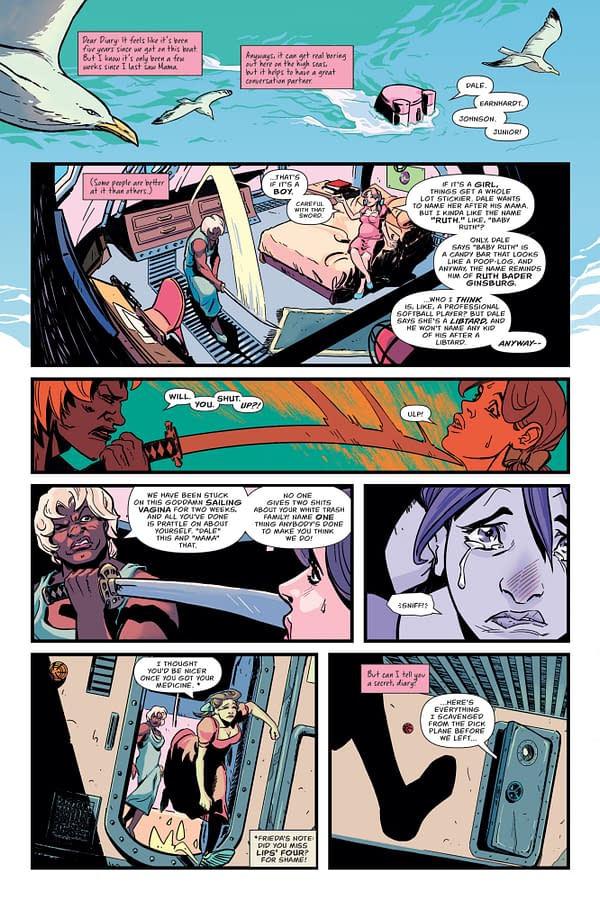 Original artist Dominike "Domo" Stanton (now drawing The Sandman for DC) got hired away from us by TV's Archer, forcing us to scramble for a replacement.
And then there was the time our superstar cover artist backed out when the shock ending to issue three turned out to be a little too… shocking.
But it was that damn title that really kept getting us in trouble.
A few podcasters and comics pros mocked us on Twitter. Even reviewers who liked the book couldn't help taking shots at the name.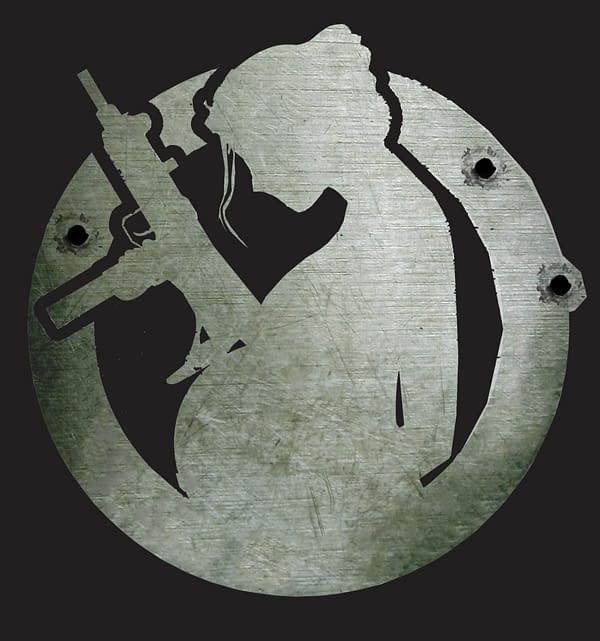 One went so far as to say that with a title like ours, we needed some women on the team (conveniently ignoring the fact that three Volume One creators— artist DJ Parnell, inker Malena Molina, and colorist Emily Elmer—are women).
But somewhere along the way, we turned into the Cougar Town of comics.
Like that much-loved ABC dramedy with the funny/awful name, reviews started rolling in that said, "Hey, this is actually good!"
Brian K. Vaughan gave us a shout-out in a Saga letter column, Starburst Magazine rated us 9 out of 10 stars in a glowing review, and the series enjoys a four-star rating on comiXology.
Now, five years after our last issue, it's still the book of ours that sells the best online—and we're constantly asked when the series will continue. Combine that with an avalanche of current events that make our story more powerful and relevant today, and 2019 seems like the right time to revisit these feisty women.
So, here we are on Kickstarter, crowdfunding the start of a new limited series. It's a crazy mix of horror, sci-fi, grindhouse, and dark humor that's The Handmaid's Tale meets Kill Bill.
And we hope you'll join the army of backers who have already pledged.
(For readers of Bleeding Cool who back us and leave a comment that says, "Bleeding Cool," we'll send you a bitchin' bonus.)
PBOW: WORLD WAR BITCH #1
Writers, main story: Clay Adams and Alexandre O. Philippe
Artist: Fabio Ramacci
Colorist: Ilaria Chiocca
Letters: Frieda
Writer, Backup story: Clay Adams
Artist: John Edingfield II
Plucked from the time-stream by mad scientist Nikola Tesla, six pregnant women accidentally kill a young Hitler—and unleash a nightmare future! Now with Tesla acting as Charlie to their Angels, they must defeat the Exalted Father and save the world from a hell of their own creation… before their water breaks!
Available on Kickstarter through August 16th, 2019 @ 11:59 ET. Release Date: December 2019
Enjoyed this article? Share it!