Hunter Gorinson Joins Hivemind as VP to Produce EC Comics Film/TV Projects 
Many will recall Valiant's turbulent year in 2018 when the company lost almost its entire management team – including CEO & Chief Creative Officer Dinesh Shamdasani, Chairman Peter Cuneo, COO Gavin Cuneo, Editor-in-Chief Warren Simons, Marketing & Communications VP Hunter Gorinson – in short succession following a buyout by Chinese investors DMG.
Shamdasani notably resurfaced just a few short months later as the Co-President/Co-Founder of Hivemind, the genre-focused production company behind such highly anticipated projects as Amazon's The Expanse, Netflix's The Witcher, and CBS Films' Scary Stories to Tell in the Dark feature film with Guillermo del Toro, which just released a slew of teasers on Super Bowl Sunday.
Now, another former Valiant exec is joining the Hivemind fold too… Hunter Gorinson has joined the company as VP Brand & Strategy, where he's currently working on a number of fronts for the company — and taking an active role in film and TV himself as a producer of today's newly announced EC Comics projects, including a Weird Fantasy television series and a feature film biopic chronicling the life of iconic comics publisher William M. Gaines.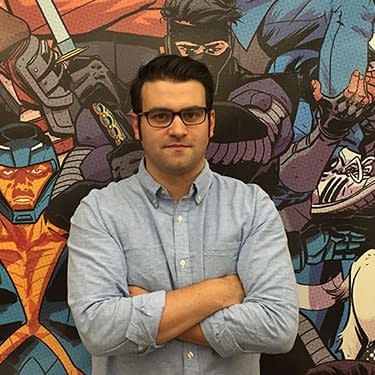 Said Gorinson, per today's EC press release:
"The story of William Gaines is the secret history of American pop culture. The ideas he presented in the pages of MAD, TALES FROM THE CRYPT, WEIRD FANTASY, and so many more would inspire and incite revolutionary countercultures – from comics to comedy to film and music – around the globe for decades to come. As a veteran of the comics industry myself and a lifelong fan of EC, it's a tremendous honor to be working alongside the Gaines family to help bring his story – which has an immense amount to tell us about our own modern moment – to a new generation on the big screen."
A former journalist working in comics and genre entertainment, Gorinson played a lead role in orchestrating Valiant's relaunch. He was instrumental in shaping the company's reputation with a role that straddled marketing, PR, and brand development for Valiant's portfolio of properties. During his seven-year tenure, he was a familiar face of the company for fans, creators, press, and retailers alike until his departure, even as he devoted an increasing share of his time to Valiant's development in Hollywood — an effort that will finally come to fruition in 2020 with the release of Sony Picture's big-budget Bloodshot feature film, starring Vin Diesel and also produced by Shamdasani.