Image Announces Gerry Duggan World Tour
Are you ready to rock?! We said are you ready?! Well, you'd better get ready, because superstar writer Gerry Duggan could be coming to a city near you on a limited world signing tour to support his two Image Comics series, Analog and Dead Rabbit. But don't take our word for it. Here's the press release:
Image Comics is pleased to announce the ANALOG/DEAD RABBIT Signing Tour featuring co-creator and writer Gerry Duggan. Duggan will be making a selection of signing event appearances this Fall to promote his bestselling sci-fi story, ANALOG, VOL. 1, which he co-created with artist David O'Sullivan, as well as celebrate the launch of his new series with co-creator and artist John McCrea, DEAD RABBIT.
Analog Vol. 1 collection and Dead Rabbit #1 both hit stores on October 1st. Here's the tour dates, so mark your calendars now, or maybe consider buying a van and following the Duggan tour around the country (or maybe a boat for the foreign dates). Even if you can't get into all the stores, we hear the parking lot is just as much fun.
ANALOG & DEAD RABBIT Signing Tour:
October 3: ANALOG, VOL. 1 & DEAD RABBIT #1 hit comic shops
October 4-7: NYCC & Midtown Comics (NYCC exclusive DEAD RABBIT #1 available at the Image Booth) – New York, NY
October 13 from 11am-1 pm: Third Eye Comics – Annapolis, MD (exclusive DEAD RABBIT #1 cover)
October 20 from 12-3 pm: Forbidden Planet – London, England
October 24 at 7 pm: Big Bang Comics – Dublin, Ireland
October 27: Comic City Festival – Derry, Northern Ireland
November 7 from 5-8 pm: A Shop Called Quest (DEAD RABBIT #2 On Sale) – Los Angeles, CA
November 10 from 12-3 pm: Nerd Store (DEAD RABBIT #1 variant) – Salt Lake City, UT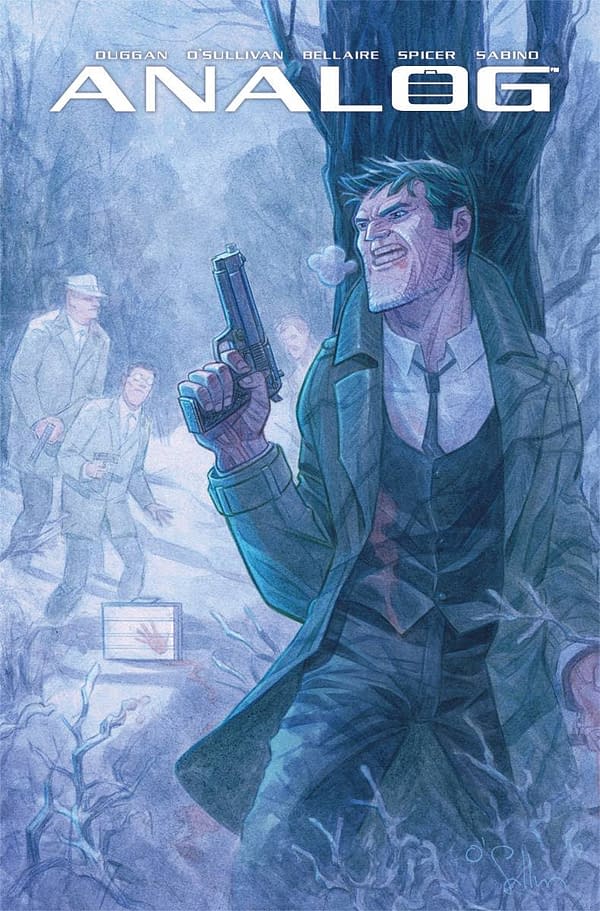 DEAD RABBIT #1 CVR A MCCREA (MR)
(W) Gerry Duggan (A/CA) John McCrea
Back in the '90s, DEAD RABBIT was a prolific Boston stick-up man and hoodlum, until he took down one last big score and disappeared. Nobody ever discovered the truth: he retired to be with the love of his life. Now he's back in the mask to save her, but no one-not his wife, the mafia, or the cops-is happy that he's out of retirement.

From JOHN McCREA, the artist and co-creator of MYTHIC and Hitman, and GERRY DUGGAN, the writer of ANALOG and Deadpool, comes the action-comedy-drama tale of Martin Dobbs, a.k.a. DEAD RABBIT, the man who says he's descended from one of the original gangs of New York City. Get on board with the oversized first issue of an all-new ONGOING SERIES for mature readers.In Shops: Oct 03, 2018
SRP: $3.99