All four issues of 'Chrononauts: Futureshock' will be released on the same day in October. The comic book sequel to Mark Millar and Sean Gordon Murphy's original series from 2015 was planned – and announced – for July 2016. Obviously, that came and went. And I am told that the new series will not be drawn by Murphy, who has his own projects such as tomorrow's Batman: White Knight sequel to concentrate on. Instead, it will be drawn by Eric Canete of Martian Manhunter, Iron Man, and NYC Mech. But now that Netflix has bought out Millarworld – including Chrononauts, Mark Millar has decided to get a bit of press by emulating the Netflix 'drop' by getting Image Comics to publish all four issues on the same day, October the 30th. As opposed to, say, publishing an original graphic novel containing all four issues. Still, it will get a headline or two.
The Hollywood Reporter describes the sequel thus;
will expand on the time-travel concept of the original as Corbin Quinn and Danny Reilly switch from investigating the past to traveling into the future — or, at least, trying to, because someone or something is preventing them from doing so. Or is the problem that there isn't a future to travel to?

The series will feature covers from Pasqual Ferry, with the first issue including variant editions showcasing covers from Travis Charest, Kev Nowlan, Rey Macutay and interior artist Canete, and will be released through Image Comics.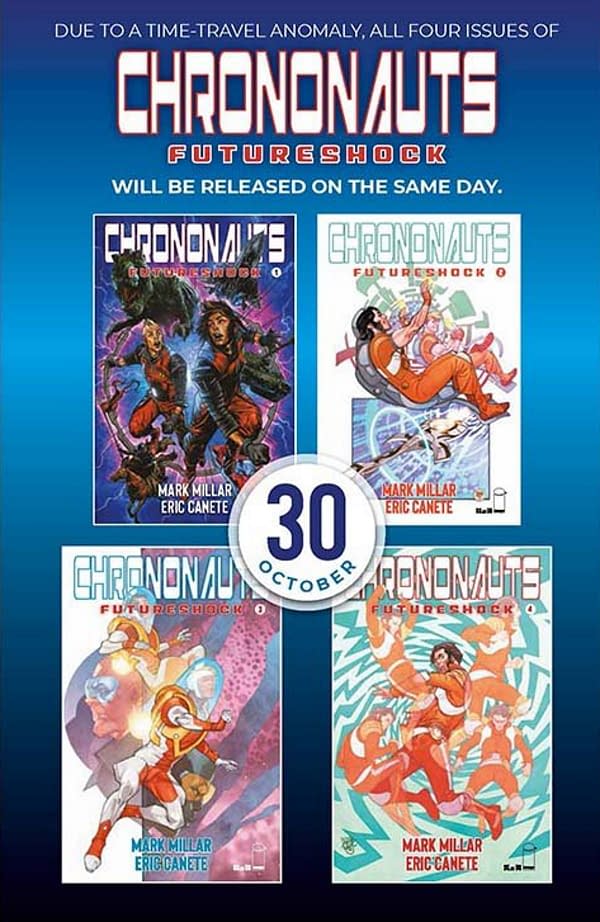 Enjoyed this article? Share it!