The Immortal Hulk #25 is the Most Dystopian Days Of Future Past Ever (Spoilers In Brackets)
In previous Immortal Hulk we have seen the end of time. The end of the eighth iteration of the universe and, rather than Franklin surviving until the end of it all, as seen in History of The Marvel Universe, to become the equivalent of Galactus for the ninth iteration, just as Galen was for the seventh and eighth, Hulk was there instead.
Today, in Immortal Hulk #25 we visit what has become of the ninth iteration of reality. And meet Par%l, seemingly close to its end. And in our first introduction to hir, there is something brilliant in the way Par%l is portrayed that foreshadows the rest of the comic book.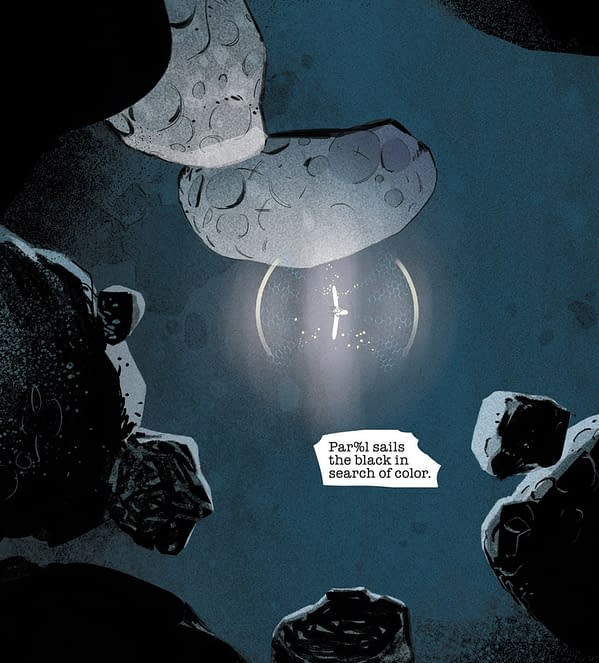 The look of Par$l's craft of energy fields is that of a bracket. Parentheses. And as all mathematicians know, parentheses must be solved. Come to an end. Closed. That one image sets the direction of this book and its beautiful.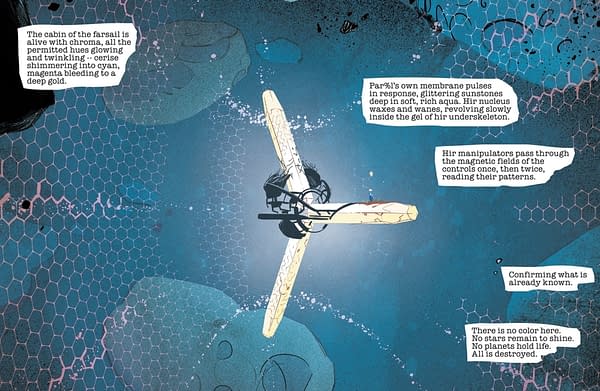 I am treading carefully here. While the universe portrayed in Immortal Hulk #25 is so very, very alien, it also follows traditional tropes. We learn that only certain colours are allowed. Because this is Immortal Hulk and there is one very important colour to remember.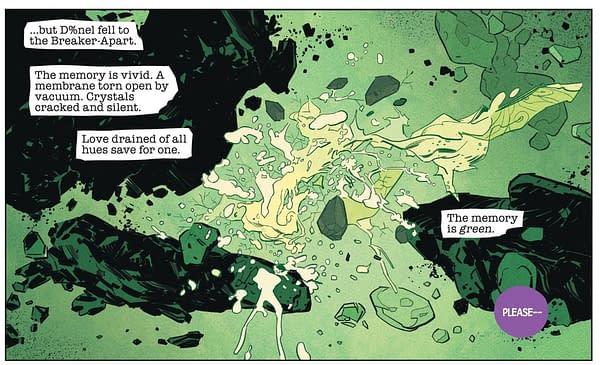 The Breaker-Apart. What the Immortal Hulk is. And why. And is there any hope for this Ninth iteration of the cosmos, that may not even allow a tenth? Why yes. Moira Mactaggert must die, and thus end the tenth life of Moira Mactaggert.
Sorry, wrong dystopian future. Okay, Kitty Pryde must phase back through time to her younger self and warn the… I'm doing it again.
John Connor has to go back in time to… sorry, sorry, I'll get it right this time. Think of the colour blue…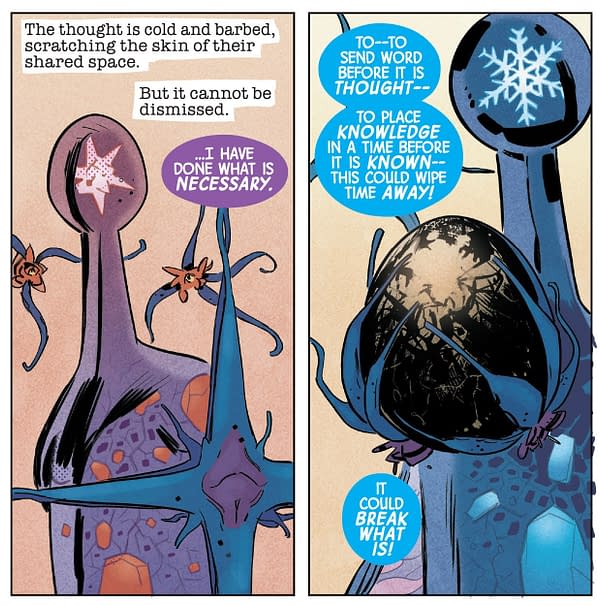 But, Par$l, what is has already been broken.
That Immortal Hulk #25 plays on such well-worn tropes is not in any way a weakness, it is a strength. Like Grant Morrison's Doom Patrol, it tells a very traditional and classic story, but with such patterns, details and world-building, that it makes all feel fresh and new. And in conclusion a) does something new with comics and b) sets this most-critically acclaimed of Marvel titles on a very new path.
Marvel Comics' best comic since The Vision. Maybe since Unstable Molecules. Maybe since Captain Britain. Maybe since Daredevil: Born Again. Maybe ever. It is off the scale. Al Ewing, Joe Bennett, Paul Mounts and friends, nice one. If Marvel has any sense, this will be their Watchmen.
IMMORTAL HULK #25
(W) Al Ewing (A) Joe Bennett, German Garcia (CA) Alex Ross
GROUNDBREAKING DOUBLE-SIZED ISSUE!
• You've never read a Hulk comic like this before. You've never read a Marvel comic like this before.
• The heat death of our universe has come and gone. The Hulk is finally dead. Now, billions of years later, the Ninth Cosmos cowers…
• …before the BREAKER OF WORLDS.
Rated T+In Shops: Oct 23, 2019
SRP: $5.99