The Point is Not to Smash the World, But to Change It – "The Immortal Hulk" Continues into 2020…
Jude Terror has been running a conspiracy theory on Bleeding Cool that Marvel is to cancel/relaunch the Immortal Hulk. It gives me the greatest pleasure to prove him wrong, courtesy of an Amazon listing that a) shows the Immortal Hulk continuing past #25, b) going all Pantheon on us c) going all cosmic on us and d) launching the Hulk Generation.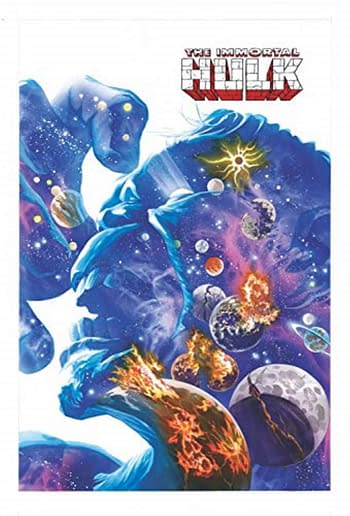 Immortal Hulk Vol. 6 (Incredible Hulk) Paperback – 31 Mar 2020

The critically acclaimed series continues! With a new base of power at his command, the Immortal Hulk has decided to stop smashing the world and start changing it. First on his list? The evil Roxxon Corporation. But the company's CEO will not go down without a fight. Dario Agger survived the War of the Realms and will take whatever means necessary to stop the Immortal Hulk! Plus: What is the Hulk Generation? And a return to Monster Isle!

COLLECTING: IMMORTAL HULK 26-30
Yes, yes, what is the Hulk Generation?