Panic rocked the comic book industry Friday as fans of Die, a comic book by Kieron Gillen and Stephanie Hans, were sent into a "frenzy" with demand for the book's fifth issue, Die #5, according to a press release from Image. As a result, the book "will be rushed back to print," Image claims, though it's hard to imagine that they'll be able to get it done fast enough to appease the frenzied fans who, presumably, cannot possibly wait until May 1st for the second printing to hit stores and are currently tearing each other to shreds with their bare hands in a collective berserker rage.
Even still, it's the best Image can do. Final order cutoff is next Monday, so assuming comic shop owners are able to fight their way through the throngs of rabid fans camped outside their stores demanding a copy of the highly sought-after issue, they'll need to order as many copies of Die #5 as possible at that time.
Check out the press release below:
KIERON GILLEN & STEPHANIE HANS SEND FANS INTO FRENZY WITH END-OF-STORY-ARC ISSUE DIE #5

PORTLAND, OR 04/05/2019 — Image Comics is pleased to announce that New York Times bestselling DIE #5, 2nd ptgcreator Kieron Gillen (The Wicked + The Divine) and artist Stephanie Hans' Die #5 will be rushed back to print in order to keep up with demand for the story arc's jaw-dropping conclusion issue.
Die is a pitch-black fantasy where a group of adults have to deal with the returning unearthly horror they barely survived as teenage role-players. The series is perhaps best described as "Goth Jumanji"—but that only captures a sliver of what you'll find in this series where fantasy gets all too real.

Die #5, second printing (Diamond Code FEB198781) and will be available on Wednesday, May 1. The final order cutoff for retailers is Monday, April 8.

Die is also available for purchase across many digital platforms, including the official Image Comics iOS app, Amazon Kindle, Apple Books, comiXology, and Google Play.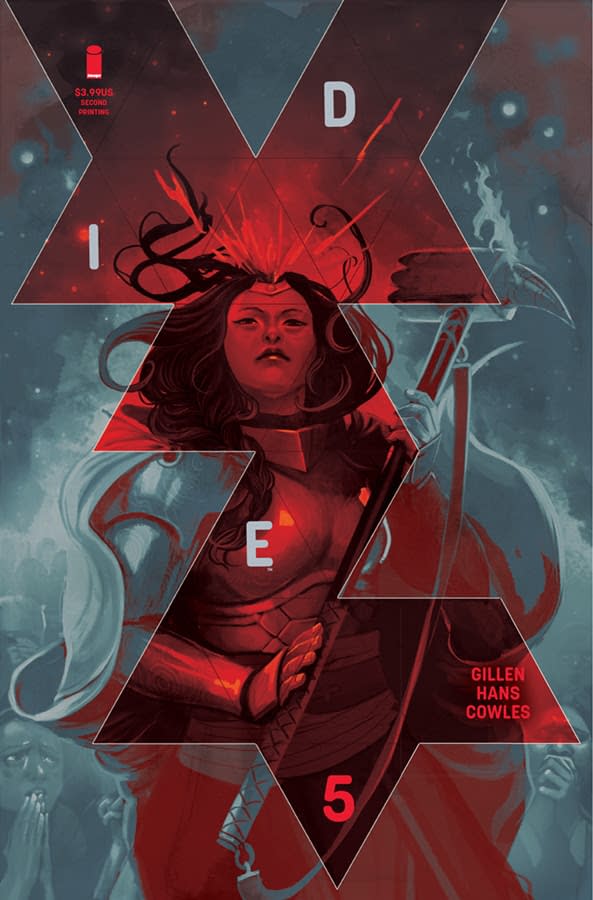 Enjoyed this article? Share it!