Today sees the publication of Infinity Countdown Prime. As we told you before, there is an awful lot of Wolverine in it, despite Marvel publicity trying to hide that fact.
As Wolverine, in possession of the Space Infinity Stone gets targeted by all sorts, shows how adept he is using both the stone and his powers in conjunction with it. No wonder he attracts the attention of Loki, who has a thing for such stones, with a mission established in Marvel Legacy #1.
Wolverine has, however, met Loki before. Knows he's an immortal. Knows that he's a bit… tricksy. And basically does the "nuke them from space, it's the only way to be sure" move.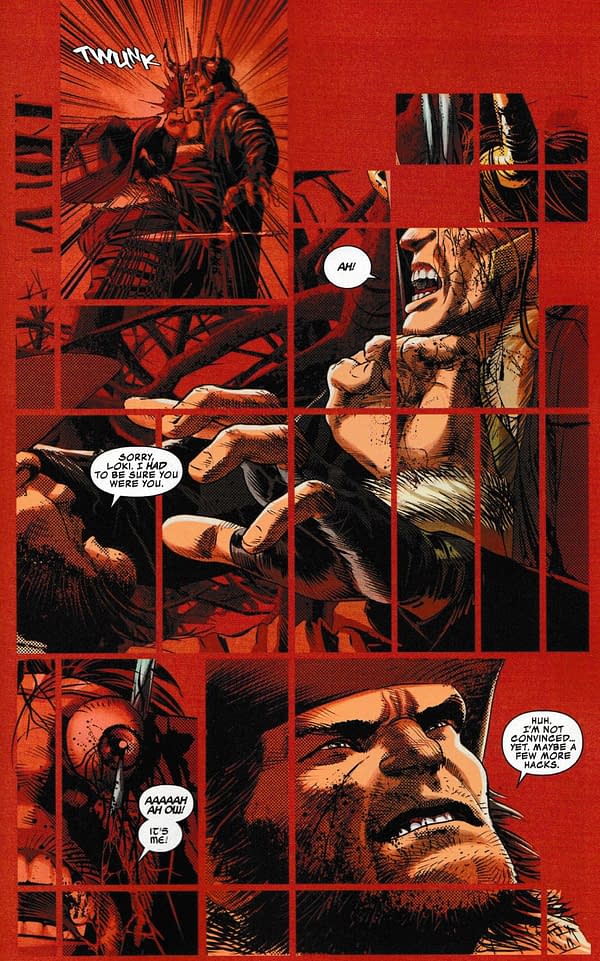 I believe that's known as an "injury to eye motif". Well, Loki, it appears that Wolverine has at least got your eye.
Is that the most disturbing image in the comic book? Possibly, there are a few others from Mike Deodato's pen to challenge it. But possibly no more than this page.
Which shows that the short, stocky Canadian thug has a Thigh Gap. I'm not entirely sure how that's possible. Maybe he created one with that Space Infinity Stone he's stuffed down his jeans? Neat trick if so…
INFINITY COUNTDOWN PRIME #1
(W) Gerry Duggan (A/CA) Mike Deodato
Contains 30 pages of all-new story from Gerry Duggan and Mike Deodato Jr, with additional bonus content! This brand-new story is the beginning of the saga fans won't want to miss.
The Infinity Stones. Individually, they grant their wielder great power. Together, they grant the power of a god. Newly reformed and scattered throughout the universe, these artifacts allow the ones who claim them their heart's desire. Now, as their locations are discovered, forces converge for a battle that will begin the universe down a dark path to the END. Jump onto this exciting ride that will lead to the biggest Infinity yet! Plus: The saga of the Infinity Stones-what they are and how they came to be! From creation to destruction to re-creation, this prose primer will tell you everything you need to know about the legendary cosmic gems!
Rated T+In Shops: Feb 21, 2018
SRP: $4.99
Enjoyed this article? Share it!