Jack Kamen, Joe Kubert and More in Cow Puncher Comics, at Auction
Cow Puncher Comics does not contain any actual cow punching, but features art and covers by Jack Kamen, Joe Kubert, Walter Johnson and more
---
I have to admit I found it completely impossible to do this post about Cow Puncher Comics without first diving into the history of the term "cow puncher." At its most obvious, the term is a basic alternative to the word "cowbow," and like the similar "cowpoke" (which seems to have gained traction a bit later than cow puncher), most presume it derives from the usage of poles to poke and prod cows into going places they don't want to go. But shortly after the term gained traction in the 1870s, its meaning was considered far less literal. One 1881 commentary about cow punching as a profession simply implied it was more forceful than herding and left it at that. A more complete 1900 definition would seem to back that up in more detail, saying that "Cow punching does not mean punching a cow, in the literal English meaning of the term. It means bringing to the ground an untamed steer from a herd grazing on the prairie, and having secured him, shipping him to market or reserving him on the ranch to be converted into beef or other purposes when required."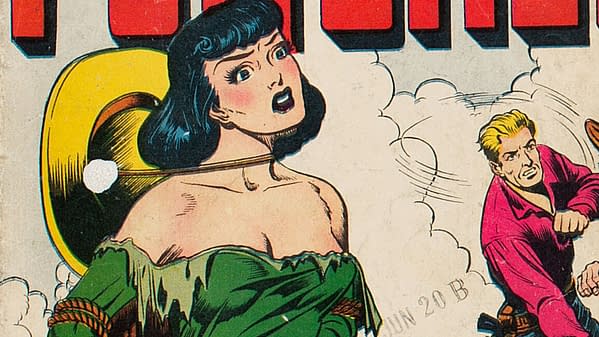 Avon Periodicals' Cow Puncher Comics may not have much cow punching even in that broad sense of the term, but it's a short-lived seven-issue cowboy western series from 1947-1949 made memorable with some classic Good Girl covers by the likes of Jack Kamen (probably), Walter Johnson, Al Ulmer and others, plus art by the likes of Rudy Palais, Joe Kubert, Paul Reinman, Fred Kida and more. You can get several issues of the Cow Puncher Comics series up for auction in the 2023 March 12-13 Sunday & Monday Comic Books Select Auction #122311 at Heritage Auctions. Prospective bidders who are new to Heritage Auctions can check out their FAQ on the bidding process and related matters.

Affiliates of Bleeding Cool buy from and/or consign to Heritage Auctions.