Jackie Ormes and Carol Kalish Inducted into Eisner Hall Of Fame for 2018, 16 More Nominated
The Eisner Awards judges have selected two individuals to automatically be inducted into the Will Eisner Comic Awards Hall of Fame for 2018. These inductees are Carol Kalish and Jackie Ormes.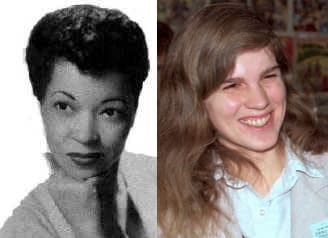 Carol Kalish (1955–1991) served as Direct Sales Manager and Vice President of New Product Development at Marvel Comics from 1981 to 1991. She is credited with pioneering the comics direct market when it was in its adolescence, in part through a program in which Marvel helped pay for comic book stores to acquire cash registers. Beginning in the mid-1980s, Kalish spearheaded the expansion of the Marvel's distribution into previously unexplored retail outlets, including major bookstores such as B. Daltons and Waldenbooks. In 2010 she was posthumously awarded the first ComicsPRO Industry Appreciation Award.
Jackie Ormes (1911–1985) was the first, and for a long time only, black woman newspaper cartoonist. From 1937 to 1938 she wrote and drew Dixie in Harlem comics featuring Torchy Brown. After returning to her roots in journalism, she published Candy, a single-panel cartoon about a witty housemaid in 1945. Then she created Patty-Jo 'n' Ginger, another single-panel cartoon about a pair of sisters, which ran for 11 years through 1956. Finally, from 1950 to 1954, Ormes revamped Torchy Brown into Torchy in Heartbeats, an 8-page color comic insert, including many paper dolls as was popular in the time.
The judges have also chosen 16 nominees from which voters will select 4 to be inducted in the Hall of Fame this summer.
Charles Addams (1912–1988) is best known for his macabre Addams Family cartoons, which gave rise to the TV series and films. His cartooning appeared in The New Yorker from the mid-1930s throughout the 1980s.
Jim Aparo (1932–2005) 's first comics work was at Charlton Comics in the late 1960s. He worked on several genres there and was eventually recruited by editor Dick Giordano for a move to DC Comics in the late 1960s, where he handled such features as Aquaman and Phantom Stranger before landing the art chores on DC's premiere team-up book The Brave and the Bold (starring Batman). He then co-created (with Mike W. Barr) Batman and the Outsiders, which he drew from 1983 to 1985. Aparo went on to draw stories for Batman (most notably "A Death in the Family" storyline),Detective, and other DC titles into the late 1990s. For most of his career, Aparo not only pencilled his work but inked and lettered it as well.
Gus Arriola (1917–2008) wrote and drew the Mexican-themed comic strip Gordo for 44 years, beginning in 1941. As noted by comics historian R. C. Harvey, "Over the years, Arriola dramatically changed his way of drawing, producing eventually the decorative masterpiece of the comics page, the envy of his colleagues." The strip introduced America to such now-popular Spanish words and phrases as hasta la vista, piñata, compadre, amigo, muchacho, and pussy gato as well as Mayan, Aztec, and Mexican customs, history, and folklore.
Karen Berger (1958– ) entered the comics profession in 1979 as an assistant to editor Paul Levitz at DC. She later became Levitz's editor when he was writing Legion of Super-Heroes. She soon became editor of House of Mystery and Amethyst, Princess of Gemworld. Berger was instrumental in nurturing Alan Moore's Swamp Thing and later helped bring Neil Gaiman's work to a mass audience with The Sandman. The success of these titles led to the creation of the mature-reader Vertigo line in 1993. Titles she shepherded under that imprint include Fables, Hellblazer, Hellblazer, 100 Bullets, Preacher, V for Vendetta, and Y: The Last Man. She received the Eisner Award for Best Editor in 1992, 1994, and 1995. In 2013 she stepped down from her post as Executive Editor & Senior Vice President of DC Entertainment's Vertigo imprint. In 2017 Dark Horse Comics announced that she would be heading the imprint Berger Books, which launches this year.
Howard Cruse (1944– ) first appeared on the national comics scene with his underground strip Barefootzin 1972. In 1979 he began editing Gay Comix, an anthology featuring comix by openly gay and lesbian cartoonists. In 1983 Cruse introduced his comic strip Wendel to the pages of The Advocate, the national gay newsmagazine, where it appeared regularly until 1989. His 1995 graphic novel Stuck Rubber Baby (published Paradox Press) won Eisner and Harvey Awards and went on to be translated into numerous languages around the world; it was republished by Vertigo in 2010.
Carlos Ezquerra (1947– ) co-created (with John Wagner) Judge Dredd, the single most successful (and longest-running) comic book character of the post-war period in the UK. Prior to Dredd's first appearance in 2000 AD, Ezquerra was a key artist in many British war comics, and for 2000 ADand its spinoffs he created or co-created many other popular strips, including "Strontium Dog." He has also collaborated numerous times with writer Garth Ennis on Bloody Mary, Adventures in the Rifle Brigade, War Stories, a Hitman annual with artist Steve Pugh, and two Preacher specials (The Good Old Boys and The Saint of Killers miniseries) for DC.
Dave Gibbons (1949– ) started out in underground comics in the UK in the early 1970s. His work appeared to the first issue of 2000 AD in 1977, and he served as the lead artist Doctor Who Weekly/Monthly for over 60 issues. His best known work appeared in 1986: DC's Watchmen, with writer Alan Moore. Gibbons both drew and lettered the landmark miniseries, later collected into a bestselling graphic novel that has been lauded as one of the top works in comics history. Gibbons' other works include Frank Miller's Give Me Liberty and Martha Washington Goes to War, the Eisner Award–winning graphic novel The Originals and Green Lantern Corps for DC. In 2014 he was appointed the UK's first Comics Laureate,
Paul Levitz (1956– ) began his career as a comics fan, publilshing The Comic Reader. He started at DC in 1973 as an assistant editor (to Joe Orlando) and 1978 became editor of the Batman titles. He was an executive at DC for 30 years, ending as president & publisher. As a comics writer, he is best known for Legion of Super-Heroes. Most recently, Levitz has worked as a historian (75 Years of DC Comics: The Art of Modern Myth-Making, Taschen, 2010) and teacher (including the American Graphic Novel at Columbia). His most recent book is Will Eisner: Champion of the Graphic Novel (Abrams ComicArts, 2014).
June Tarpé Mills (1915–1988) One of the few women artists working during the Golden Age of comics, she was the creator of Miss Fury, an action comic strip and comic book that first appeared in 1941. Miss Fury is credited as being the first women action hero created by a woman. The Miss Fury comic strip ran until 1951. Mills returned briefly in 1971 with Our Love Story at Marvel Comics.
Francoise Mouly (1955– ) founded Raw Books and Graphics in 1978. With her husband Art Spiegelman she launched Raw magazine in 1980, which is perhaps best known for serializing Spiegelman's award-winning Maus. A lavishly produced oversize anthology, Rawpublished work by Lynda Barry, Charles Burns, Kim Deitch, Ben Katchor, Richard McGuire, Lorenzo Mattotti, Gary Panter, Joost Swarte, Jacques Tardi, and Chris Ware, to name but a few. When Mouly became art director at The New Yorker in 1993, she brought a large number of cartoonists and artists to the periodical's interiors and covers. In 2008 she launched Toon Books, an imprint devoted to books for young readers done by cartoonists.
Thomas Nast (1840–1902) used his Harper's Weekly cartoons to crusade against New York City's political boss William Magear Tweed, and he devised the Tammany tiger for this crusade. He popularized the elephant to symbolize the Republican Party and the donkey as the symbol for the Democratic Party, and he created the "modern" image of Santa Claus.
Lily Renée Wilhelm Peters Phillips (1924– ) was the star comic artist for publisher Fiction House, where she worked from 1943 until 1948. She drew such strips as Werewolf Hunter, Jane Martin, Senorita Rio, and The Lost World. She was known for her striking covers and good girl art. She later drew Abbott & Costello Comics with her husband at the time, Eric Peters, and Borden's Elsie the Cow comics. She left comics in the 1950s; she is still living and was a guest at Comic-Con in 2007.
Posy Simmonds (1945– ) is a British cartoonist, illustrator, and children's book author. Her newspaper strips (including "The Silent Three" and "Posy") were hugely popular in England in the 1970s and 1980s. Her first graphic novel, Gemma Bovery, originally appeared in the pages of The Guardianin the early 1990s in serialized format and was collected in book form in 2014. Her second graphic novel, Tamara Drewe, was also originally serialized in The Guardian. Both graphic novels were made into feature films. She was made a Member of the British Empire in 2002 for her services to the newspaper industry.
Rumiko Takahashi (1957­– ) is said to be the bestselling woman comics artist in history, with hundreds of millions of her books sold around the world. Takahashi's first published work was the one-shot Katte na Yatsura in 1978. Later that year her first major work began being serialized, Urusei Yatsura. She went on to create such classic works as Maison Ikkoku, Ranma ½, InuYasha, One Pound Gospel, Mermaid Saga, and Rumic Theater. Several of her works have been animated.

John Wagner (1949– ) is best known as the co-creator, with artist Carlos Ezquerra, of the character Judge Dredd. Wagner started his career in editorial with D. C. Thomson & Co. in the late 1960s before becoming a freelance writer and a staff editor at IPC in the 1970s. He helped launch 2000 AD (1977), for which he created numerous characters, including Judge Dredd, Strontium Dog, Robo-Hunter, and Button Man. In the 1980s, he and co-writer Alan Grant wrote prolifically for IPC's 2000 AD, Battle, Eagle, Scream! and Roy of the Rovers. They also wrote for DC Comics' Batman in the U.S., created a series of Batman and Judge Dredd team-up comics, and started the British independent comic The Bogie Man. David Cronenberg adapted Wagner's graphic novel A History of Violence into the 2005 film of the same name. Wagner continues to write for 2000 AD and Judge Dredd Megazine.
S. Clay Wilson (1941–) was perhaps the most outrageous of the underground comix artists. He created wild illustrations full of violent and sexual imagery that crossed every boundary of taste. His signature series was "The Checkered Demon" (1968-1994), which debuted in the second issue of ZAP Comix. Wilson was an influence on many comics creators, among them Alan Moore as well as his own colleagues in the underground comix scene. Wilson's work appeared in Arcade, The Realist, Playboy, Hustler, Weirdo, and LA Weekly, among other publications. In the 1990s he also illustrated the fairy tales of Hans Christian Andersen and the Brothers Grimm, collected as Wilson's Andersen: Seven Stories by Andersen (1994) and Wilson's Grimm (1999).
All voting is online. To vote, you must be a professional working in the comics or related industries as a creator (writer, artist, cartoonist, colorist, letterer), a publisher or editor, a retailer (comics store owner or manager), a graphic novels librarian, or a comics historian/educator. Eligible voters can visit www.eisnervote.com to register (or to sign in if they have voted in the past) and then select up to four picks in the Hall of Fame category. The deadline for voting is March 16.
The 2018 Eisner Awards judging panel consists of librarian Candice Mack (Los Angeles Public Library), comics reviewer/journalist Graeme McMillan (i09, Wired, Hollywood Reporter), comics retailer Tate Ottati (Tate's Comics, Lauderhill, FL), comics scholar Nhora Serrano (Hamilton College, Clinton, NY), writer/artist/educator Alexander Simmons (Blackjack, Scooby Doo, Archie; Kids Comic Con), and longtime Comic-Con volunteer William Wilson (anime/manga expert).
The judges would like to give a special thank you to the students at the Center for Cartoon Studies in White River Vermont (courtesy of Steve Bissette and James Sturm) for their helpful input to the Hall of Fame selection process.
Submissions are currently being accepted in the other Eisner categories; the deadline is March 16. The nominees for these categories will be announced in late April.
The Eisner Awards will be presented at a gala awards ceremony to be held on July 20 at the Hilton San Diego Bayfront Hotel. Jackie Estrada is the Eisner Awards Administrator.
The Will Eisner Comic Industry Awards are presented under the auspices of Comic-Con International, a nonprofit educational organization dedicated to creating awareness of and appreciation for comics and related popular artforms, primarily through the presentation of conventions and events that celebrate the historic and ongoing contributions of comics to art and culture.
There has already been considerable commentary and observations regarding the nominated individuals.
Right then, off to vote for Posie Simmonds. Possibly the most influential comics creator on my own tastes.