Batman always plans, But then, so does his new writer, James Tynion IV, writing the ongoing Batman series in 2020 from DC Comics, starting with Batman #86. And in his newsletter, which everyone should be signed up to, he laid out plans from his pitch document. And it involves the characters of Lucius Fox and Luke Fox. He writes,
Batman has had one hell of a year. The Batman Who Laughs destroyed the Wayne Enterprises building. Bane managed to take control of Arkham, Wayne Manor, and The Batcave. Every core system of technology that Batman uses day-to-day has been compromised and needs to be reimagined from the ground up.

The brain behind this rebuild is Lucius Fox.

Lucius is the CEO of Wayne Enterprises, and is a technical engineering marvel. For the last few years, Lucius has been pushed to focus on improving and maintaining Batman's existing systems, but after City of Bane, he was given the go-ahead to pull out all of his most experimental technology concepts and bring them all to life. He enjoys building non-lethal weapons technology for Batman, and has grown to appreciate Bruce's flair for the dramatic. He's been dreaming up new Batwings and Batmobiles for months.

Lucius operates out of the new Wayne Enterprises campus on the former Tricorner Yards (old city docks). This new center of the Wayne Enterprises global empire has more built-in R&D space than any previous iteration. Unbeknownst to the thousands who work on the campus every day, there is a giant R&D lab and automated factory hidden beneath the public building. Lucius can design new technology from his office computer, and the automated machines start building it, so he can test it. There is also an industrial furnace he uses to dispose of impractical Batmobiles and Gadgets.

Lucius has also started to operate as Batman's operations person, filling the role that was one served by Alfred. This has put considerable stress on the old man, who is not used to operating on three hours sleep a night. But he believes in the mission of Batman, and the new city that's growing beneath their feet. His son, Luke Fox, is worried about his dad's new night job, and the ways in which it's keeping him from his family and affecting his health. He knows what working close to Batman can do to a person, and he sees the death of Alfred as a clear warning of what might be in store for his father. Luke wants him to retire, but Lucius will only consider it if his son takes on his mantle. There needs to be a Batman and Batman needs help.

The first arc of the 2020 Batman Run will introduce brand new versions of key Batman Gadgets/Vehicles, with one highlighted in every issue
And that's all you're getting. Now Bleeding Cool broke the news earlier this year that DC Comics was going to be replacing Bruce Wayne as Batman, and not going down the traditional Robin route. And that this was part of a programming strand called 5G across the DC Universe line. That we would have a new black character in the lead role – and not Duke either. We eventually got the word that it would be Luke Fox, the Batwing. This document doesn't confirm any of that – but it does have Luke Fox as a prominent character, and being expected to follow in his father's footsteps as chief Bat-science wrangler. And we know just how children like to frustrate their parents by going off in a different direction…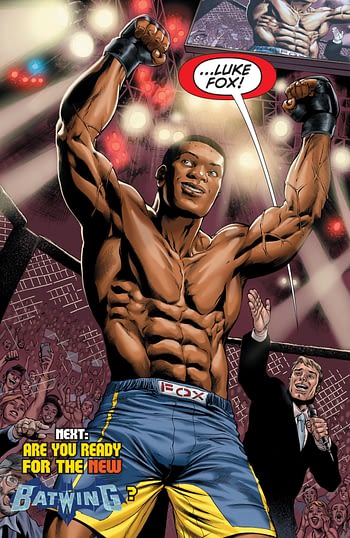 Enjoyed this article? Share it!