No One Told JH Williams III That Promethea Was Joining the Justice League
Earlier today, we ran the new Justice League Of America #23 cover by Doug Mahnke. Featuring the current "baddie" of the series, Queen of Fables, in close combat with Promethea, the comic character created by Alan Moore and J.H. Williams III for the America's Best Comics series Promethea, alongside creators Mick Gray, Jeromy Cox, Todd Klein, Jose Villarubia and more.
We then noted how the most recent issue of the Justice League Of America series has name-checked the Immateria, a fantasy reality of that series and realised that this was not just a cover, Promethea was joining the Justice League Of America comic book. We ran the story.
But this was the first J.H. Williams III had heard of it, when someone passed it accross. He tweeted, linking to our story.
He said that he hadn't been informed, and that he couldn't condone this happening in any form. Maybe that's why they didn't ask him. He continued:
DC Comics are also introducing Tom Strong and associated characters, also of ABC, into their new series The Terrifics.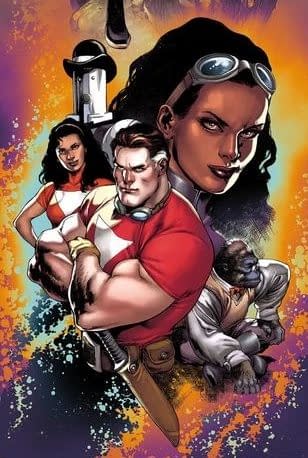 For a long time at DC Comics, when Paul Levitz was Publisher and President, there were definite limits on what could and couldn't be done with Alan Moore's contributions to the company that DC either owned, co-owned, or had control of. While Moore had sworn off working with DC Comics and had personal enmity with Levitz over the handling of Cobweb in Tomorrow Stories and The League of Extraordinary Gentlemen, Levitz did stamp down on a planned series of Watchmen prequels. The ABC characters stayed within the ABC line of books, and writers and artists talked to Alan Moore before working on those characters again — often like they were friends or colleagues of Alan, such as Zander Cannon and Pete Hogan.
Then things changed. Paul Levitz was offered demotion, but chose redundancy. Diane Nelson become President, Jim Lee and Dan DiDio became co-publishers, and Geoff Johns became Chief Creative Officer. Johns plundered chunks of Alan Moore's Green Lantern short stories and turned them into Blackest Night and the like, and before long, DC Comics went after the holy grail, Watchmen, first with Before Watchmen prequels and now DC Rebirth and Doomsday Clock, introducing the Watchmen characters into the DC Universe.
We wondered what might come next. V 5 Vendetta, perhaps?
And now we know.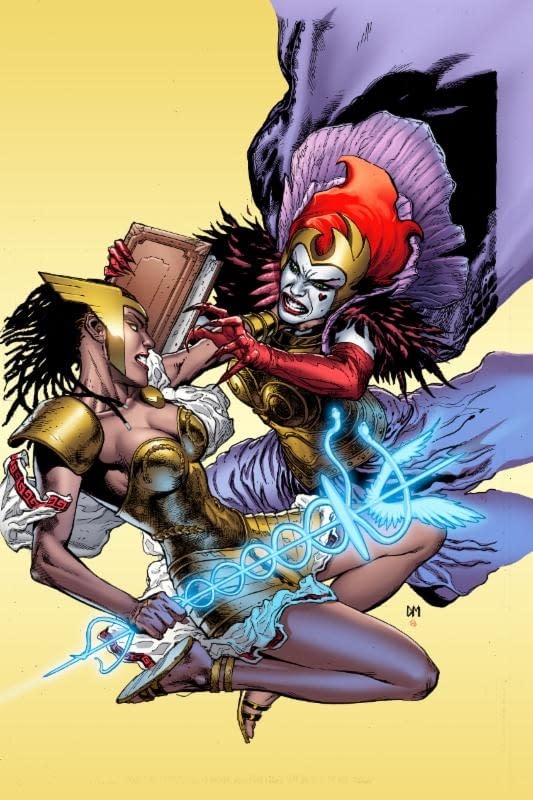 And while no one expected DC Comics to let Alan Moore know what was going on, just as Dave Gibbons learned about Doomsday Clock on Bleeding Cool, that's exactly how J.H. Williams III discovered the news about Promethea.
In previous comics, we had already seen the Justice League Of America character Killer Frost linked to Destiny of The Endless, from Neil Gaiman's Sandman. Now she is linked to the Queen of Fables, a Mark Waid/Bryan Hitch character from earlier JLA comics. And, revealed in last week's Justice League Of America #22, longing for Immateria, the realm of imagination created in Promethea, trying to invade the DC universe.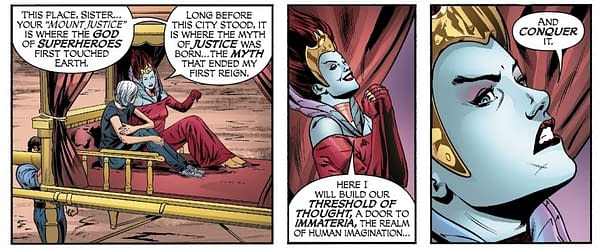 A retailer who has seen a preview copy of the next issue, Justice League Of America #23, confirms to Bleeding Cool that yes, it does involve the emergence of Promethea, as a mysterious figure taking over the form of Vixen. But first, making a reference to planarian worms, straight out of Alan Moore's classic Swamp Thing story, An Anatomy Lesson. But what we see as worms are, in her reality, snakes…
Justice League of America #24 will have her first full appearance through the issue.
That's unless DC Comics change their mind of course. They cancelled the Suicide Squad: Black Files mini-series because it contained a character called Kid Endless, based on the Sandman characters, without Neil Gaiman's permission,. But DC Comics' relationship to Alan Moore and J.H. Williams III is, it seems, rather different to that of Neil.
And DC Comics still haven't published the Complete Sideways Promethea, as they promised when J.H. Williams III agreed to draw Sandman: Overture. What was that meant to be called?
Oh yes. The Promethea Immateria.
JUSTICE LEAGUE OF AMERICA #22
(W) Steve Orlando (A) Neil Edwards, Daniel Henriques (CA) Terry Dodson
"QUEEN OF FABLES" part one! The Might Beyond the Mirror, the great threat that Batman assembled the Justice League of America to stop, has finally arrived in the form of the Queen of Fables. With her reality-warping power, her intent is to take over the real world and the imaginary and rule over everything-and without Batman, does the Justice League stand a chance against her? Or will reality crumble at the Queen's whim?
RATED T In Shops: Jan 10, 2018
SRP: $2.99

JUSTICE LEAGUE OF AMERICA #23
(W) Steve Orlando (A) Neil Edwards, Daniel Henriques (CA) Terry Dodson
"QUEEN OF FABLES" part two! The Queen of Fables has begun granting the wishes of everyone across the globe, and with each wish granted, her powers grow greater. The Justice League has to police people's dangerous wishes while one of their own, Killer Frost, has her greatest wish granted by the Queen…
RATED T In Shops: Jan 24, 2018
SRP: $2.99

JUSTICE LEAGUE OF AMERICA #24
(W) Steve Orlando (A) Neil Edwards, Daniel Henriques (CA) Terry Dodson, Rachel Dodson
"QUEEN OF FABLES" finale! This is the League's last stand against the Queen of Fables, if they fail all of existence will be under the permanent control of the Queen. But in their darkest hour an unexpected character will arrive to help them! In Shops: Feb 14, 2018
SRP: $2.99
Okay, not so unexpected anymore, I suppose.
And for those concerned about spoilers, I understand that a big media organisation was lined up to run this story a little closer to publication. Maybe they still will.
But one final thought inspired by Phil Sandifer on Twitter. Promethea looked, at least initially, a bit like a superhero comic. But as month after month passed by, its true intent was revealed, Promethea was a grimoire, a book of magic, a spell, being cast by the act of creation and publication. And it was intended to have consequences.
What happens to DC Comics if their own complex continuity ingests such a thing? Created by people who hate them?
Unless things change, we may be about to find out.