The Jim Shooter Files: the Dangers of Lame-O Colouring
Last month's MCM London Comic Con had Jim Shooter as a guest, and at his table were a number of folders, binders, full of memos, sketches, artwork from his long career at DC, Marvel, Valiant and more. He graciously allowed Bleeding Cool to take shots of a few of them, but these are just the tip of the iceberg of the folders he often brings to shows. But for Thanksgiving, Bleeding Cool will be sharing a few of them, and you can check the rest with this handy dandy tag.
In a series of memos we can see some of former Marvel Editor-In-Chief Jim Shooter's approaches to the every day work of publishing comic books. We just looked at his stages of the creation of a comic book. It wouldn't be the only issue Shooter would have with the colouring at Marvel Comics.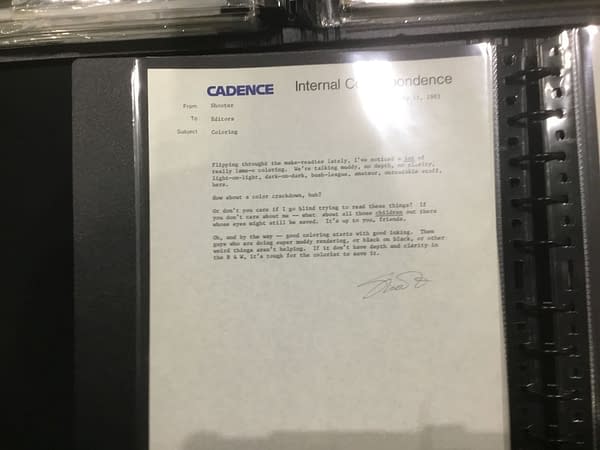 From July 29th 1983, he wrote,
Flipping throught the make-readies lately, I've noticed a lot of really lame-o coloring. We're talking muddy, no depth, no clarity, light-on-light, dark-on-dark, bush-league, amateur, unreadable stuff here.

How about a color crackdown, huh?

Or don't you care if I go blind trying to read these things? If you don't care about me — what about all those children out there whose eyes might still be saved. It's up to you, friends.

Ob, and by the way — good coloring starts with good inking. Them goys who are doing super muddy rendering, or black on black, or other weird things aren't helping. If it don't have depth mod clarity in the B&W, it's tough for the colorist to save it.
Colouring also endangered the lettering…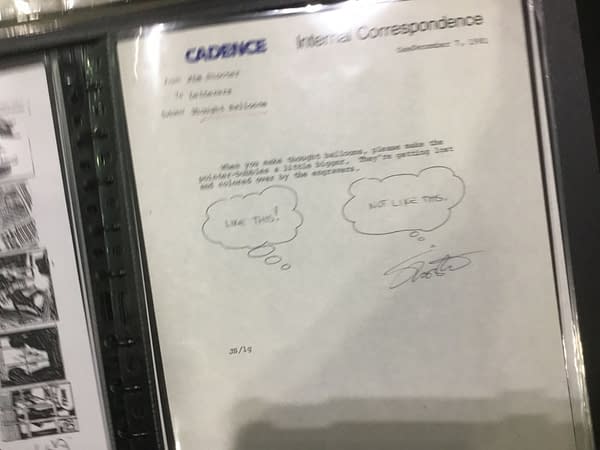 From December 7th, 1982,
When you make thought balloons, please make the pointer bubbles a little bigger. They're getting lost amd colored over by the engravers.
And you know that any problems ould only end up being sent to Danny… and Jim Shooter had his own threats just for him.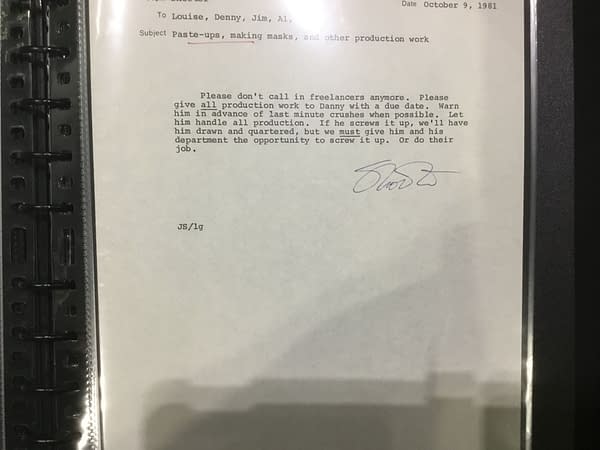 Maybe he was using 'drawn and quartered' purely in an artistic fashion…