For the first time since Free Comic Book Day began, I won't be going to a comic store for Free Comic Book Day. Instead, I find myself at an ungodly hour catching buses and trains to Portsmouth Comic Con, nicknamed JoelCon by everyone due to the involvement of Tripwire Magazine's Joel Meadows. A bunch of American and British comics guests reminiscent of the old eighties; UKCACs which were Joel's stomping ground, it seems a show out of time – with a guest list diversity to boot. Which is probably in keeping with the fifties-vibe of Portsmouth, though to be fair they did just vote out incumbent BNP councillors. Adjacent to a naval base, it may also have a San Diego feel to it too. And hopefully being a naval town, the show won't be able to drink the bars dry, as usually happened with UKCACs.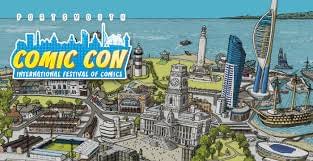 I already met two of its guests, Dirk Wood of IDW and Randy Stradley of Dark Horse, in the pub on Thursday, but they – along with Shelly Bond – are making this a very attractive show for comic book creators to pitch their wares. Sadly Eric Stephenson of Image Comics had to withdraw but it is very possible that creators with portfolios may outnumber fans at the show. Another similarity with those old UKCACs…
There are packed panels through the weekend, and it will be hard narrowing choices down. Although I am amused that Dirk Wood's panel for the Full Bleed hardcover magazine/anthology is called 'Bleeding Cool'. Is that just a really obvious attempt to get me to attend? It may well work.
If you're going, feel free to say hi. I'll be the one with the beard, longish hair and glasses. That should really narrow it down.
And hey, depending on the gout, maybe I'll make it to relatively-local comic shops Ian's Books And Comics or Room 237. It is Free Comic Book Day after all.
The show opens in five…
Guests:
Walter Simonson
Louise Simonson
Rafael Albuquerque
Shawn Martinbrough
Frank Quitely
Chris Weston
Russell Walks
Rob Williams
Laurence Campbell
Declan Shalvey
Dave Dorman
Simon Fraser
Sean Phillips
Cully Hamner
Gene Ha
Shelly Bond
Dirk Wood
Philip Bond
David Michael Beck
R.M.Guera
Jeff Carlisle
Ben Templesmith
Ulrich Zeidler
Randy Stradley
Alison Sampson
Gary Erskine
Claire Wendling
Cavan Scott
Peter Hogan
Malcolm Tween
Jake
Panels: Saturday
Panel Room 1
Time Panel Panelists
11am Drawing The Force: Star Wars Comics And Art Russell Walks, Dave Dorman, Chris Weston, Malcolm Tween, Jeff Carlisle (Host: Tim Hayes)
12pm Frankly Speaking: Spotlight on Frank Quitely Host: Joel Meadows
1pm Spotlight On Philip Bond Host: Olly MacNamee
2pm From The Vault: Focus on Ben Templesmith Host: Joel Meadows
3pm A Norse To Be Reckoned With: Spotlight on Walter Simonson Host: Joel Meadows
4pm Comics First Lady: Spotlight On Louise Simonson Host: Jasper Bark
5pm Baroque From Brazil: Rafael Alburquerque Host: Joel Meadows
Panel Room 2
Time Panel Panelists
11am Lording It Over Time: Doctor Who Comics Rob Williams, Cavan Scott and Simon Fraser (Host: John Freeman)
12pm Savage Pencil: Spotlight On Declan Shalvey Host: Andrew Colman
1pm Happy Birthday to The Man of Steel: Superman 80th Anniversary Frank Quitely, Chris Weston, Louise Simonson, Van Norris from University of Portsmouth (Host: Danny Graydon)
2pm The Hands That Moulded Who: Gary Pollard reveals all about three decades of special effects work including Doctor Who Host: Andrew Colman
3pm Pushing The Envelope: 25 Years of Vertigo r.m.Guera, Chris Weston, Rob Williams, Dan Watters, Peter Hogan, Frank Quitely (Host: Tim Pilcher)
4pm Bleeding Cool: IDW Full Bleed and Wood Works with Dirk Wood Host: Tim Hayes
5pm Bringing Out The Best: Working With The Finest Writers In Comics Host: Frank Quitely, Sean Phillips and Laurence Campbell (Host: Olly MacNamee)
Panel Room 3 – University Of Portsmouth Panels
Time Panel Panelists
10.30am From Dennis the Menace to Judge Dredd…and Beyond: Celebrating British Comics John Caro, Van Norris, Rebecca Janicker with Sean Phillips and Ian Edgington)
12pm Short Sharp Shocks: Horror Comics and the Art of Storytelling Emma Austin, Louis Netter, Rebecca Janicker
1.30pm Graphic Histories: Comics and Presenting the Past Erika Hughes, Tom Sykes, Louis Netter, Olly Gruner, Dan McCabe
3pm Drawing the Line: Politics, Satire and Comic Controversies Louis Netter, Tom Sykes, Olly Gruner, Van Norris
4.30pm The Marvel Cinematic Universe: Where does (should) it go after Phase 3? Lincoln Geraghty, Van Norris with students past and present from the University of Portsmouth
Panels: Sunday
Panel Room 1
Time Panel Panelists
11am The Shape Of Cinema: Talking Guillermo del Toro (University of Portsmouth panel) Deborah Shaw, Rebecca Janicker, Paul Charisse
12pm The Knight Of Noir: Sean Phillips: From Hellblazer To Kill Or Be Killed Host: Joel Meadows
1pm Different Voices: The Importance of Diversity in Comics Ram V, Alison Sampson and Shawn Martinbrough (Host: Shelly Bond)
2pm Authoritative Voice: Gene Ha; working with Moore and creating his own comics Host: Jasper Bark
3pm Squires Of Gotham: Drawing Batman Cully Hamner, Ben Templesmith, Shawn Martinbrough and Rafael Albuquerque (Host: Andrew Colman)
4pm Gary Erskine Workshop
5pm Spotlight On Dave Dorman (Host: Joel Meadows)
Panel Room 2
Time Panel Panelists
11am Millar Time: Kingsman comics Rob Williams and Simon Fraser (Host: Joel Meadows)
12pm Winter Is Here: Impact of Game of Thrones Ulrich Zeidler and Louise Simonson
1pm Say Thee Neigh: Randy Stradley Dark Horse Host: Olly Macnamee
2pm Trip Through The Wires: Tripwire 25 years of rubbing people up the wrong way Hosts: Joel Meadows/ Andrew Colman with Olly Macnamee
3pm Her Word Is Her Bond: Shelly Bond IDW Black Crown David Barnett, Philip Bond and Martin Simmonds (Host: Shelly Bond)
4pm Creating New Worlds: Ulrich Ziedler Talks Game of Thrones and Ready Player One Host: Joel Meadows
5pm The State Of The Market: Comic Collector (University of Portsmouth Panel) Simon Hobbs, Lincoln Geraghty, Van Norris, Andrew Colman
I'm at @PComicCon #PortsmouthComicCon all weekend. Come say hello #portsmouth x pic.twitter.com/4xyDoa9BDg

— JAKe (@JAKeDetonator) May 5, 2018
#PortsmouthComicCon looking good! pic.twitter.com/QHkF3vLlUd

— Tom Clarke-Hill (@tomclarkehill) May 5, 2018
https://twitter.com/Van_Norris/status/992677646172672000
The geeky shirt I will be wearing at Portsmouth Comic Con today. I always wonder whether this is a controversial shirt for anyone who works in the Games Industry to wear. pic.twitter.com/mVvMFOfMjj

— Chris C (@CleveChris) May 5, 2018
Gateway City 4 will be available from table 20 @PComicCon this weekend. Printed by the perfect @ComicPrintingUK #indiecomics #scifi #noir pic.twitter.com/NiuFpYwI6P

— Russell Mark Olson (@russell_m_olson) May 3, 2018
Now that's a view and sky you want to see from your large marquee tent at the Portsmouth Comic Con!! Should have fun helping out today teaching and selling board games!! pic.twitter.com/n3y7xNPFSr

— Luke Hector @ THE BROKEN MEEPLE (@TheBrokenMeeple) May 5, 2018
Looks like I am going to Comic Con in Portsmouth later today. Spur of the moment thing, no idea what to expect but worth a day out eh? Been a bit fed up so this should cheer me up :)

— Chris C (@CleveChris) May 5, 2018
I'll be talking about three really amazing graphic novels that deal with the Holocaust at Portsmouth Comic Con later today: https://t.co/wbkWWZ4s5H

— Dr. Erika Hughes (@ErikaEHughes) May 5, 2018
Enjoyed this article? Share it!