The Omnibus format is an over-sized, colour, stitched hardcover format with around a thousand pages in one massive book. Enough to cripple comic store owners, postmen or anyone standing under the shelf when it collapses. And Marvel have a few new omnibuses lined up for late 2019. In order of page count, all of John Byrne's Spider-Man comic books in one big volume.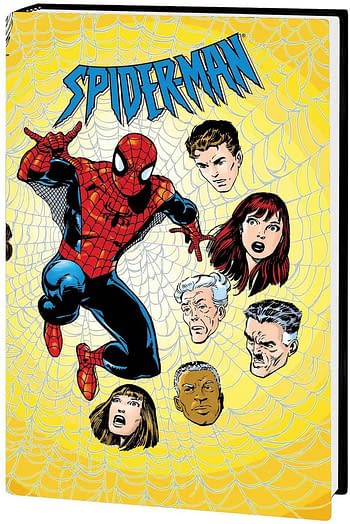 Spider-Man by John Byrne Omnibus 1,264 pages, September 17th, 2019
Every Spider-Man story illustrated by the legendary John Byrne, collected in one huge hardcover! Spidey is put through his paces as he teams with the Hulk, the Wasp, Ms. Marvel, Iron Fist, Captain Britain, Man-Thing, Thor, Luke Cage and more! Spidey battles Man-Wolf, Doctor Octopus and the Ringer! Revisit chapter one of Spidey's history as the webslinger faces his most fearsome foes for the first time! And a legend is reborn as Peter Parker returns to the Spider-Man costume, kicking off an amazing run featuring daring drama, fresh faces and classic foes! Collecting: Marvel Team-Up (1972) 53-55, 59-70, 75; Amazing Spider-Man (1963) 189-190, 206, Annual 13; Peter Parker, the Spectacular Spider-Man (1976) 58; Spider-Man: Chapter One 0-12; Amazing Spider-Man (1999) 1-18; Marvel Authentix: Amazing Spider-Man 1
John Byrne will be saying hello to a lot of free money, as it is also followed by Namor the Sub-Mariner by John Byrne and Jae Lee Omnibus, 1,192 pages, October 15th, 2019
Byrne originated, wrote and drew the series, Namor, the Sub-Mariner in April 1990, recasting the character as the head of a surface company, Oracle, Inc., in order to help keep the ocean unpolluted, and had Namor involved in corporate intrigue. After writing and drawing the book for 25 issues, Jae Lee drew the book and Byrne continued as writer of the book up through issue #32. Jae Lee would draw the book until issue 38. Those issues will only make up 800-900 pages – I wonder what else will be added in? The series went to #64 and there were a n=bunch of annuals – where will the cut-off point be?
Oh and then there is… Marvel Universe by Rob Liefeld Omnibus, 856 pages, October 15th 2019
Which could include
Amazing Spider-Man Annual #23
X-Factor #40
Uncanny X-Men #245
New Mutants #86–100
New Mutants Annual #5–6
X-Force #1–13
Wolverine #154-157
Marvel Comics Presents #51–53, 85–86, 99
Captain America vol. 2 #1–6
X-Force vol. 2 #1–6
Onslaught Reborn #1–5
What If vol. 2 #7
Deadpool #900
Prelude to Deadpool Corps #1
Deadpool Corps #1–9
Avengers vol. 2 #1–7
Prophet/Cable #1–2
Take your pick.
And more savagery from the seventies and early eighties…with Savage Sword Of Conan: The Original Marvel Years Omnibus Vol. 2, 920 pages, November 19th 2019.
Enjoyed this article? Share it!