John F. Kelly Said Marvel Chair Ike Perlmutter Didn't Know What He's Talking About
The other day we mentioned that Marvel Chair Ike Perlmutter might be under the spotlight in former Department of Veteran Affairs secretary David Shulkin's new book, It Shouldn't Be This Hard to Serve Your Country: Our Broken Government and the Plight of Veterans, about working under the Trump administration. A position he discovered he had gained while watching TV – and lost by reading Twitter.
And he also talks about Ike Perlmutter, one of Donald Trump's closest friends and largest donors, who was appointed as part of the Veteran Affairs department by Trump. Perlmutter was a veteran of the Six-Day War as an Israeli soldier before coming to the USA, and has provided funding for cancer research and treatment hospitals as well as those specialising in transgender operations. He talks about first being asked to meet with Perlmutter in Palm Beach, who told Shulkin that Ike was unhappy with the current situation at Veteran Affairs and that Trump had asked him to help fix the agency, before then meeting Trump and later learning on TV that he would be the new head secretary of the VA.
Starting with that first meeting with Trump, he states that Trump routinely dialled Ike Perlmutter into meetings, asking if the secretary was keeping Perlmutter informed and happy.
He writes that Perlmutter would call him several times a day and that White House officials such as Stephen Miller would scold him for not being in close enough contact with Perlmutter and his associates. "There probably wasn't too many times I met with the president when he didn't say, 'What's happening with Ike?'"
ProPublica previously reported on the influence of Perlmutter and associates to the VA with a budget of over a fifth of a trillion dollars and four hundred thousand employees providing health care services and compensation benefits to nine million veterans, despite any relevant experience in government or in the U.S. military. "Often their advice was unusable, because none of these men seemed to have much of an understanding of how the VA worked, nor did they possess any health system management experience. Most concerning was that these VA 'advisers' had never even been to a VA facility (which was also true of the president and his senior staff)."
In favour of the role of private healthcare, and aware of VA scandals in the media, Perlmutter suggested making surprise inspections at Veteran Affairs facilities "to see what was really going on" only for Shulkin to state that as a private citizen, it wouldn't be appropriate to be part of an unplanned inspection in a hospital. So Perlmutter suggested giving them ten minutes warning instead.
But when they did tour a local VA in West Palm Beach, Shulkin reports that Perlmutter was surprised by how well it was run, trying to get complaints from attendees, but receiving only praise "he seemed adamant about finding dissatisfaction, or better yet, horror stories."
He also writes about structuring their roles in the VA to avoid disclosure issues, avoiding the obligations of becoming an official advisory committee, agreeing to give advice as individuals only. "I also knew the limitations placed on private citizens meddling in government affairs, and I was always cautious to make sure that these three did not cross the line." And without official positions, they did not have to declare or divest assets that might have been a conflict of interest. But Shulkin said that wasn't an issue, and they weren't acting for personal gain, and that "truthfully, I think they mostly wanted to feel useful."
Shulkin then writes that other political appointments poisoned his reputation with Perlmutter and others, and that he was targeted because he had previously worked in the Obama administration and that as a result, Perlmutter changed Trump's view of him. And that former Chief Of Staff to the President, John F Kelly confirmed this of Perlmutter, telling Shulkin "Yes, that guy tells POTUS what to do despite not knowing what he's talking about." But that Perlmutter refused to talk to Shulkin about this, and soon afterwards Shulkin was gone.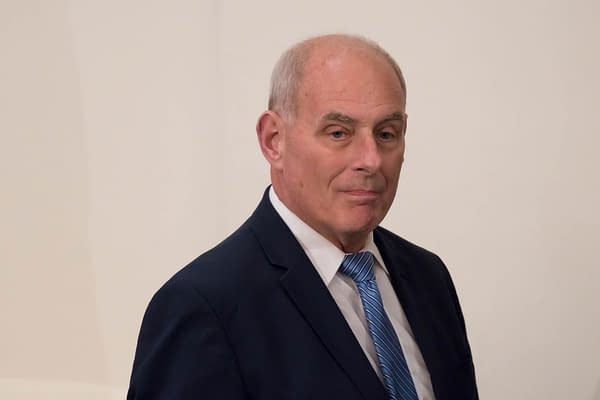 We also learned that Perlmutter collects exotic fish and that the Perlmutter's aquarium required so much special equipment that "it looked like they were operating a fish intensive care unit."
In a statement, Perlmutter and his associates stated they had no official role or responsibilities at the agency.
"We were informal advisors offering our help in service of a cause we believe in. The fact that Mr. Shulkin chose to read political tea leaves and interpreted our role otherwise is disappointing, but ultimately those were mistakes he needs to account for, not us."
In a previous statement, they also stated,
"At all times, we offered our help and advice on a voluntary basis, seeking nothing at all in return. While we were always willing to share our thoughts, we did not make or implement any type of policy, possess any authority over agency decisions, or direct government officials to take any actions… To the extent anyone thought our role was anything other than that, we don't believe it was the result of anything we said or did."
Read more at NPR and ProPublica.