A quick introduction to all you Little Bleeders: my name is Kevin LaPorte, and I write and self-publish comics, along with artist Amanda Rachels, under our own imprint, Inverse Press. I'm a native of Mobile, Alabama, U.S. – top center of the Gulf of Mexico, where I still live and work a day job as a mental health professional. Comics have been integral to my life since I was six years old, when my grandmother took me grocery shopping, and I found a digest-sized Avengers #4 reprint scattered page-by-page about the aisles, no doubt sundered by some unrepentant oaf, ignorant of the re-appearance of Captain America in those very panels! I collected the scattered leaves as we wandered the store and put them in order to tell the story, like some Stan Lee-scribed intelligence test. Addiction initiated.
In those days, comics and their spinner displays were everywhere in retail – convenience stores, pharmacies, etc. It was difficult to go anywhere without encountering them, much to my mother's chagrin. Yes, those were different times, but at 35 cents per book (nearly three for a dollar!), weren't comics still an incredible entertainment bargain! Despite her misgivings about her grade-schooler experiencing the anger-loaded adventures of the Hulk or the (then) macabre San Francisco of Spider-Woman or the frankly weird world of the Shogun Warriors, she relented time after time, because she could see my love for this medium and the multimodal manner in which its tales are conveyed.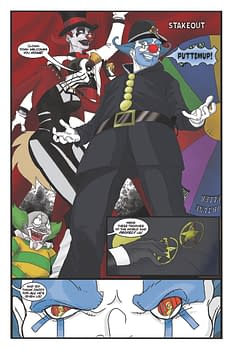 Oddly enough, I didn't write superhero or comics-type stories as a child, although I did a bit of creative writing, all brief prose. Many of my imagined and super-powered ideas were realized via ColorForms, these awesome and monochrome vinyl appliqués of characters (Spider-Man and his foes, in my case) one could smooth to a cardboard cityscape and move about at will. Action figures also filled that story-telling void within me at the time – G.I. Joe, Transformers, the occasional Master of the Universe…
In high school, I began actually writing stories at the behest of a creative writing teacher who was unconditionally supportive of my off-kilter concepts, often involving alternative takes on classic mythology of the Norse, Greek and Native American varieties. By this time, I was collecting comics, not just reading them, so my bedroom became the Claremont Memorial Library, and this obsession, in combination with the more organized writing efforts, inevitably led to me taking a stab at some comic scripts during my last year of high school and first year of college.
There was a story of Lockheed stopping a Black Tom-led home invasion of Excalibur's lighthouse (ridiculously similar to a short actually published in the back of an Excalibur Special a few years later…strange serendipity, considering only a couple of friends ever read or heard about my little script). There was a soon-abandoned pitch for a Freedom Force (Mystique's Brotherhood of Evil Mutants gone good) series, and there was a series of Nightcrawler story concepts that really didn't make it to the script stage.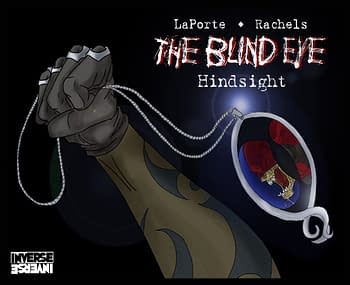 Fifteen years intervened, with almost no creative writing at all, but plenty of life events – college, marriage, graduate school, career initiation and advancement, ownership and closure of my own comic shop, divorce, etc., etc. Those stories don't need telling, as we all live them one way or another. During the latter portion of that extended lull, however, I befriended a few aspiring artists, one of them Flesh of White artist Amanda Rachels, by way of mutual interest in comics and gaming. At different times, both Amanda and another, Bryan Taylor, requested my help writing a sample script from which they could produce some comics pages for practice and, potentially, submission to publishers.
These collaborations proved so rewarding, educational and just plain fun, that Amanda and I began developing story concepts for actual production. I shifted life priorities around to put writing near the top, and we soon unveiled our first attempt at a long-form comic, The Blind Eye, still viewable here. This effort at superhero noir, set in a hurricane-flooded, Lovecraftian analog of New Orleans, taught us many lessons about the technical and financial realities of comics, most learned the hard way. We're still proud of it. Even during this time, in 2009-2010, early opportunities began to appear, and we did our best to seize them. Our first published print work appeared as a four page story about astronomy in Josh Elders' Reading With Pictures Vol. 1, and we launched into a global competition for independent comics creators called Small Press Idol.
Small Press Idol 2010 was a seminal experience in the world of comics creation. It involved developing a concept from a brief pitch through character turnarounds, cover art and pages, with judging by a panel of established indie creators at each level, followed by fan voting and sales in the final stages. Amanda and I came up with the idea of a team of killer clowns who didn't wantonly destroy using smothering cotton candy or shadow puppets, but who were on a mission to avenge the abuse of children, taking out creeps in brutally comical ways, while allegorically addressing the often internal consequences of abuse. We called it Clown Town, and it took off on jet fuel. Clown Town was near the top of the Small Press Idol competition through many of those months, and actually led it for most of the latter few, only to lose out on the top prize the very last day, following a seismic shift in sales for the previously second-place project. We refused to let it die.
We expanded the 12-page story from the Small Press Idol days into a 32-page first issue of Clown Town and launched it via crowdsourcing giant Kickstarter in the Spring of 2011. Our campaign succeeded, and we followed it with funded campaigns for the next three issues and a fully-realized graphic novel through January, 2012, steadily nurturing the project and its growing following. In the interest of diversification, both Amanda and I took on other projects throughout this time, many of which have already been published or are just now bearing fruit.
In 2012, Amanda completed art for Arcana Studios' The Book, a horror graphic novel written by Erik Hendrix and Michael Nelsen, and she has worked much of 2013 on the supernatural horror story, Flesh of White, with writer Erica Heflin, already on its second Kickstarter campaign after an extremely successful first go. As for me, I just started publication on Roadkill du Jour with artist Shawn Harbin. It's the story of a biker left alone after his gang was decimated by their rivals, led by a voodoo priestess who cursed him to feed only on roadkill and to take on the attributes of that which he consumes. And there are several other projects in the works, a few of which will see the light of day in 2013.
But, one of the lessons you learn in the comics business, or at least that I have learned, is that you don't let your concepts wither and fade when you move on to new ones. We have maintained Clown Town in print for more than a year, often promoting it by giving away free copies of the early "floppy" issues of the title, and we are exploring the possibility of funding a new print run soon. Fortunately, with modern technology, the opportunities for exposing potential readers to comics have expanded dramatically, particularly with the advent of comiXology's Submit program, wherein independent comics creators are granted the chance to see their work available for sale via one of the top-selling apps in the world!
I prepared Clown Town, all 124 pages of the full graphic novel, according to comiXology's specs the very same day Submit became generally available and transmitted it that evening. It was remarkably simple and user-friendly, and I can't say enough positive about comiXology's communication during the process. We were informed after just a few weeks that Clown Town was accepted to Submit, and, then, just this past Wednesday, that it will be ready for release on May 15!
Having my work available via such a prominent platform and in their Guided View presentation is the culmination of many years of work and persistence, but it's just the current high point. Amanda and I have major plans for our properties in the coming months, and it is our hope that Clown Town on comiXology Submit proves a higher peak from which to launch those plans when it becomes digitally available THIS WEDNESDAY!
Enjoyed this article? Share it!