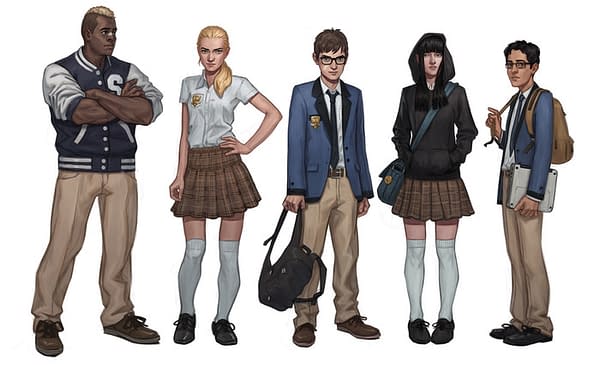 Bleeding Cool's Kickstarter Correspondent, Shawn Demumbrum has lead three Kickstarter campaigns to launch comic books, two successfully funded and one that wasn't. He helps point out some of the unique Kickstarter projects that wouldn't normally be published by the big comic book companies, but deserve your attention. Shawn is the Manager of Comic Book Programming for the Phoenix Comicon. He is currently working on the Nothing Can Stop Me Now: Stories Inspired by the Songs of Nine Inch Nails
James Venhaus is a playwright from Fort Worth, Texas who is taking the plunge into comics with his Kickstarter campaign for The Night Owl Society. The great thing about Kickstarter is that it has become the breeding ground for a lot of ambitious creators who want to enter the comic book world. Plays tend to be very character centric with makes it an easier transition than most prose. I was curious to she how he would transition the three act structure into a medium that relies on page turner action.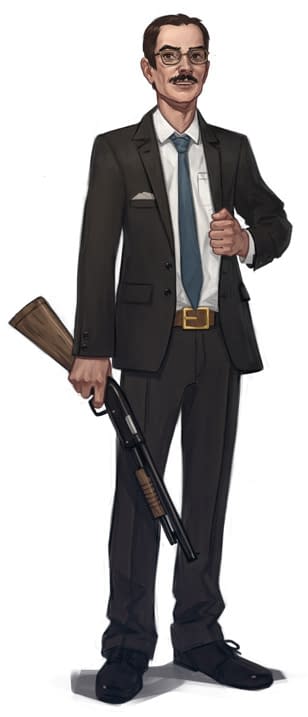 Tell us about The Night Owl Society.
"The Night Owl Society" tells the story of David Foxworth and his friends A.J., Sara, Laura and Darsh who form The Night Owl Society after one of David's friends is killed by a notorious mob boss known as The Viceroy. Each night, The Night Owl Society sneaks out of the cocoon of the suburbs and into the darkness of the city to disrupt The Viceroy's business. It's all fun and games until The Viceroy puts a price on their heads and things get personal. Plus, one member of the team is hiding a secret that puts the entire team in danger.
Why Kickstarter?
I love the idea of crowdfunding: Instead of have a few people invest large sums of money, a lot of people each give a little bit of money. Large funding levels are great, but the more people I can find who want to kick in $5 for a digital copy of issue #1 or $10 for the print edition mailed anywhere in the US, then the more readers I'll get. Really, the primary goal is to build a reader base that will follow "The Night Owl Society" beyond issue #1.
Why did you choose to run a 60 day campaign instead of a more compressed Kickstarter campaign?
There are two small comic conventions in my area. One in November and January. With a 60 day campaign I can set up a booth at both cons while my Kickstarter is still active. I'm trying something different. I'll have two laptop computers set up at my booth that I am calling, "Kickstarter Kiosks". If you pre-order issue #1 via Kickstarter at the show, I have an exclusive conventional only poster to give away.
You've pitched it as the first part of a six part story arc. Is this a contained story or the origin arc for a much bigger story for the Night Owl Society?
The first story arc is six issues. But, I could easily see this becoming an ongoing book. (I'm looking at you Image, Dynamite, IDW, BOOM!, etc.)
It has been described as a cross between "The Breakfast Club" and "The Sopranos". Do you have an end in mind? Does that ending involve a sudden fade to black, a celebratory fist pump or both?
Well, the end of the first arc certainly has a "fist pump" moment. But, these kids have to live with the consequences of their actions. There is a great, "what next?" moment at the end that I hope will launch the second arc.
Do you see the Night Owl Society more as a team like the X-Men who bound by a common trait or like the Avengers who bound by a common goal?
A little of both. They share many common traits because of the their school and their background. But, it is the common goal of taking down the Viceroy that binds them as a team. As I work on the script, I am noticing a certain Wolfman/Perez Titans vibe emerging. These kids are very different and they don't always know how to interact with each other or get along.

In high school, the brain, the beauty, the jock, the rebel and the recluse never hung out even though most of them had shared experiences growing up through grade school. What makes the situation in the comic book different?
You hit the nail on the head. These kids would never sit at the same lunch table. David, who has a very person reason for taking on the Viceroy, recruits the team members one by one. And each of them has a skill set that he needs. So, they are brought together for a common purpose, but their differences certainly make the team chemistry difficult.
Would you cast Gary Oldman or Steve Busemi as the Viceroy in the Night Owl Society movie?
Oldman. Definitely Oldman. He has to be a weasel when necessary, bit he needs to be but a charmer, too. Just like the kids, he has a life outside of crime in which he is a normal family man. The book explores how the concept of secret identities can exist beyond the capes and tights type of heroes and villains. We all have secrets. Some are bigger than others.
What was your first experience with comic books growing up?
They were the first books I read. I'm pretty sure Superman may be more responsible than my kindergarten teacher for helping me learn to read. Claremont's X-men, Wolfman's Titans were staples while I was in middle school, and by the time I was in high school Camelot 3000, Dark Night Returns and Watchmen were read over and over again. Comic books were "growing up" at the same time I was.
Your play Masquerade deals with comic book readers and cosplay. Tell us about that. Did that influence your interest in writing a comic book?
As a lifelong comics fan, I have always been intrigued by the idea of a "secret identity" and how that isn't really very far off from a dual personality. And, as a high school drama teacher, I work with a lot of kids who use theatre as an escape from their daily lives and the act of pretending to be someone else can be very liberating. Masquerade, deals with all of this and it also wrestles with the idea that if your ability to distinguish reality from fantasy was less than it should be, it could create some very interesting situations.
What challenges did you face writing a comic book coming from a playwright background?
When I first got the idea of "The Night Owl Society" it was going to be a play. But, the more I developed the story, the more I realized that the action, the sense of adventure, the fight between good and evil both externally and within ourselves, and the nature of secrets and secret identities was much more suited to a comic than a play. I've written 17 plays that have been produced in theatres across the US and in five other countries. I think I have a good ear for dialogue, I think I do well creating compelling stories and well developed characters, but writing a comic is a bit outside of my comfort zone. Breaking down a story into pages and panels is completely new to me. I've surrounded myself with my favorite comics and (when I can find them) the original scripts to see how the idea goes form a script to a finished comic. And, I do my best to try to write something that recreates the feeling you get when you are reading a really great comic. It's a much longer process that writing a play, but I'm loving it.
You still have a lot of time left in your campaign with about a third of the campaign funded. What would you say to someone who is on the fence to convince them to pledge?
Give it a chance. I've created a low entry point so that the risk for the potential reader is low. For $5 you can get a digital copy of issue #1. Plus, the art by Pijus Baksys (why isn't he working for the Big 2?) is amazing. I think you'll like it.
Enjoyed this article? Share it!