LATE: Captain America, Mighty Valkyries and Red Room
LATE: Originally intended to be published in June, Captain America #30, the final issue of Ta-Nehisi Coates run on the series, accompanied by Leonard Kirk, has been delayed, slipping into July. The 7th of July, to be precise, missing July the 4th as originally planned.
LATE: Joining it in that delay is the final issue of The Mighty Valkyries 5-issue mini-series, slipping from August to the 15th of September. It is an utterly beautiful painted comic book from Mattia De Iulis, so I think we might be able to cut them some slack on this one.
LATE: Red Room #2 is only a week late, slipping from the 23rd of June to the 30th of June, but hey, it's a beautiful comic book, and any excuse to mention it, right? And including it in this list will make Ed Piskor feel like one of the big boys.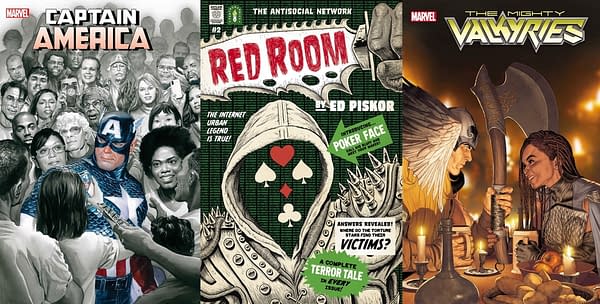 CAPTAIN AMERICA #30
MARVEL COMICS
APR210914
(W) Ta-Nehisi Coates (A) Leonard Kirk (CA) Alex Ross
THE FINAL ISSUE OF TA-NEHISI COATES' LANDMARK RUN! "ALL DIE YOUNG" ends here! Ta-Nehisi Coates concludes his run on CAPTAIN AMERICA with an all-out fight to the finish with the Red Skull and the Power Elite! 32 PGS./Rated T+In Shops: Jul 07, 2021 SRP: $3.99

MIGHTY VALKYRIES #5 (OF 5)
MARVEL COMICS
JUN210717
(W) Jason Aaron, Torunn Gronbekk (A/CA) Mattia De Iulis
NEW GODS BRING FRESH HEL TO THE VALKYRIES! A new pantheon emerges from the dusty gates of Hel – one that Queen Karnilla thought she could control. She was wrong…and now all the realms must pay the price. Jane and R na fight to save the gods and restore the mortal world! Don't miss the conclusion to Jason Aaron, Torunn Gr nbekk and Mattia de Iulis' realm-shaking epic! Rated T+In Shops: Sep 15, 2021 SRP: $3.99

RED ROOM #2
FANTAGRAPHICS BOOKS
APR211664
(W) Ed Piskor (A) Ed Piskor
Grooming victims to be slaughtered on the DARK WEB for the enjoyment of psychopaths requires lots of work to keep them from being identified. The Poker Face organization, one of the most successful black market Red Room companies on the internet, goes to great lengths to fulfill their customers' depraved fantasies while avoiding law enforcement every step of the way. From the creator of Hip Hop Family Tree and X-Men: Grand Design comes this ALL-NEW monthly comic book series! A cyberpunk, outlaw, splatterpunk deep dive into the subculture of criminals who live-stream and patronize webcam murders for entertainment in the darkest corners of the web with nearly untraceable crypto-currency. As seen on Piskor's YouTube channel sensation, Cartoonist Kayfabe!In Shops: Jun 30, 2021 SRP: $3.99