During the SXSW Marvel Panel this weekend in Austin, Texas, Marvel EIC announced a new Marvel character, Wave, designated their first Filipina character.
Created by Greg Pak and Filipino artist Leinil Francis Yu, Greg tweeted the news out;
Remember when we said we were introducing a new Filipino superhero to the Marvel Universe in WAR OF THE REALMS: AGENTS OF ATLAS #1?

— Greg Pak (@gregpak) March 9, 2019
As announced at @sxsw, I'm thrilled to share the great @leinilyu's stunning design of WAVE, Marvel's new Filipino superhero! Gorgeous colors by @sunnygho! She'll appear for the first time in WAR OF THE REALMS: NEW AGENTS OF ATLAS #1 in May, with art by Gang-Hyuk Lim! pic.twitter.com/cZhwXbQ1FG

— Greg Pak (@gregpak) March 9, 2019
Jiggy Cruz, writing for the Manila Bulletin, writes
I got to talk to Leinil over dinner. It turns out it was C.B., himself, who emailed Leinil sometime early February, asking if he was interested to design a new character who happens to be Filipina. Of course, Leinil replied: "Yes, I want to do it!… To be given an opportunity like this, there was really no way I could say no to it,"

C.B. then got Leinil, writer and Wave creator Greg, and a number of editors from Marvel on an email thread so they could brainstorm. Greg sent Leinil some notes and he received an image of this Filipina in a black diving suit / rash guard with some pink highlights.

Leinil shared that Wave is from Cebu and she uses technology. Wave wasn't born with powers nor was there any magic used. It was all Greg Pak who thought of it. The name hadn't been thought of yet at the time with Leinil.

Wave's design didn't have any color guides so Leinil ran with it. "Initially I wanted to put some Filipino symbology into it like the rays of the sun but then I realized it might be too out there. Wolverine being Canadian doesn't have a maple leaf in his costume. But I still wanted some elements so it was the Lapu-Lapu inspired swords that I put there."

Wave's Cebu roots come full circle with the Lapu-Lapu inspired swords. The teal color was the final approved color highlight since Wave is water-based. Leinil shared that he dabbled with some sky blue and pink initially but it was the teal color he went with. Wave also has a retractable mask.

"The Marvel editors asked for goggles but I wanted to show her face so I made it a translucent retractable mask that covers her nose so she can breathe as well,"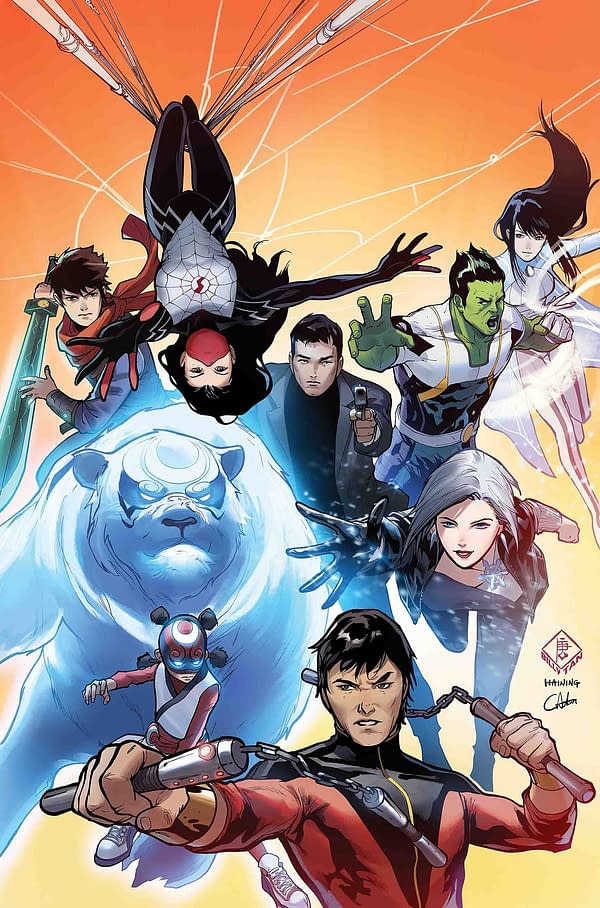 WAR OF REALMS NEW AGENTS OF ATLAS #1 (OF 4) WR
(W) Greg Pak (A) Lim, Gang Hyuk (CA) Billy Tan
FEATURING MARVEL'S NEWEST HEROES WAVE, AERO & SWORD MASTER!
A "War of the Realms" tie-in series! As Sindr, Immortal Queen of Muspelheim, and her legions of Fire Demons march on Asia, it's time for a new band of heroes to unite to protect the Pacific Rim. Having brought together a ragtag team of heroes to defend the Earth from an alien invasion in the past, can Amadeus Cho reassemble his "protectors" — Shang-Chi, Silk and Jimmy Woo to save the world from incineration? And where is Kamala Khan? And just who are Crescent, Io and Luna Snow??? Featuring Marvel's newest heroes from China, Aero and Sword Master, and a mysterious new Filipino heroine named WAVE!
Rated T+In Shops: May 08, 2019
SRP: $3.99