We've had a theory running through recent months at Bleeding Cool concerning Brian Bendis' redefining of the roles of Lois Lane, Superman, Clark Kent and Jonathan Kent as a family and in the DC Universe.
That Lois Lane is going to tell the world that rather than being Clark Kent's wife, she is actually Superman's girlfriend and that Jonathan Kent is their child. And that Clark Kent is just a cover, a beard as the parlance goes, for her relationship with Superman. And, for want of a better phrase, turn Clark Kent into Cuck Kent in the eyes of the world?
Today, we got a nod in that direction, as Lois Lane meets her Superman-averse father Colonel Sam Lane.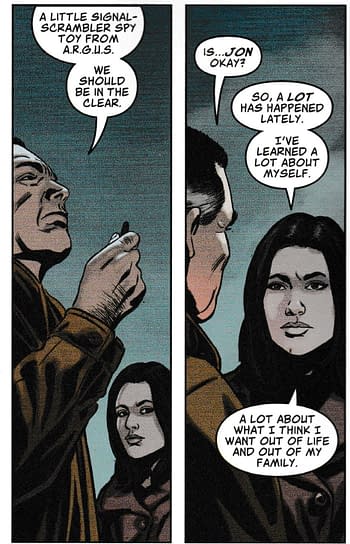 What, that you're a terrible mother, Lois? Don't worry, so is Clark… but is she wanting that change we have been suggesting? As she tells her father…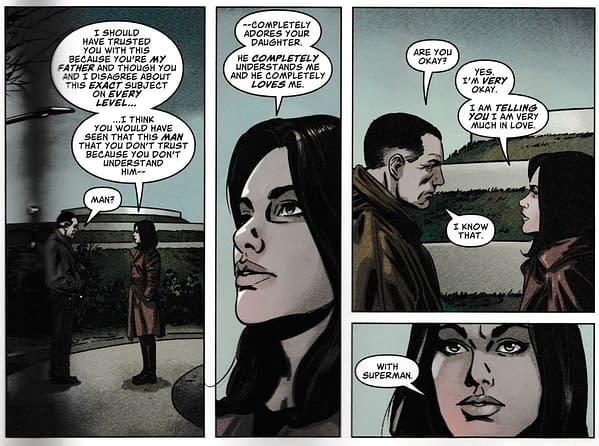 Note, saying she is in love with Superman, not that Clark Kent is Superman.

But why now? Well having her son now suddenly an older teenager without explanation might have made it very necessary right now… and she has been writing that book with potential titles The Secrets of Lois Lane or I Married an Alien from Outer Space…
ACTION COMICS #1007
(W) Brian Michael Bendis (A/CA) Steve Epting
The Kobra Cult conspiracy ensnares Daily Planet photographer Jimmy Olsen, drawing the attention of the Man of Steel. But be careful, Superman-there's more lurking in the shadows of Metropolis than just a snake cult. In Shops: Jan 30, 2019 SRP: $3.99
Enjoyed this article? Share it!