Marc Andreyko Talks Writing Red Sonja For A Steampunk World
Frank Barbiere, writer of Solar: Man of the Atom #10, talks with writer Marc Andreyko about Legenderry: Red Sonja #2, both on sale now! Cover by Sergio Fernandez Davila.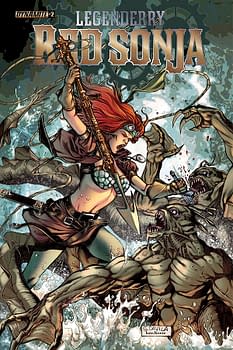 FRANK BARBIERE: What's the most exciting part of being able to use Red Sonja in a different setting?
MARC ANDREYKO: It has been fun to take her personality and extrapolate it to a different time period/world. Taking her dominant traits –audaciousness, boldness, a fire within – and seeing how they recalibrate in a steampunk setting but still have her recognizable as Sonja, that has been a fun challenge.
FB: You dedicate the opening of the book to the origin of Lady Frankenstein …it's a great, emotional scene. What was the most important thing you wanted to convey here?
MA: I wanted to give an emotional depth to Elizabeth and a sense of tragedy. We all know the Monster's story, but seeing how Victor's madness pulled others into it helps make Elizabeth and Victor more textured characters.
FB: Aneke's art is wonderfully detailed and has an excellent sense of storytelling. Do you tend to be very tight with your panel counts, or does the artist bring a lot of design to the paneling? The scene where Lady Frankenstein falls from the tower is particularly well rendered!
MA: I do write panel-by-panel, but always with the caveat that if the artist can convey the necessary info, they can play with the angles and panel count. I look at it this way: I'm the director, but the artist is the cinematographer. And Aneke is amazing! Her art makes the book, IMHO. She's gonna be a superstar!
FB: The use of various literary characters (and the final reveal) is exciting and adds a new dimension to the world. Is there anything you're hoping to say with these characters, or anyone specifically you're a fan of and hope to see make it into the story?
MA: Having a limited page count and a new world to share with readers, using "known quantity" characters allows a short hand, and by turning the expectations of what those characters bring also adds an air of mystery and excitement to what is happening next. And I am having a blast with Elizabeth Frankenstein and (spoiler) Captain Nemo!
FB: What can you say about the villains in this story? Any particular favorites to write?
MA: Villains are always fun to write. (smiles) It's like scream therapy for a writer. You get to put all your stress and frustration out on the page through the mouths of maniacs. (smiles) And I don't want to get more specific than that since we have a few cool reveals left in the series!
For more on Legenderry: Red Sonja #2, click here.