Before Christmas, comic creator Mark Millar's young daughter lost her teddy bear – a 37-year old family heirloom – a ski-suit shop in Santa's Lapland in Finland. Something they only seemed to realise when they were back in Scotland.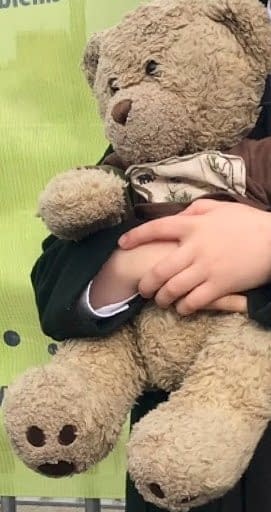 He put out an appeal to try and track it down – no joy so far. But Finnish fans of the Korean pop group BTS wanted to get the word out.
Hello all Finnish @BTS_twt ARMY!
We want to help @mrmarkmillar to find his teddy bear! It was lost in @SantasLapland in Finland!
If by any chance you find it, contact mr. Millar!
💜We believe in miracles!✨ https://t.co/LFERazYgmM

— BTS ARMY Finland ☃️ W.I.N.G. (@BTS_army_Fin) 29 December 2019
It's not a totally random connection – BTS just performed cosplaying as Kingsman, based on the film and movie he co-created with Matthew Vaughn and Dave Gibbons, The Secret Service.
Kingsman creator @mrmarkmillar showed his love for @BTS_twt after #BTSARMY sent him the KBS version of #Dionysus based on the comic.

He spoke of the love & cultural impact it had in SK & how he loved the performance!#BTS truly are 🇰🇷 Secret Service!pic.twitter.com/MhEOK0dRCk

— ARMY MAGAZINE (@ARMYMAGofficial) 29 December 2019
And he had plenty of kind words to say – including the suggestion that he might get BTS to appear in a future Kingsman movie.
The love for Kingsman in Asia is amazing, particularly S Korea where it had a massive cultural impact. Someone sent me this today and I love it… https://t.co/QUUtWQ9CCs

— Mark Millar (@mrmarkmillar) 28 December 2019
Thanks to all the lovely @BTS_twt fans yesterday for their kind words on our Kingsman movie. South Koreans are THE BEST! Hoping to get out there for a signing next year!!

— Mark Millar (@mrmarkmillar) 29 December 2019
Thank you, Leci. Actually, given the big Kingsman fan-base in Asia I personally think it would very cool to have BTS do a SONG for one of the movies. https://t.co/Sw8UDkBF4U

— Mark Millar (@mrmarkmillar) 29 December 2019
If only he could find that teddy bear… until then, here's a mashup of BTS and Kingsman trailers:
Enjoyed this article? Share it!