Mark Russell Comes to Humanoids, at Comic-Con@Home
Mark Russell is one of my favourite modern comic book writers. A funny, satirical prose writer, he has shown no primadonna attitude when it comes to taking on a variety of IP, and twisting it to his nefarious means, whether that's Batman, The Flintstones, Snagglepuss, Red Sonja or Jesus Christ. Man, that last license must have been expensive. Anyway, courtesy of the listing for the Mark Waid and the Future of Humanoids panel/video for the San Diego Comic-Con replacement Comic-Con@Home. we see that he is joining existing Humanoids creators such as John Cassaday and Ibrahim Moustafa, but no Humanoids project has yet been attached to his name/ Will they announce it there? Will we learn about it in solicitations first?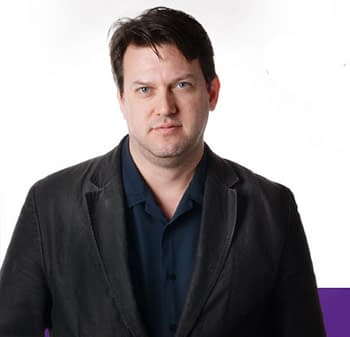 Mark Waid and the Future of Humanoids

https://youtu.be/KElsTuA-e-0

Mark Waid, the newly established publisher of Humanoids, chats with other creators, John Cassaday, Mark Russell, and Ibrahim Moustafa, about the current comic industry and the ever-expanding vision and future of Humanoids in his own words.
Saturday July 25, 2020 3:00pm – 4:00pm
Comic-Con@Home
1: Programs, Art and Illustration, Comics, Fandom
Tags Art and Illustration, Comics, Fandom
Mark Russell is the author of God Is Disappointed in You, a modern re-telling of the Bible with cartoons by Too Much Coffee Man's Shannon Wheeler as well as a follow up book about non-canonical Christian and Jewish texts called Apocrypha Now. In 2015, Russell made his debut in comics with his critically acclaimed reboot of the 1973-74 comic Prez drawn by Ben Caldwell, in which a teenager is elected and serves as President of the United States. Following Prez, Russell was hired to write The Flintstones comic book series for DC Comics, drawn by Steve Pugh. The Flintstones was nominated for two Eisner Awards, including Best Limited Series and Best Humor Publication, as well as being nominated for a Harvey Award for Book of the Year. In 2018, DC Comics published Russell's comic Exit, Stage Left!: The Snagglepuss Chronicles, which reinvented the titular Hanna Barbera character as a gay southern gothic playwright living in 1950s New York. Exit Stage Left!: The Snagglepuss Chronicles won the 2019 GLAAD Award for Outstanding Comic. The series was also nominated for the Eisner Award for Best Limited Series and Russell was nominated for the Eisner Award for Best Writer. February, 2019 saw the publication of Russell's The Wonder Twins with artist Stephen Byrne as part of DC's new Wonder Comics line, curated by Brian Michael Bendis. 2019 also saw the publication of Russell's comic Second Coming by AHOY Comics. Originally slated to be published by DC/Vertigo, the comic was dropped by the label due to the religious and controversial subject matter, only to be later picked up and published by AHOY. Volume I of Second Coming was published in March, 2020, featuring an introduction by Patton Oswalt. Russell is currently writing Killing Red Sonja, the spin-off of his Red Sonja series for Dynamite Entertainment.