Yesterday and today, Bleeding Cool has been running Marvel promotions for August featuring what appear to be impossible comic book creative teams. Like George Perez coming out of retirement to work with Al Ewing. The Humanoids EIC John Cassaday working with Mark Waid. Solo projects by Walter Simonson, Erik Larsen and Alex Ross. The return of JMS for one more day with Ed McGuinness. Spider-Verse creators Phil Lord and Christopher Miller. Taboo from the Black Eyed Peas with Jeffrey Veregge. Brad Meltzer working with Julian Tedesco. And Joe Hill with Mike Allred. We dubbed it Marvel's August Visitors.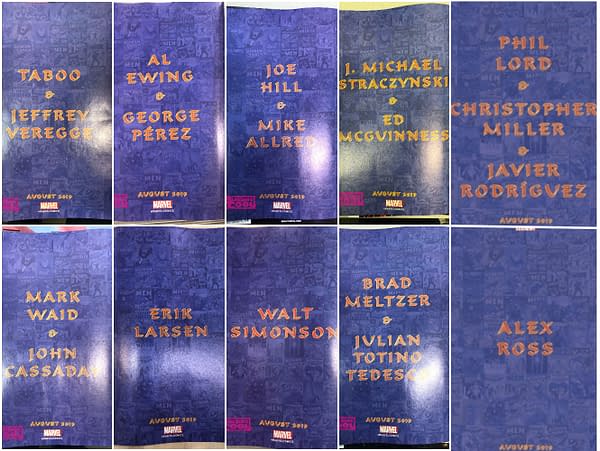 That's a huge amount of talent, much of it unexpected. So what's really going on? There are some clues.
And, again, I should emphasize–these are small jobs. Three short assignments. 41 total pages.

— Erik Larsen (@ErikJLarsen) March 29, 2019
It's their 80th anniversary and they're doing a few special projects.

— Erik Larsen (@ErikJLarsen) March 30, 2019
And, after running it last night, this tweet was deleted.
I am so excited to share that I am working with Taboo of the Black Eyed Peas on a secret project!!! Christina & I are HUGE Black Eyed Peas fans!

— Jeffrey Veregge (@JeffreyVeregge) March 29, 2019
Well, what Bleeding Cool has been told to expect an announcement for is, indeed, an anthology project called Marvel Comics #1000. Something for the publisher's 80th birthday, meant to resemble the Action Comics #1000 and Detective Comics #1000 books from DC Comics. With stories from all these mentioned people, as short as one page long. And for the anniversary if the original Marvel Comics #1000 in 1939, which would have hit a thousand issues if it had been published every month. Which it wasn't.
Whether they will replicate the 80 page $9.99 price point, I don't know. And what they'll do to push it to that million dollar copy mark as CB Cebulski has teased, I don't know that either.
We shall wait and see…
Enjoyed this article? Share it!