Marvel Chair Ike Perlmutter May Be Under Increased Criticism Tomorrow, With New Book from David Shulkin
Recently, Marvel Chair Ike Perlmutter received a demotion of sorts. One of Disney's largest shareholders, and a key figure in moving Marvel Comics out of bankruptcy, into making its own movies and then selling to Disney for billions, he has remained a major hands on figure at Marvel Comics, with his personal intervention in securing a comic book line and more for the Spider-Gwen character being a notable contribution, albeit one of a very few that have escaped into the media. And while his role with the movies was scaled back by Disney's Bob Iger and Alan Horn, the keys to the movie side handed to Kevin Feige – who has now taken much of the creative lead across Marvel as its new CCO as well, Perlmutter's role regarding Marvel's financial decisions seems as firm as ever. He is known to cancel projects that show a whiff of not bringing in the cash – sometimes, before the project has had the chance to bring it all in, leading to a couple of minor reversals along the way.
The spotlight has fallen on Perlmutter of late, first seen as a resistor to the diversification of Marvel's movie line, standing against Black Panther and Captain Marvel, in favour of The Inhumans. Bleeding Cool was the first to run his e-mails showing a rejection of female-lead superhero movies for poor financial returns, something Wonder Woman and Captain Marvel have refuted – though we did point out he was happier with more diverse television shows on the Marvel ticket. There has been his ongoing legal battle with a neighbour over who runs the local Palm Beach tennis club, which has included allegations of DNA theft, slander kits and false flag operations. And then there has been his role as one of Donald Trump's largest donors, a personal friend to Trump who is more minded to spend Thanksgiving sitting with Ike rather than his family, and given a position within the administration with regard to Veteran Affairs.
It is this role that has received much public scrutiny from bodies such as ProPublica, seeing his involvement with other figures appointed by Trump, running roughshod through the system, and favouring private healthcare systems that they might benefit from.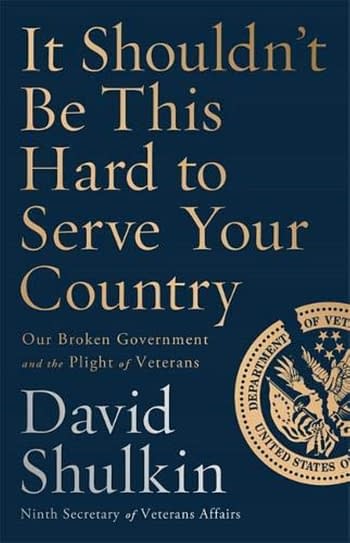 Tomorrow sees the release of a book by former VA secretary David Shulkin titled It Shouldn't Be This Hard to Serve Your Country: Our Broken Government and the Plight of Veterans which appears to throw criticism at Perlmutter and his associates.
The former VA secretary describes his fight to save veteran health care from partisan politics and how his efforts were ultimately derailed by a small group of unelected officials appointed by the Trump White House.

Known in health care circles for his ability to turn around ailing hospitals, Dr. David Shulkin was originally brought into government by President Obama to save the beleaguered Department of Veterans Affairs. When President Trump appointed him as secretary of the VA, Shulkin was as shocked as anyone.

Yet this surprise was trivial compared to what Shulkin encountered as secretary: a team of political appointees devoted to stopping anyone — including the secretary himself — who stood in the way of privatizing the agency and implementing their political agenda. In this uninhibited memoir, Shulkin opens up about why the government has long struggled to provide good medical care to military veterans and the plan he had to solve these problems. This is a book about the commitment we make to the men and women who risk their lives fighting for our country, how the VA was finally beginning to live up to it, and why the new administration may now be taking us in the wrong direction.
The Washington Post states that,
the memoir describes Marvel Entertainment Chairman Ike Perlmutter, a friend of the president who brokered Shulkin's introduction to Trump, as forming an un­or­tho­dox shadow Cabinet with two associates that called many of the shots in the agency's day-to-day operations.
and quotes one paragraph concerning Perlmutter,
"In just about every conversation I had with him . . . the president asked if Ike was 'happy' or 'helping,' " a reminder that the White House "was impatient with the pace of reform"
But clearly the book will have more. Whether any of it will blowback on Perlmutter is less certain, he seems to have survived all manner of criticism over the years.
David Shulkin, M.D. joined the Department of Veterans Affairs in 2015, first as Under Secretary for Health and then as the ninth Secretary of Veterans Affairs. He was the only Obama holdover who served in the Cabinet within the Trump administration and the only one unanimously confirmed by the Senate. Prior to his government service, Shulkin worked in a number of health care administration roles, including as President and CEO of New York's Beth Israel Medical Center and President of Morristown Medical Center in New Jersey. He is the Distinguished Health Policy Fellow at the University of Pennsylvania, practices internal medicine in New York City, and still advocates on behalf of veterans.
The back copy reads:
"From the moment David Shulkin was appointed secretary of the VA, Trump's corporate henchmen put a target on his back to achieve their aim of shutting down the VA hospital system. Shulkin, the highest-ranking person to serve in both the Obama and Trump administrations, provides play-by-play detail of his tumultuous tenure and spells out the ongoing threats to the VA. A harrowing and important story."―Andy Slavitt, former acting administrator of the Centers for Medicare and Medicaid Services

"This is a very important book. I hope Americans who care about our veterans will take the time to read it. The title of the book says it all, but what's inside is a compelling story-a cautionary tale for all citizens who care about recruiting talented people to serve our government."―Bob Kerrey, former senator, former governor of Nebraska, and recipient of the Medal of Honor

"A painful-to-swallow story of a political environment gone toxic. And as Dr. Shulkin points out, the casualty isn't the loss of another government servant-it's our veterans."―General (ret.) Stanley McChrystal

"I have known Dr. David Shulkin for a decade and this book is an honest and emotional account of what he sacrificed to serve the public and how much he cares for our nation's veterans. For anyone considering public service, this book is a must-read."―Chris Christie, 55th governor of New Jersey
Tomorrow will tell. Representatives of Ike Perlmutter have declined to make comment as of yet.