We know we are getting a Marvel's Tigra & Dazzler Show from Hulu and Chelsey Handler at some point:
In "Marvel's Tigra & Dazzler Show," two woke Super Heroes and best friends, Tigra and Dazzler, fight for recognition among powered people who make up the eight million stories in Los Angeles. "Marvel's Tigra & Dazzler Show" comes from writers Erica Rivinoja ("The Last Man on Earth," "Cloudy With a Chance of Meatballs 2") and actress/comedian Chelsea Handler ("Chelsea," "Are You There, Chelsea?"), with Rivinoja, Handler, and Jeph Loeb serving as Executive Producers.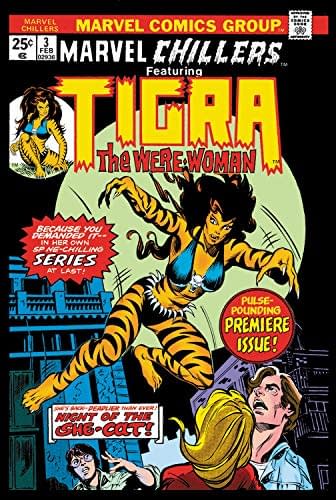 So there you go. As for when the show will be released, well we don't know. All we can say is that on Christmas Eve, Marvel Comics will be publishing The Complete Tigra Collection, collating all the characters' early solo appearances, including when she was known as The Cat, before DC Comicslawyers had a word…
Marvel's feline fury is on the prowl! Before Greer Grant Nelson became Tigra, she was the Cat – a costumed hero taking on foes like the Owl and the Man-Bull. But an encounter with the mystical Cat People soon unlocked her full potential – and Greer became Tigra, the Were-Woman! Transformed into a feline fi ghting force, Tigra soon made her mark on the Marvel Universe – clashing with Werewolf By Night, Kraven the Hunter, Red Wolf and more, and leaping into action alongside the Thing and Spider-Man! Plus, join Tigra on the trail of a killer in a moody crime drama illustrated by Mike Deodato Jr.!

COLLECTING: THE CAT 1-4; MARVEL TEAM-UP (1972) 8, 67; GIANT-SIZE CREATURES 1; MARVEL CHILLERS 3-7; MARVEL TWO-IN-ONE (1974) 19; MARVEL PREMIERE 42; TIGRA 1-4; MATERIAL FROM MONSTERS UNLEASHED (1973) 10; MARVEL TEAM-UP (1972) 125
Could the show have a similar release date? A nice Christmas present for the fans?
Enjoyed this article? Share it!