Marvel Comics may have included the Oz Omnibus on their liquidation list, getting rid of excess copies of their by Eric Shanower and Skottie Young compilations from a few years ago. That may be because it is getting chopped up and put out in paperbacks instead, with less of an overall outlay.
The Omnibus contains the titles The Wonderful Wizard Of Oz 1-8, The Marvelous Land Of Oz 1-8, Ozma Of Oz 1-8, Dorothy & The Wizard In Oz 1-8, Road To Oz 1-6, The Emerald City Of Oz 1-5, Marvel Illustrated: Wizard Of Oz Sketchbook and Oz Primer.
Marvel published Oz: The Complete Collection – Wonderful Wizard/Marvelous Land Paperback earlier this year, and Oz: The Complete Collection – Ozma/Dorothy & the Wizard Paperback published in a week's time. And now, in December, they are giving a paperback volume to Oz: The Complete Collection – Road To/Emerald City.
More enchanting tales from L. Frank Baum's ever-captivating world of Oz! When your name is Dorothy Gale, all roads lead back to Oz. And sure enough, Dorothy soon finds herself on yet another magical journey! This time she's joined by the Shaggy Man, with his handy-dandy love magnet, and Button-Bright, the wisest little boy who "don't know" anything. But will the trio arrive in time for Princess Ozma's birthday gala? Then, when Dorothy, Uncle Henry and Aunt Em are forced to leave their Kansas home, where can they go? To the Emerald City, of course! Dorothy and the Wizard take Em and Henry on a grand tour – but will Oz be able to withstand an attack by the Nomes, the Growleywogs and the evil shape-shifting Phanfasms? COLLECTING: ROAD TO OZ (2012) 1-6, THE EMERALD CITY OF OZ (2013) 1-5
If you were always wanting to pick this up, however, and you prefer the hardcover Omnibus format, you may want to do so soon, as Marvel Comcis is liquidating their stock. Which means it will be available cheaper for a while on open markets, and you might get a deal, but it will then go out of print completely and rocket in price.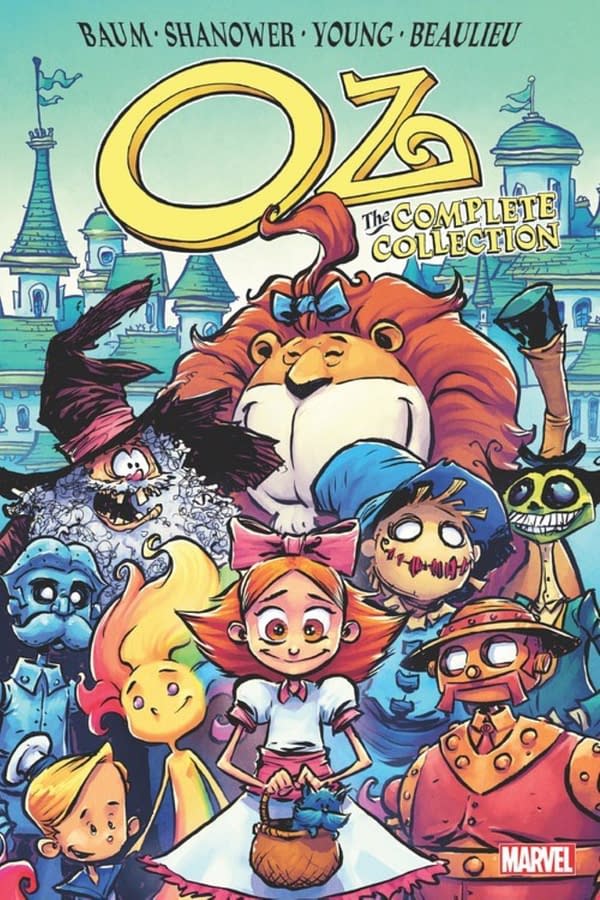 Enjoyed this article? Share it!