Marvel Comics Presents was a classic anthology series from the 1980s, and Marvel has brought it back for their 80th-anniversary celebration. But in the new Marvel Comics Presents, each issue focuses on a different decade, with the 1950s featuring in Marvel Comics Presents #2 (and does this mean the series will end after 8 issues?).
In addition to another chapter in the Wolverine story, we also get a story set before Fantastic Four #1, in 1957. The story features Reed Richards, upset that the Russians beat the United States to launching a satellite into orbit.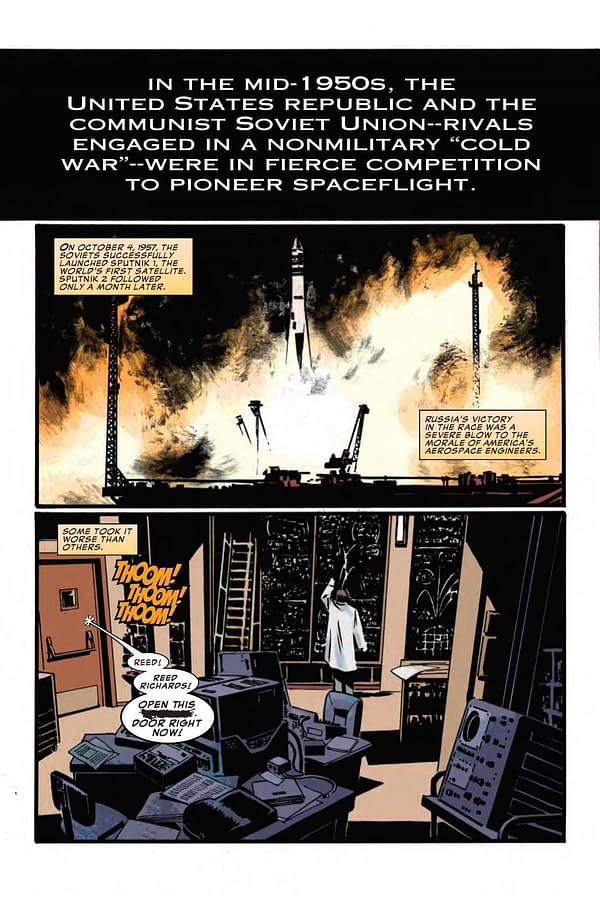 The story also gives us a glimpse at Ben Grimm and Susan Storm in the days before they took their fateful rocket trip and became the First Family of the Marvel Universe.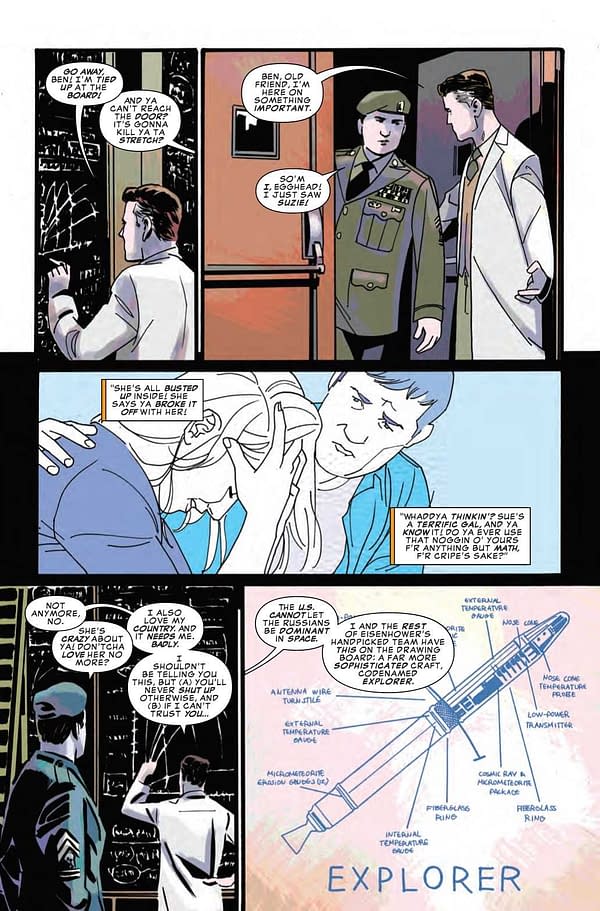 It would be another four years from the time this story takes place until the Fantastic Four's lives change forever in Fantastic Four #1. But there's just one problem.
Though Fantastic Four #1 was published in 1961, Marvel time doesn't progress at the same rate as real world time. In order to keep their characters eternally young (and thus eternally marketable), the entire history of the Marvel Universe is constantly condensed so that it all took place in the span of a few years (it's hard to get a concrete number because even naming the age of your characters damages their iconic value, but you could say definitely more than 5, less than 20 — Spider-Man, after all, is still in his mid-twenties). That means that the Fantastic Four taking that fateful space trip took place somewhere in the early 2000s, not the early sixties.
So how old are Reed, Ben, and Susan then, if they're already adults during the Cold War in the 50s? These stories are in continuity, aren't they?
Marvel Comics Presents #2 breaks continuity next Wednesday.
Marvel Comics Presents #2
(W) Charles Soule, Maria Lapham, David Lapham, Mark Waid (A) Paulo Siqueira, David Lapham, More (CA) Arthur Adams
Three fantastic fables in one mighty magazine! First, a tale of Logan in the fabulous fifties! Then, a new swinging story of the jungle's cursed crusader, Gorilla-Man! Finally, Reed Richards and Victor Von Doom enter the space race as Sputnik takes orbit!
Rated T+
In Shops: Feb 27, 2019
SRP: $4.99
Enjoyed this article? Share it!