Marvel Launches New Comic With Japanese Band SEKAI NO OWARI, Greg Pak and Takeshi Miyazawa
Marvel people (including EIC C.B.Cebulski) have been at Tokyo Comic Con this weekend. Where Marvel has had big news to announce And it's all a bit Gorillaz-ish.
They are working on a project with Japan's leading band, SEKAI NO OWARI (or End Of The World) to recreate the band as superheroic characters for a comic book series and a YouTube Premium streaming documentary that launches on 11th December 2018, REIMAGINE.
The comic is based on an original idea by the band, written by Greg Pak with character designs and comic by Takeshi Miyazawa, all colored by Ian Herring.
A documentary on the series drops on the 11th.
Not that they are strangers to reinterpreting themselves with iconic imagery…
Let's break out a few screencaps…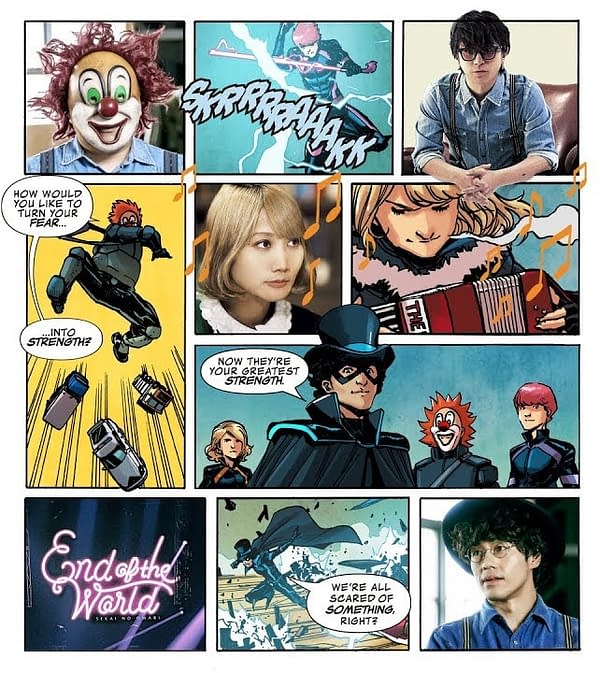 SEKAI NO OWARI) is a Japanese pop band, originating from Tokyo. The band was formed in 2005 and has four members: Nakajin, Fukase, Saori and DJ Love.
Since their debut they have released 3 albums and various singles as well as featuring in their own documentary film 'TOKYO FANTASY'. The band has performed at the renowned Nissan Stadium, Japan's largest concert venue and are currently considered to be one of the biggest music acts from Japan. Their live performances and concerts are also subject to praise, being considered one of the highest quality produced musical events worldwide, often being compared with music festivals such as Tomorrowland and Ultra Music Festival. The band's members have also produced and written other content for several Japanese singers and groups and lead vocalist Fukase has inspired a synthesized Vocaloid character of himself.
In 2016 the band announced their plans to debut internationally with an English language album currently in production and expected to be released soon.
Maybe alongside their comic book/web series? Let's watch the band in action…