Marvel Comics Solicitations For November 2019 – 20 Of Them Frankensteined (Yondu Update)
As we await to discover all of Marvel Comics' solicitations for November 2019, here's a Frankensteining of all the announcements we can find so far…
UPDATE: Added Yondu – now confirmed for November.
YONDU #1 by Lonnie Nadler, Zac Thompson and John McCrea.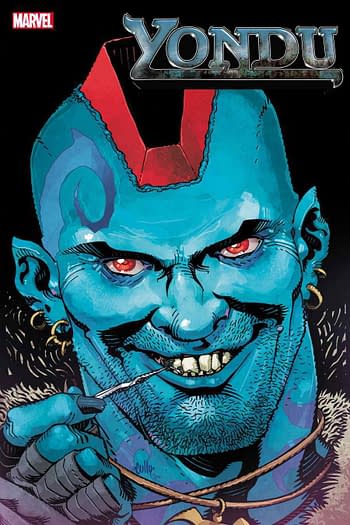 Yondu, lone Ravager and all-around scoundrel is about to hit the biggest pay day of his life when he stumbles upon a dangerous new weapon! But when this artefact turns out to be deadlier than he bargained for, will the reward outweigh the risk as Yondu finds himself targeted by a mysterious mercenary? Plus, when an unexpected visitor from the future turns up to stop Yondu, it begs the question: exactly how bad did he screw up?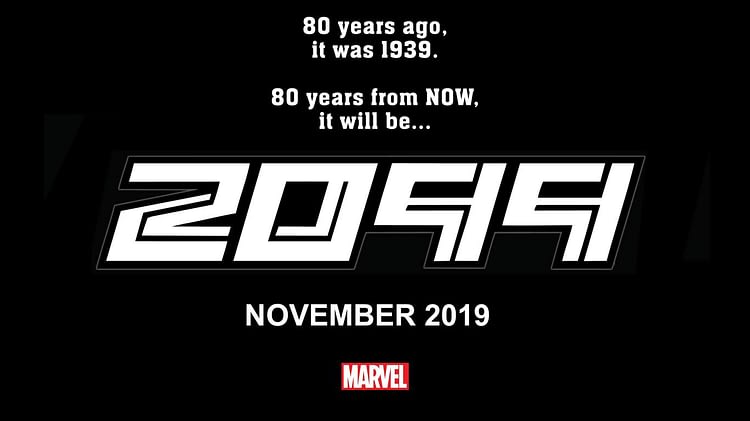 MARVEL 2099 #1 by Nick Spencer.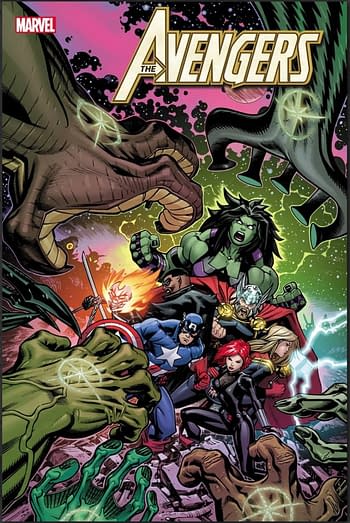 AVENGERS #27
Written by Jason Aaron Penciled by Ed McGuinness Cover by Ed McGuinness
Starbrand Reborn Part One: Riot in the Space Prison
Artist Ed McGuinness returns for an epic space adventure that takes the Avengers into an alien prison the size of a galaxy, where a mysterious new wielder of the all-powerful Starbrand has suddenly appeared, unleashing cosmic chaos. Good thing the Avengers brought along their newest member, the Black Widow.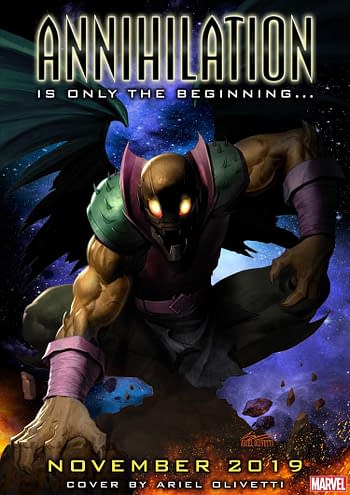 ANNIHILATION ALPHA #1
The Negative Zone is under siege! Now the Lord of the Negative Zone, Annihilus, makes a call for help to the very heroes he once fought against! It's an all-out battle as Nova, Silver Surfer and some of your favorite cosmic heroes try to prevent the next annihilation.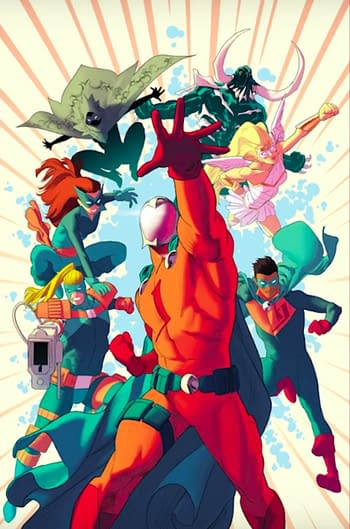 DOC JUSTICE AND THE J-SQUAD #1 or RUNAWAYS #27 = your call.
Revolutionary! Unstoppable! New! A wondrous and youthful squad!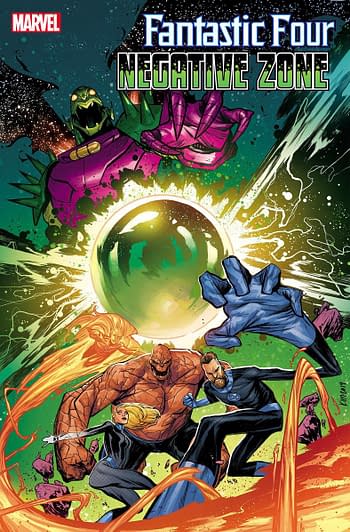 FANTASTIC FOUR: NEGATIVE ZONE #1
Written by Mike Carey and Ryan North with art by Stefano Caselli and Steve Uy. Cover by Kim Jacinto:
Reed Richards AKA Mr. Fantastic is known for his ambitious scientific experiments — even if the outcomes are not always what he was expecting. One of those experiments is coming back to haunt him — and he and the rest of the Fantastic Four will have to head into the Negative Zone to make things right. Marvel's First Family is in for another big adventure when FANTASTIC FOUR: NEGATIVE ZONE #1, written by Mike Carey with art by Stefano Caselli, comes to comic shops this November! The issue also features a bonus story by writer Ryan North (who is also wrapping up THE UNBEATABLE SQUIRREL GIRL in November) and artist Steve Uy, who unfold an adventure featuring that other super-powered foursome in the Baxter Building, the Fantastix!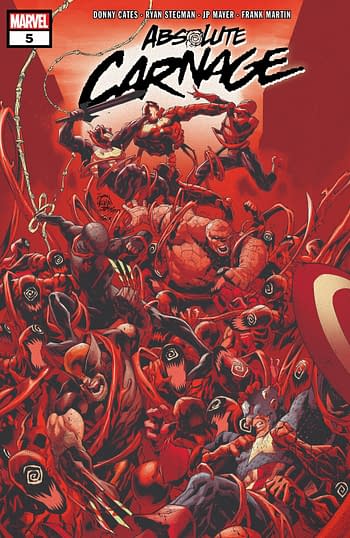 ABSOLUTE CARNAGE #5 (of 5)
Written by DONNY CATES
Art by RYAN STEGMAN
Cover by RYAN STEGMAN
VENOM AND CARNAGE – TO THE DEATH!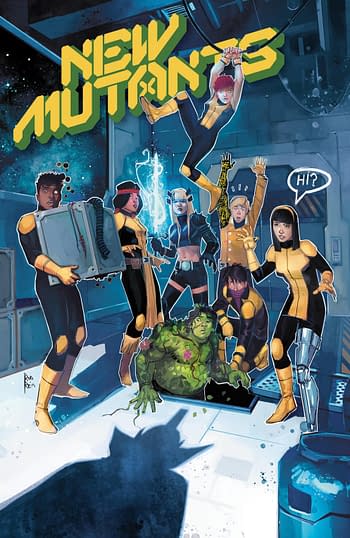 NEW MUTANTS #1 AND #2
Written by JONATHAN HICKMAN & ED BRISSON (Issue #1)
Written by JONATHAN HICKMAN (Issue #2)
Art by ROD REIS
Cover by ROD REIS
THE NEW GENERATION CLAIMS THE DAWN!
The classic New Mutants (Sunspot, Wolfsbane, Mirage, Karma, Magik, and Cypher) get together with a few new friends (Chamber, Mondo) to seek out their missing member and share the good news… a mission that takes them into space alongside the Starjammers!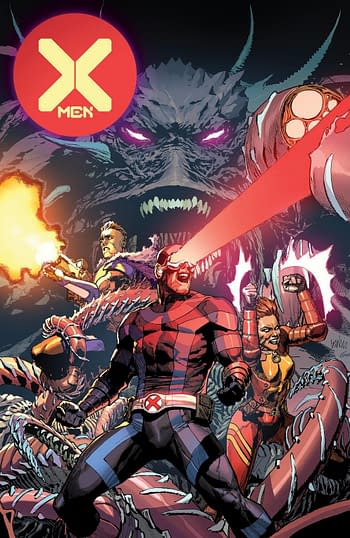 X-MEN #2
Written by JONATHAN HICKMAN
Art by LEINIL FRANCIS YU
Cover by LEINIL FRANCIS YU
When an island full of unspeakable horrors appears on the horizon, the X-Men have their work cut out for themselves keeping Krakoa safe!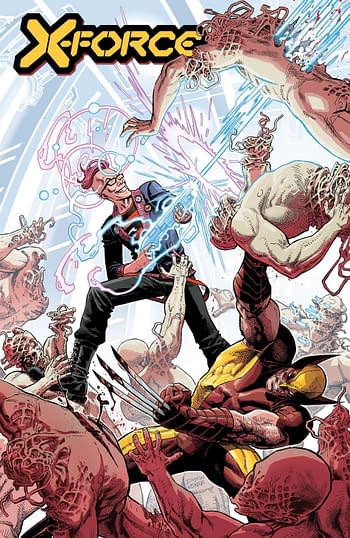 X-FORCE #1 AND #2
Written by BENJAMIN PERCY
Art by JOSHUA CASSARA
Cover by DUSTIN WEAVER
THE HIGH PRICE OF A NEW DAWN!
X-Force is the CIA of the mutant world—one half intelligence branch, one half special ops. Beast, Jean Grey and Sage on one side, Wolverine, Kid Omega and Domino on the other. In a perfect world, there would be no need for an X-Force. We're not there…yet.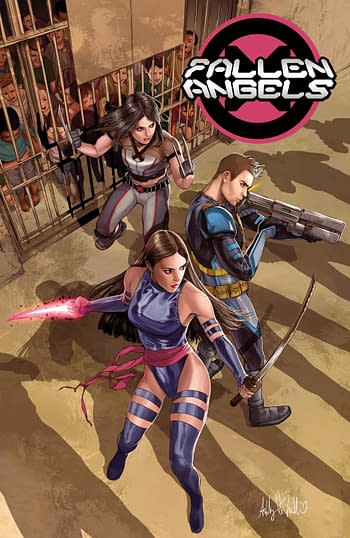 FALLEN ANGELS #1 AND #2
Written by BRYAN EDWARD HILL
Art by SZYMON KUDRANSKI
Cover by ASHLEY WITTER
THE DAWN DOES NOT BREAK FOR ALL!
Psylocke finds herself in this new world of Mutantkind unsure of her place in it… but when a face from her past returns only to be killed, she seeks help from others who feel similar to get vengeance. Cable and X-23 join Kwannon for a personal mission that could jeopardize all Mutantkind!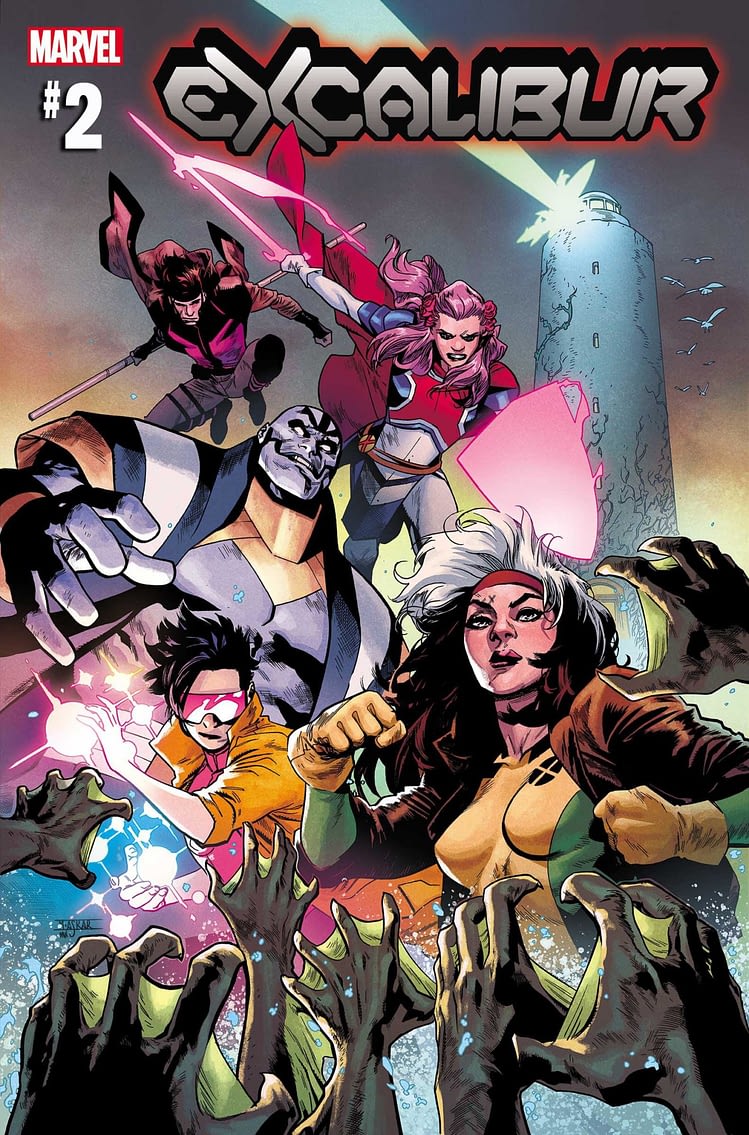 EXCALIBUR #2
Written by TINI HOWARD
Art by MARCUS TO
Cover by MAHMUD ASRAR
Betsy Braddock is Captain Britain, but a citizen of Krakoa. With Rogue's condition a mystery, the team heads to the one place that has always been the seat of Excalibur's power – the Lighthouse.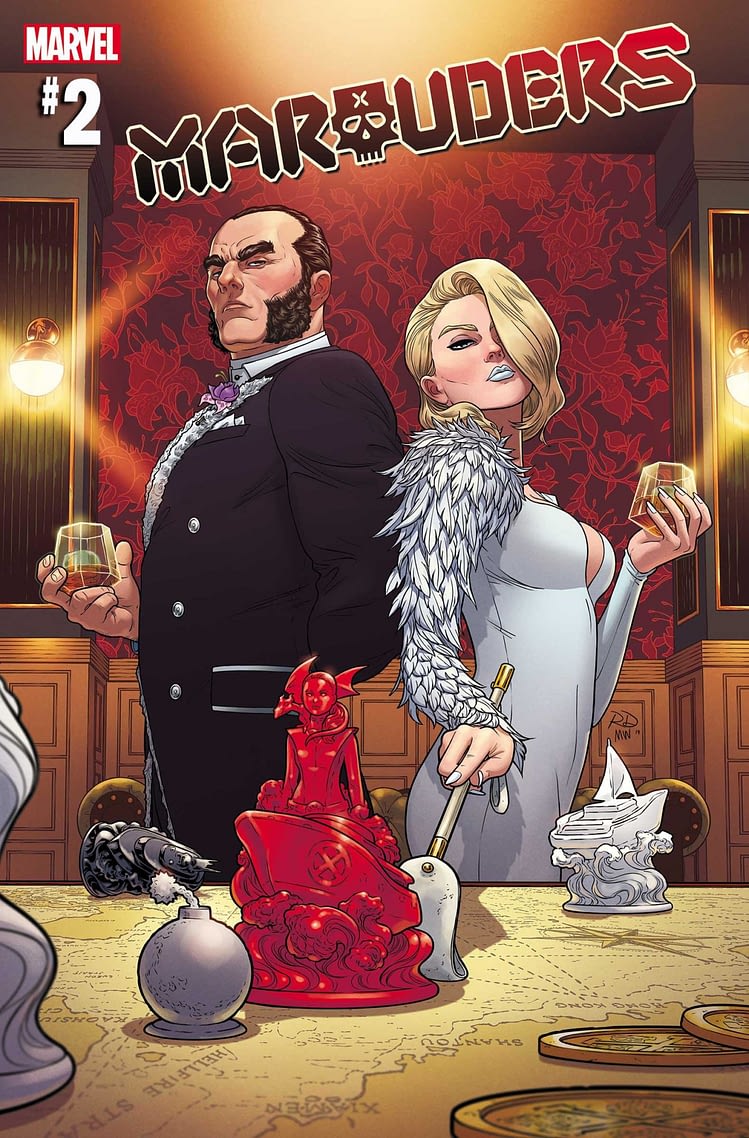 MARAUDERS #2
Written by GERRY DUGGAN
Art by MATTEO LOLLI
Cover by RUSSELL DAUTERMAN
The Hellfire Trading Company has control of Mutant trade on the seas… but that doesn't mean its Inner Circle is done stabbing one another in the back. As Captain Pryde and her Marauders sail on, the real cutthroats are back home…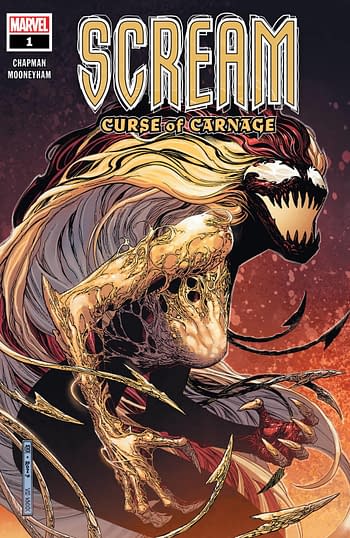 SCREAM: CURSE OF CARNAGE #1
Written by CLAY MCCLEOD CHAPMAN
Art by CHRIS MOONEYHAM
Cover by JIM CHEUNG
OUT OF THE ASHES OF ABSOLUTE CARNAGE! ALL-NEW ONGOING SERIES!
Patricia Robertson, Andi Benton, Donna Diego… it's all been leading to this as one of the original – and possibly strongest – offspring of the Venom symbiote at last stars in her own, self-titled ongoing series set in the Marvel Universe! But after the events of ABSOLUTE CARNAGE, what remains of the Scream symbiote as it was before? Does it even have a host? What are their intentions? And what will a pair of web-slinging wallcrawlers have to say about its presence in New York?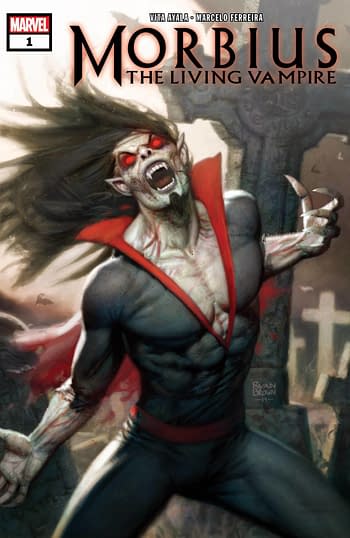 MORBIUS #1
Written by VITA AYALA
Art by MARCELO FERREIRA
Cover by RYAN BROWN
MORBIUS IS THE LIVING VAMPIRE…OR IS HE MORE? ALL-NEW ONGOING SERIES!
For years, Nobel Prize winning biologist Michael Morbius has been struggling to cure himself of his vampirism, and now, for the first time in years, one may be within reach! But the path to it is littered with dangers and worse!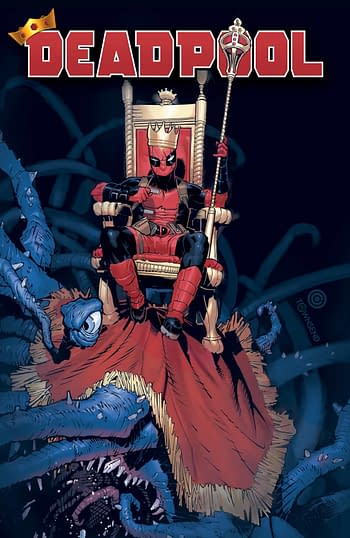 DEADPOOL #1
Written by KELLY THOMPSON
Art by CHRIS BACHALO
Cover by CHRIS BACHALO
Deadpool's newest mercenary job has him going after the King of Monsters, who has claimed a new kingdom for his monstrous subjects…on Staten Island! But you know what they say, when you come at the king, you better not miss! The Merc with a Mouth finds himself neck deep in political intrigue, monster law, and a monster hunter out for blood! It's like The Crown but with even more swords and monsters! Can Deadpool's smooth charisma and deft diplomacy allow him to keep his head, or will he be royally screwed?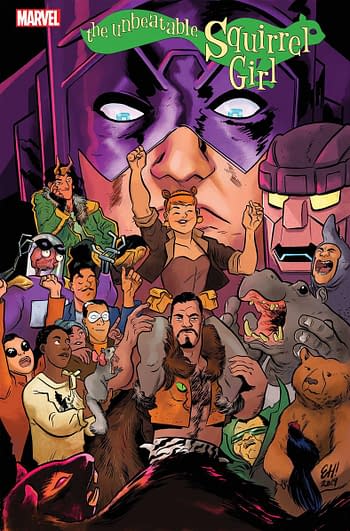 THE UNBEATABLE SQUIRREL GIRL #50
Written by Ryan North and art by Derek Charm. Cover by Erica Henderson:
It's the end of an era for the Squirrel Queen Doreen Green! The final issue of THE UNBEATABLE SQUIRREL GIRL by writer Ryan North and artist Derek Charm goes on sale this November. What does this mean for Squirrel Girl and all of the friends she's made? You'll have to read THE UNBEATABLE SQUIRREL GIRL #50 to find out!