Marvel Renames Its Super Hero Adventures Comics to Make Each a #1
Marvel Comics recently solicited a new series aimed at younger readers called Marvel Super Hero Adventures, a five-issue limited series featuring kid versions of their superhero line. You know, like DC Comics found massive bookstore success with DC Super Hero Girls.
However, orders from comic stores of the individual issues have been low. Very low. And Marvel Comics has decided to do something about it.
Run a new series of episodes to follow up from the 10 that aired last year? No.
Tie it in with the early reader chapter books from Marvel Press? No, different line, no crossover.
Sell more merchandise? Well the merchandise programme was meant to expand this spring but… hasn't yet.
Instead, they are changing each individual comic book's name and number. So Marvel Super-Hero Adventures #1 now becomes Marvel Super-Hero Adventures: Spider-Man and the Stolen Vibranium #1
And Marvel Super-Hero Adventures #2 becomes Marvel Super-Hero Adventures: The Spider-Doctor #1. And so on…
I guess that also means it no longer has to be a limited series, either. Here are a look at the amended solicits.
MSH ADVENTURES SPIDER-MAN VIBRANIUM #1
(W) Jim McCann (A) Dario Brizuela (CA) Gurihiru
SPIDER-MAN SWINGS INTO WAKANDA IN AN ADVENTURE FOR ALL AGES!
• Wakanda?! You mean the home of the Black Panther, one of the world's fiercest warriors and a member of the Avengers?
• That's right! When Spider-Man's archenemy Doctor Octopus goes on the hunt for the incredible metal Vibranium, it'll take the combined might of not one, but TWO beloved heroes to take him down!
• Can Spider-Man and Black Panther work together to keep Vibranium out of Doc Ock's eight hands – or will the villain turn the tide?
ALL-NEW ALL-AGES SERIES!
"Marvel Super Hero Adventures is a chance to introduce the great heroes of Marvel to a brand new generation in exciting stories with lessons, adventures, and action that readers of all ages have come to expect from the House of Ideas! Each issue features Spider-Man teaming up with characters both classic, such as Black Panther and Doctor Strange, and popular new faces like Ms Marvel. Together they battle villains like Doc Ock, Taskmaster, Venom and more. This is the book you can pick up and share with anyone from your kids to your friends!" – Writer, Jim McCann
ALL-AGESIn Shops: Apr 18, 2018
SRP: $3.99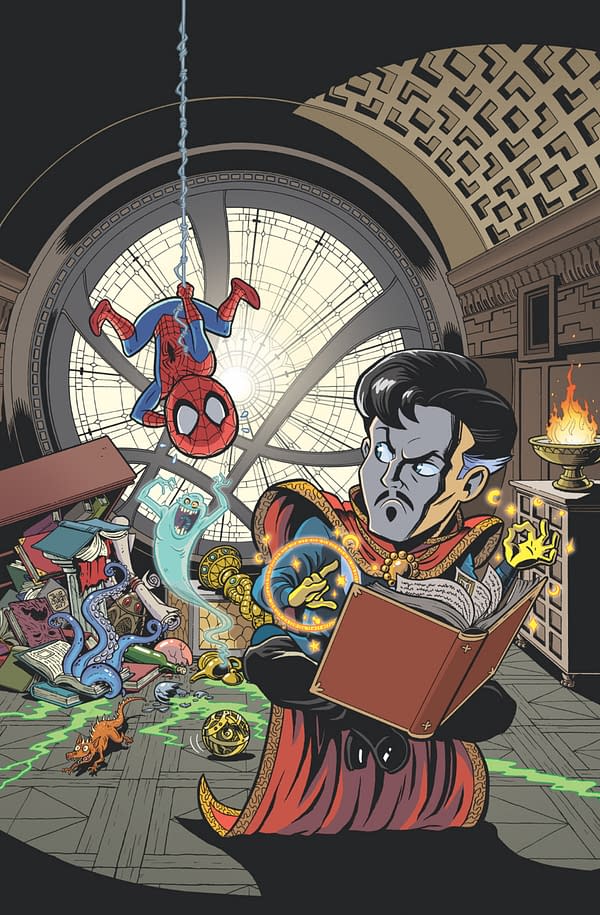 MSH ADVENTURES THE SPIDER-DOCTOR #1
(W) Jim McCann (A) Dario Brizuela (CA) Jacob Chabot
SPIDER-MAN JOINS DOCTOR STRANGE ON A MAGICAL MISSION FOR ALL AGES!
• When his spider-sense starts tingling in the West Village, Spider-Man swings into action. And he knows just where to go: the Sanctum Sanctorum, home of the Master of Mystic Arts – Doctor Stephen Strange!
• And the good doctor needs Spidey's help! The villainous Hela, goddess of the Asgardian underworld, is dead set on destroying the world. And thanks to her, Doctor Strange and Spider-Man are stuck on the astral plane – unable to use their powers!
• Can Doctor Strange and Spider-Man help each other find their inner heroes in time to stop Hela and save the world?
ALL-AGESIn Shops: May 30, 2018
SRP: $3.99