In order to help readers figure out what's going on in their upcoming super-mega-crossover event, Infinity Countdown, Marvel has helpfully released an engineering diagram explaining the current status of each of the infinity stones and what functions the stones perform. Marvel announced the diagram in a press release.
Who Holds Infinity? Find Out With the INFINITY CIRCUIT!

Separately, they're all-powerful. Together, their power is limitless. To help you prepare for the biggest Infinity epic yet, Marvel is excited to present INFINITY CIRCUIT: the guide that will make YOU the master of the Infinity Stones, just in time for INFINITY COUNTDOWN #1!

Serving as a handy guide designed to show which stones our mighty Marvel heroes currently hold at the start of INFINITY COUNTDOWN #1, the INFINITY CIRCUIT also provides a description of their specific power, detailing how they can be used to rule the universe. Mini-posters will be available in comic shops along with the release of INFINITY COUNTDOWN #1 on March 7th, but fans can download the INFINITY CIRCUIT right now, and get started mapping out the power! (Retailers can find a file on the Diamond retailer page.)
The press release goes on to note that the diagram will be updated with new revisions throughout the Infinity Countdown event so that readers can continue to keep track of who holds which stones and, if necessary, which version of Wolverine they are running.
Nebula, Thanos, Drax and a Wolverine are currently in possession of some of the galaxy's most powerful stones…but will they still be holding them in the end? As the race to collect the remaining stones gets underway, there is nothing our heroes will stop at to achieve unlimited rule over the universe! To keep readers on their toes, versions of this cosmic guide will appear in each issue of the series, updating fans on who holds the stones as the story progresses.

It all leads into the mega Infinity tale and battle that will change the balance of infinite power. Download Marvel's INFINITY CIRCUIT today, or pick up a copy at your local comic shop and don't miss out on all the action in INFINITY COUNTDOWN #1, coming this March!
Marvel has not yet revealed whether they will open a bug tracker for Infinity Countdown where readers can report continuity issues, typos, and coloring snafus, but releasing the Infinity Circuit diagram is a step in the right direction to making sure Infinity Countdown is as bug-free as possible when it launches in March.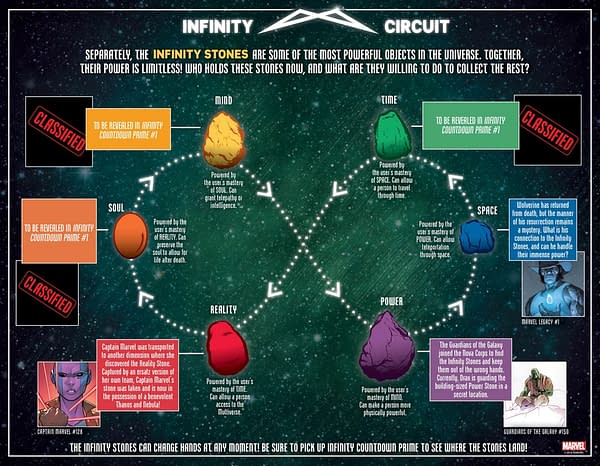 Enjoyed this article? Share it!